The painting Woman Artist, Nude, Standing by American surrealist Dorothea Tanning (1910–2012) portrays a life-size nude. Her luminous flesh almost tremors underneath soft brushstrokes and a dramatic black mantilla and her piercing dark eyes are just visible under the black lace of the mantilla, their darkness all the more fierce against the flaming red of a poppy flower. While Tanning's nude stands before the spectator, it alludes to Goya's reposed Nude Maja (1800), both females sharing commanding confidence in their unclothed selves. Tanning stated in 1990: 'You may be a woman and you may be an artist, but the one is a given and the other is you'. This painting allows her to stand on both sides of the canvas as a woman and an artist who masters her own image.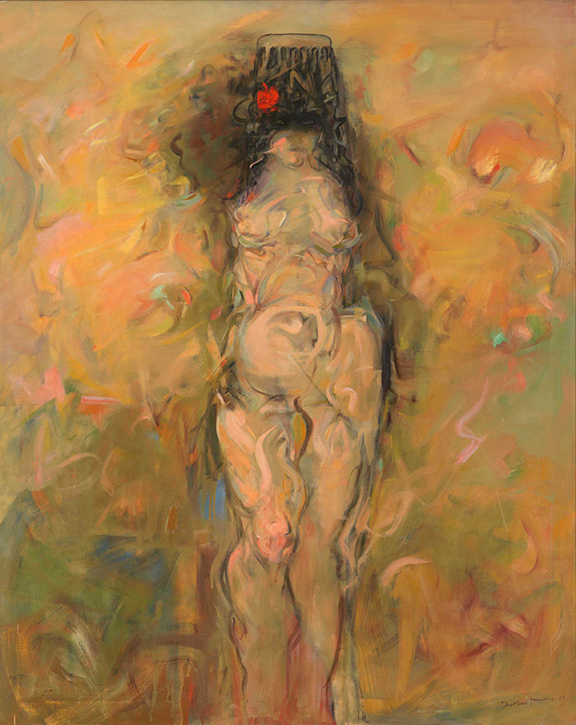 Dorothea Tanning's career took her from small-town Galesburg, Illinois, to Chicago and New York in the 1930s, to Sedona, Arizona, in the mid-1940s, to Paris, Huismes, and Seillans, Provence, in the 1950s and then back to New York in 1980, where she continued painting and writing until her death in 2012 at the age of 101. She first discovered Surrealism in New York at MOMA's 'Fantastic Art, Dada, Surrealism' exhibition of 1936 – its potential for 'limitless expanse of possibility […] rocking me on my run-over heels' as she wrote in her memoir.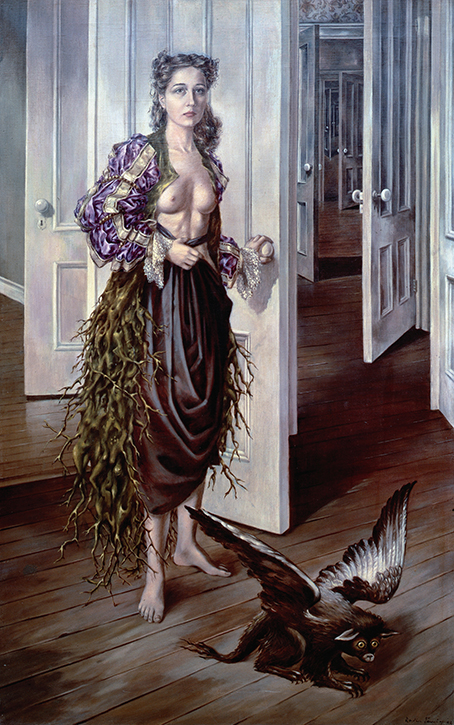 Her self portrait Birthday reveals her determination to fashion her own Surrealist image and style soon after this experience: she stands in an interior of endless doors, one hand holding a doorknob, the other a dress of writhing seaweed-like bodies, the bizarre architecture and creature at her feet, and her bare breasts and pensive expression, demonstrating this very sense of endless surreal 'possibility' in motion. She is poised, ready to enter the abyss.
In Eine Kleine Nachtmusik we find little girls wreaking havoc on a hotel interior, their defiance symbolised by the blood red carpet and the gargantuan yellow sunflower which also refuses to be contained. Equally, in Some Roses and Their Phantoms, the domestic space is transformed into one of phantoms as the orderly white linen tablecloth becomes a bizarre surrealist landscape.
Tanning explores the nude again in her soft sculpture titled Nue couchée ('sleeping nude'). Here the Pygmalion myth is turned on its head: instead of the traditional nude crafted as a passive object for male fantasy we find a fragmented, headless form with sinewy limbs which seems to beg to be touched, the soft tactility of the pink cloth form emphasised by the artist's use of ping pong balls to mould the erotic curve of the backbone. With Tanning's handcrafted sculptures we are presented with 'living materials becoming living sculptures, their life span something like ours', as she once explained. Her emphasis on softness and her choice of fragile materials challenge the tradition of the idealized, monumental and timeless sculpture as well as the hard-edge minimalism in vogue in the 1960s.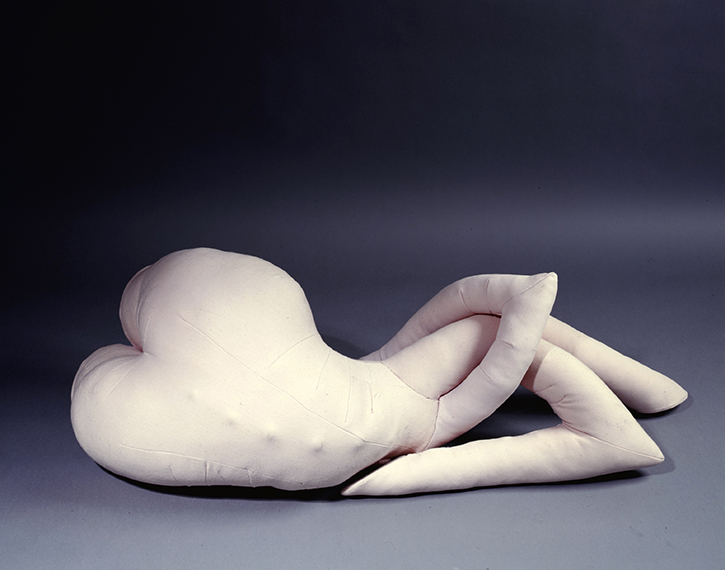 Tanning's last series of paintings, imaginary flower paintings of 1997–1998, was published in a book titled Another Language of Flowers in 1998, each accompanied by a poem by a contemporary poet. Alongside one titled Merrillium Trovato (1997), where a purple tulip-like bloom clothes the sex of a female nude, an excerpt from 'Declaration Day' by her close friend James Merrill reads: 'A door just floats ajar/ The stillness trembles like a star /A wish. Come true? Here's where to learn'. The series takes the sunflower of earlier works in new erotic directions, as petals twist and fold like a lover, their fantasy forms extending into new webs of suggestions.
Tanning's art was about leaving the door open to the imagination, knowing, in her own words, that 'enigma is a very healthy thing, because it encourages the viewer it look beyond the obvious and commonplace.' This openness lies at the heart of Surrealism and its defiance of one way of seeing. It reminds us why the work of artists such as Dorothea Tanning still resonates so powerfully today – not least as voices of difference and diversity rightly demand their inclusion and voice in the museum.
Dorothea Tanning, the first large-scale exhibition of Tanning's work in the UK, is on show at the Tate Modern until June 9th 2019, following its display at the Museo Reina Sofia in Madrid (October 3rd 2018 to January 7th 2019). It brings over 100 paintings, sculptures and drawings to the public.
Dr Alyce Mahon, Reader in Modern and Contemporary Art History at the University of Cambridge, and Guest Curator of 'Dorothea Tanning' for the Reina Sofia and Tate Modern