'Like Chekhov, I am a collector of souls…if I hadn't been an artist, I could have been a psychiatrist.' – Alice Neel
Alice Neel (1900–1984) was an American painter known for her psychologically penetrating portraits. Widely regarded as one of the most important figurative painters of the twentieth century, her expressionistic work often focused on the human condition, capturing the essence of her subjects' personalities and idiosyncrasies. Describing herself as a 'collector of souls', her portraits and figurative paintings often centred on the marginalised or politically disenfranchised, whether labour leaders, civil rights activists, radical feminists or the LGBTQ+ community in New York in the 1960s and 1970s.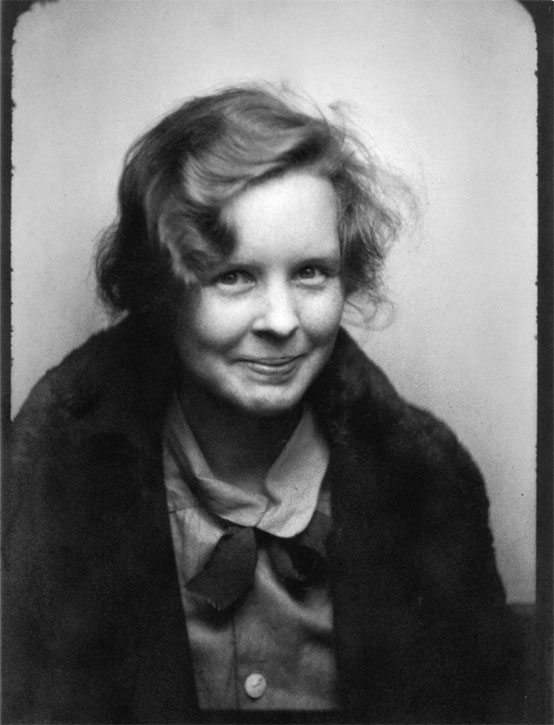 Celebrating her immense artistic output and legacy, the latest Barbican exhibition 'Alice Neel: Hot off The Griddle' (until 21st May 2023), organised in collaboration with the Centre Pompidou in Paris, bring together over 70 of Neel's portraits, as well as rarely seen archival material, photographs and film footage.
Born in 1900, Neel grew up in rural Pennsylvania in a modestly wealthy household. As a girl raised at the start of the twentieth century, with all its gendered constraints and conventions, her aspirations to become an artist were not taken seriously. She recalled her mother once saying: 'I don't know what you expect to do in the world, Alice? You're only a girl. But nevertheless, painting became her vocation. 'The minute I sat in front of a canvas I was happy. Because it was a world, and I could do what I liked in it.'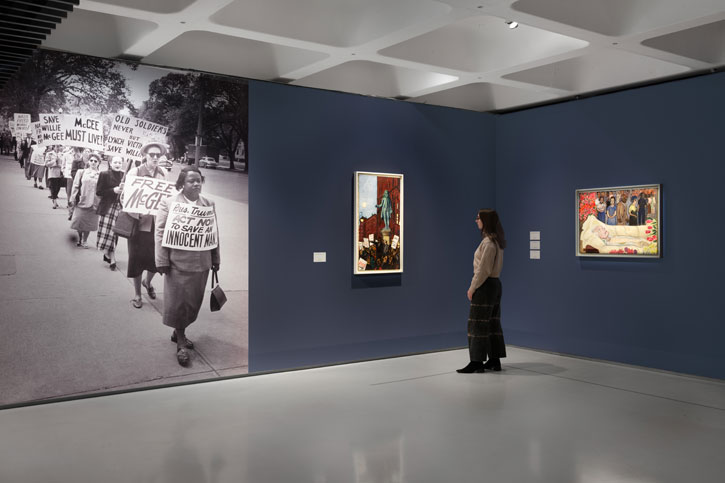 By day she worked as a secretary to support her family. By evening she would attend classes at the School of Industrial Art in Philadelphia, eventually earning a scholarship to study at the Philadelphia School of Design for Women. There, she met the Cuban Carlos Enríquez, whom she married in 1925. The following February, the couple moved to Havana, which was Neel's first trip abroad.
As the Barbican exhibition reveals, her marriage to Enríquez marked the beginning of a tragic chapter. The couple had a child together, Santillana, who died of diphtheria as an infant. Their second daughter, Isabella, was taken to Paris in the early 1930s with Enríquez, following the breakdown of their marriage. The separation contributed to Neel's nervous collapse and suicide attempt in 1930, which resulted in her stay at a psychiatric ward for almost a year. 'I didn't do anything but fall apart and go to pieces' she would later remark.
By this time, Neel was living in Greenwich Village, New York, where despite the turbulence of her personal life she became a prominent figure in the city's art scene, painting portraits of her friends, family, and fellow artists, as reflected by the paintings of Ethel Ashton and Kenneth Dolittle.
In 1933, she received funding from the Public Works of America Project (one of the Works Progress Administration (WPA) initiatives enacted under President Franklin Roosevelt's New Deal). She was expected to submit a painting of 23 by 30 inches every six weeks. This provided her with financial support until 1943, at which point she relied on welfare to survive.
In 1938 she met a Puerto Rican nightclub singer, José Negrón and they moved to Spanish Harlem together, to a neighbourhood known as 'El Barrio.' There, she focused on capturing the immigrant communities who lived there, as reflected by her painting Puerto Rican Boys on 108th Street and The Spanish Family. The move to this area of New York would have a profound impact on her creative outlook. 'I love you Harlem' Neel wrote in her diary in the early 1940s. 'For the rich deep vein of human feeling buried under your fire engines.'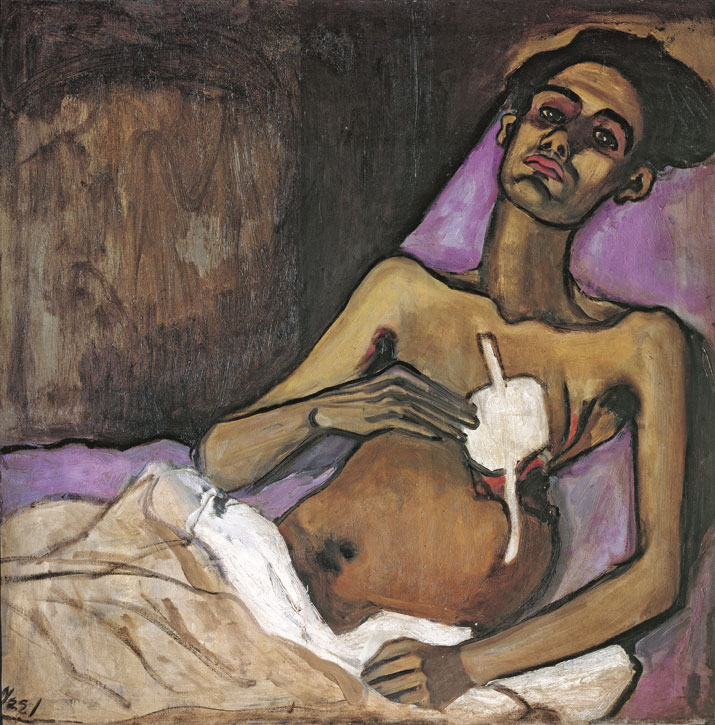 Before the Second World War, Neel had limited commercial and critical success as an artist. It would only be in the post-war years when her work received recognition. Her direct and figurative approach to painting was not in fashion, especially during the 1940s and 1950s when American artists (and those arriving from war-torn Europe) were turning towards abstraction, spearheading the movement that would be known as Abstract Expressionism.
As the painter Chuck Close pointed out, it was as if Neel 'was broadcasting and no one's picking up the signal.' In her own words, the artist would claim: 'I am against abstract and non-objective art because such art shows a hatred of human beings. It is an attempt to eliminate people from art, and as such it is bound to fail.'
Equally, her subject matters – often reflecting her political sensibilities – set her apart from her contemporaries. She would say 'for me, people come first. I have tried to assert the dignity and eternal importance of the human being.' Uncompromising in her vision, Neel's politically-motivated work only became palatable to a mainstream audience in the 1960s and 1970s, when she began mixing with fashionable and influential bohemian circles in New York.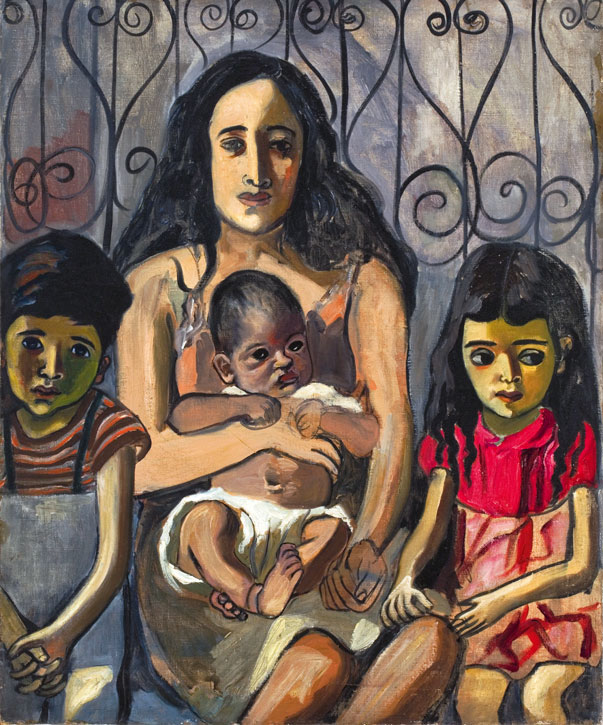 Around this time she painted figures such as Pop artist Andy Warhol, the MoMA curator and critic Frank O'Hara as well as New York's then-mayor Ed Koch. In 1973, she created this intimate yet unsentimental portrait of Kitty Pearson, a young graduate of the Rhode Island School of Design, who was introduced to Neel by Nancy Selvage, a close mutual friend.
This portrait would become known as the artist's signature style – a pale wash in the background against thick black, or blue contour lines. Neel often painted her subjects in unflattering poses or with unconventional features – she disrupts traditional notions of beauty, thus her work has been interpreted as feminist. Known for capturing psychological vulnerabilities, one critic even remarked: 'Miss Neel seems to detect a hidden weakness in her sitters which she drags out, yelping, into the clear glare of day.' In 1963, another critic would describe her portraits as 'extraordinarily alive: she paints the shells they have chosen, and penetrating their shell, probes and exposes their inner being.'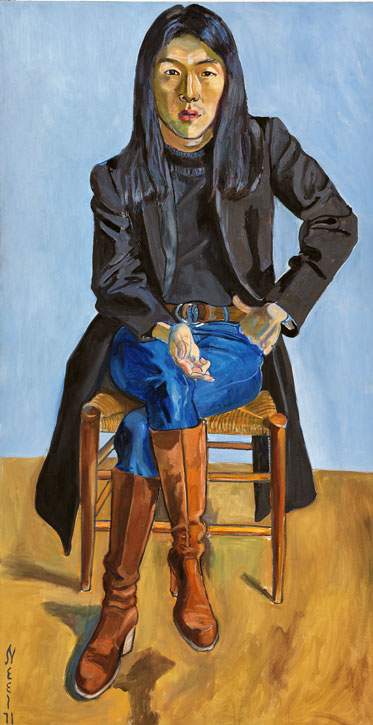 Today, Neel's work is celebrated for its honesty and emotional depth and for her strong political convictions. Throughout her career, she boldly addressed political and social issues, from feminism and civil rights to the Vietnam War, as well as painting street demonstrations, police violence and the general effects of poverty. A self-described 'anarchic humanist' and member of the US Communist Party, Neel caught the attention of the FBI in 1955 at the height of McCarthyism (known as the 'Red Scare') when there was widespread political repression of artists leaning towards the left of politics. Rather comically, and in vignette of her character, Neel invited the FBI agents to sit for her when they came to her house to interrogate her. Unsurprisingly, they declined, but described her in their notes as 'a romantic, Bohemian-type communist.'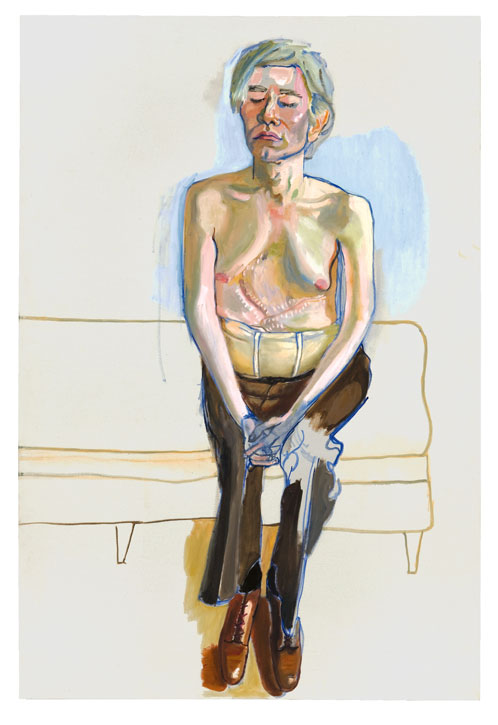 One of the most striking portraits from Neel's oeuvre is her painting of Warhol, captured not long after his near-death experience in 1968 when he was attacked by Valerie Solanas (the feminist artist of SCUM Manifesto). With eyes closed, hands clenched, and chest bared, scarred and in his medical corset, this is a drastically different and vulnerable representation of Warhol that departed from his public persona and branded image at that time. This portrait marked a turn in confidence for the artist and coincided with the escalation of her success.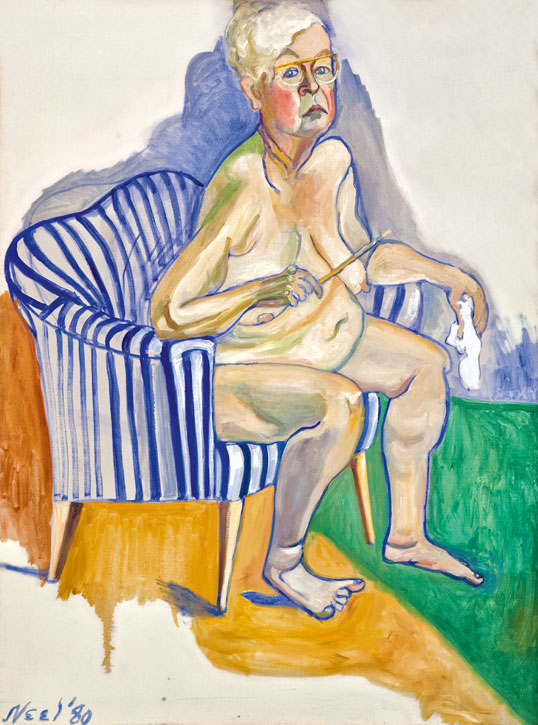 Presented in reverse order, the Barbican exhibition begins with a self-portrait completed by Neel when she was 80 years old. Unapologetic in its nudity and irreverent gaze, the artist described this work as a space in which she could be 'completely and utterly myself. For that reason, it was extremely important to me. It was more than a profession. It was even a therapy, for there I just told it as it was.'
Lydia Figes, Content Editor at Art UK