Throughout eight decades as an artist, Alan Davie (1920–2014) sought out the magic in life: he discovered the pulsating beat of jazz, complete freedom of gliding, the rhythm and skill of silversmithing and the collaborative nature of tapestry. The energy he found in these pursuits culminates in his paintings, and by building upon a multidisciplinary practice, Davie journeyed on a quest through symbols and images.
The energy that drove this quest was ignited on a trip to Europe in 1948–1949, on a scholarship Davie was awarded while studying at Edinburgh College of Art. As well as attending the first post-war Venice Biennale, Davie visited many other European cities. Exploring Paris, Milan and Ravenna, Davie was entranced by the early Renaissance art and glittering Byzantine mosaics. The vast, richly decorated churches held a mysterious quality for the Scottish artist, who grew up in the industrial town of Grangemouth, outside Falkirk.
Ancient mosaics and stained-glass windows are clearly referenced in his first abstract works from 1949. His excitement at discovering the potential of abstract painting is clear as colours vibrate across the canvas. These paintings reflect the intensity of Davie's process as he worked quickly – creating, layering and obliterating to unearth a web of forms and symbols. At this time, Davie was one of the first British artists to recognise the importance of American Abstract Expressionists who worked in a similar way. This led to the early support of his work from gallerist Peggy Guggenheim, who later introduced him to his lifelong gallery, Gimpel Fils in London.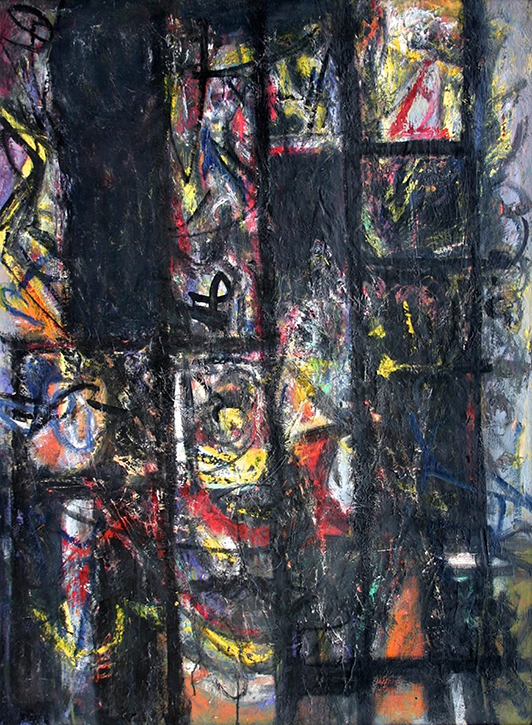 Throughout the 1950s, Davie continued to work quickly with liquid paint, creating layered, grid-like structures from painterly geometric forms. Working spontaneously and vigorously, Davie believed he could liberate the unconscious through the painting process – leading to his acclaim as 'Britain's Jackson Pollock'. Soon, however, Davie found that the freedom of action-painting was in fact restrictive, and sought to find structure in his work.
Music was a crucial element of Davie's artistic practice, and it was through jazz that he realised a new development in his paintings. After undertaking war service, Davie played saxophone in several jazz bands, and developed his talents on piano, flute and cello. A sense of musicality is a consistent thread in Davie's work, but it wasn't until he discovered Eugen Herrigel's 1953 book Zen in the Art of Archery that he was able to fully embody his connection to music.
Similar to jazz, where the musician selects a starting chord tone from which to improvise, Davie recognised the importance of structure and discipline. Through this, he could achieve creative freedom and liberate the unconscious mind. The paintings from this period subsequently balance inventive expression with recognisable structure in an increasingly colourful palette. In Crazy Gondolier (1960), simplified block shapes and bands of colour are mixed with frenetic brushwork that dances across the painting.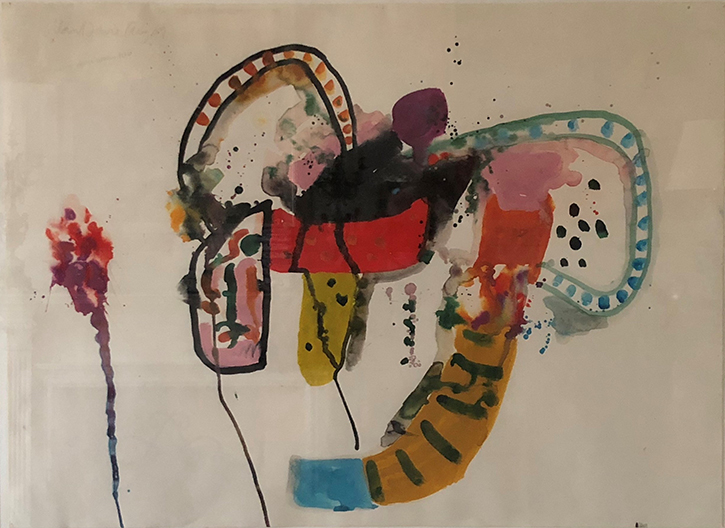 The year 1960 also saw Davie begin gliding with fellow artist Peter Lanyon, declaring 'I discovered that I could be a bird... How much more important than Art, just to be a bird'. The exhilaration and freedom Davie felt from being physically immersed in nature is echoed in his paintings from this decade. The density of his previous work was replaced with a liberated sense of space and an interest in the dialogue between forms. In these new creations, spontaneous and fluid marks, hinting at organic shapes, float across the painting's surface.
These energetic compositions provided the groundwork for Davie's interest in repeated decoration. The late Edinburgh-based artist Graeme Todd spoke of decoration functioning 'spatially... The dotting and fragmentation of colour pulls your eye around the painting'. Like Todd, Davie's use of decoration was not purely superficial but instead evoked movement and energy in a different way from the action-painting of the 1950s.
The 1970s saw another development in Davie's work as he began visiting Saint Lucia in 1971. For the next 12 years, he spent six-month periods in Saint Lucia producing gouaches and spontaneous drawings before developing these into oil paintings back in his studio in Hertfordshire. This method of working evolved as Davie realised that he was able to take his spontaneous sense of discovery and 'work with it patiently' to develop more complex imagery.
Paintings from this decade demonstrate a reconsideration of pictorial space, with symbols sitting within stage-like interiors, rather than on a flat plane. In these works, there is an invitation to reconsider what is seen – a celebratory event, invented creatures or a gateway to another world? Valuing intuition over intellectual interpretation, Davie stated that his 'pictures are not like dreams, they are dreams' – inviting the viewer to open themselves up to the mysterious world of imagination.
Davie was a master of many crafts, both technically skilled and profoundly creative. His work defies categorisation, his imagination was vast and unrestrained, but he did not work in complete isolation. Throughout his life, he gathered inspiration from other artists and cultures, both ancient and modern. In the 1970s he discovered illustrations of ancient Kalinago petroglyphs, explored Aboriginal rock carvings in Australia and looked at prehistoric pottery designs excavated in the Arizona Hopi reservation.
Later in the 1990s, Davie increasingly looked to motifs from Indigenous cultures as inspiration to convey myth and narrative. His Homage to an Earth Goddess series of paintings is heavily influenced by imagery from Mexican muralists, Jain cosmology diagrams and East African round huts.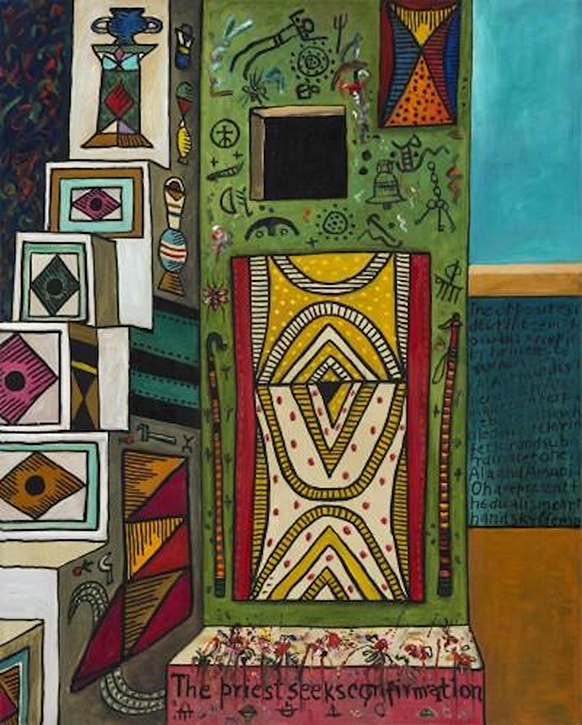 Upon further research, it's clear that the graphic colour and line from the huts of the South African Ndebele community are echoed here, in combination with symbols from Igbo Mbari shrines in southeast Nigeria. Particularly in Homage to an Earth Goddess No. 2, there are visual connections with the work of contemporary Ndebele artist Esther Mahlangu.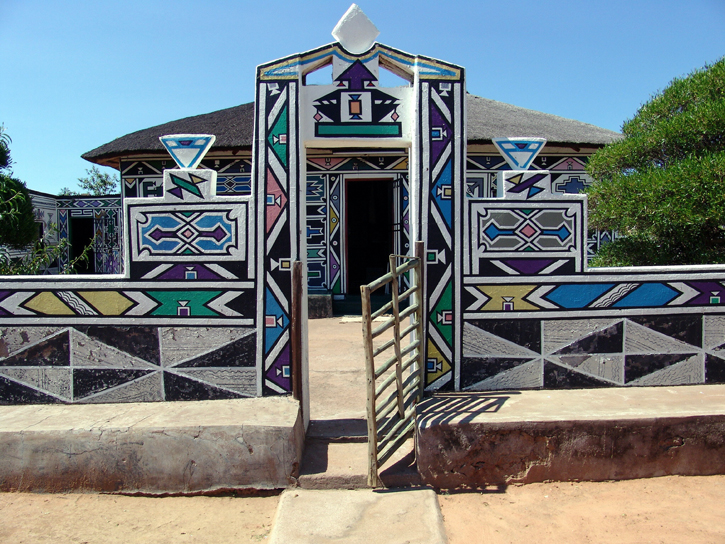 Davie's fascination with non-Western cultures was not a fetishisation of the exotic 'other'. Instead, he found a shared visual language that spanned across time – for him authenticating the universal symbolism described in Carl Jung's philosophy. Discovering that similar symbols were to be found in such diverse cultures as South African murals, art from Venezuela in 3000 BC and Celtic tapestry confirmed to Davie the idea of universal connection.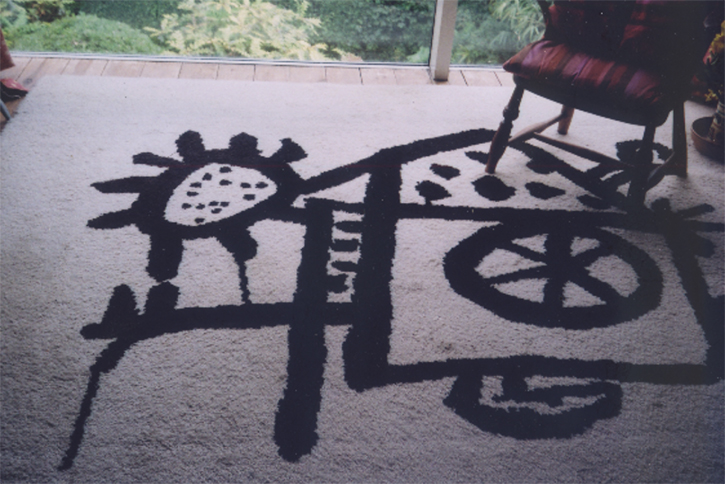 At the turn of the century, Davie took his interest in combining symbols and forms into another medium – a textile collaboration with Dovecot Studios. He had collaborated with other creatives before: the Alan Davie Music Workshop had produced several experimental jazz records, and a hand-tufted rug by his wife and long-term supporter, Bili Davie, was seen in their home.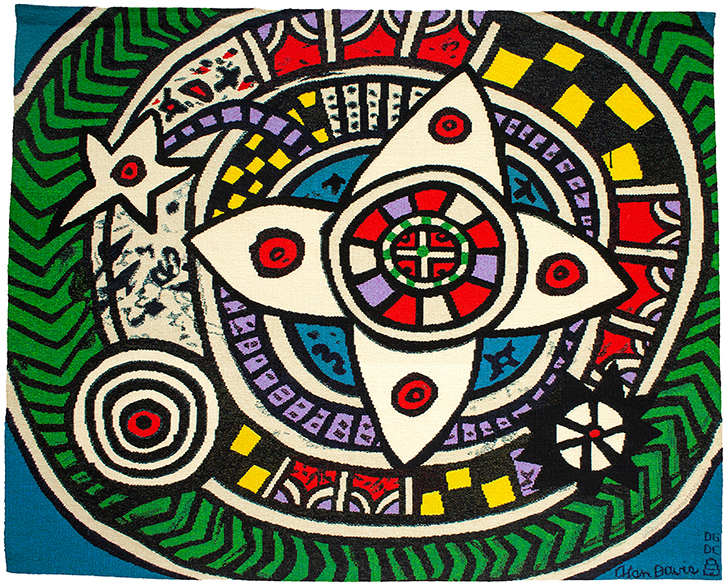 The Dovecot Studios collaboration, however, was created on an international stage. The Cosmic Spiral tapestry was woven onsite at the 2003 Smithsonian Folklife Festival in Washington for the exhibition 'Celebrating Scotland's Crafts'. Over a million visitors watched Dovecot's master weavers transpose – into a bold and richly coloured tapestry – the repeated decoration and rich vocabulary of symbols in Davie's Cosmic Signals series.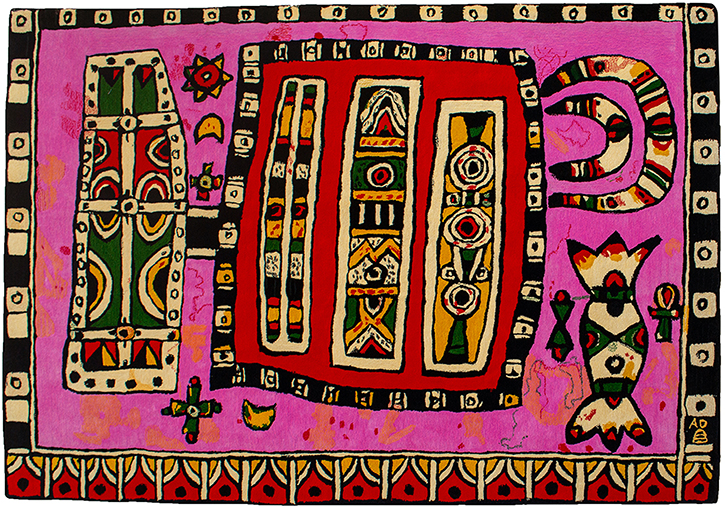 This tapestry, alongside Celtic Spirit II – another collaborative textile piece created in 2003 – can be seen currently at Dovecot Studios in Edinburgh, in the exhibition 'Alan Davie: Beginning of a Far-Off World'. The immense scale of this rug and its interweaving of ancient symbols with a highly contemporary colour palette epitomise Davie's unique visual language.
In a fresh take on Davie's life work, this exhibition has opened up the private collections of Davie's friends and peers to show rarely viewed works to the public. This unique retrospective pairs works from across all eight decades of Davie's practice to celebrate the centenary of this prolific artist. Graduating from Edinburgh College of Art nearly 80 years after Alan Davie, I curated this exhibition to explore visual connections and previously undiscussed themes in the work of one of the greatest British artists of the twentieth century.
Siobhan McLaughlin, artist and freelance curator
'Alan Davie: Beginning of a Far-Off World' is showing at Dovecot Studios, Edinburgh until 24th September 2022. It opens all week during August, with late openings on Thursdays. For more information, visit dovecotstudios.com