Art UK is a year old today! Of course, the organisation is a tad older – the grand old age of 14 – but rebranding is plainly a rejuvenating experience as we are all still feeling as if the organisation is in start-up mode.
All of us here hope you have enjoyed using Art UK over the last year and found it useful and engaging whether you have been accessing it from the comfort of your home, at school or university, or on the move on your mobile.
Answering the telephone as 'Art UK' on 24th February 2016 felt slightly unusual but the discomfort disappeared swiftly accompanied by the immeasurable relief of not having to repeat the three words of the previous name (Public Catalogue Foundation) to those unfamiliar with the organisation.
We were, of course, fond of our old name but 'Art UK' trips off the tongue so much better and what's more 'it does what it says on the tin'. The big challenge now is getting the name on the tin better known. Whilst, we are pleased with our almost two million 'unique' visitors to the site in the last year, Art UK is still relatively unknown, even amongst art lovers across the UK. Interestingly, more people visit the Art UK website from outside the UK than within the UK.
We have a number of plans for promoting the name and we are very pleased that the amazing team at creative agency Gravity Road will be helping us on a pro bono basis. However, as with most arts organisations, lack of funding constrains what we can do. So if there are any supporters who would like to help us in any way making Art UK better known, please email me.
Two words that have taken on great importance since we started running Art UK a year ago are 'web analytics'. These provide us with many insights into how our audience uses Art UK. How long do they spend on the site? On average just over 2.5 mins. Where do they come from? They are well spread across the UK and the top five other countries are USA, France, Australia, Canada and Germany in that order. What do they use the site for? Around a quarter use the site for professional or educational reasons whilst the rest come to it for general interest – which pleases us greatly!
And what sort of art do they like? The top three artists viewed over the last year were J. M. W. Turner, Vanessa Bell and Lucian Freud. The 'unknown artist' page is also amongst the most visited artist pages on Art UK. And below I thought you would be interested to see the three most popular paintings on the site.
However, having shown you those, I feel it my duty to share with you three works that sadly no-one has viewed on Art UK over the last 12 months. Of course there are thousands more and we would love you to tweet us @artukdotorg artworks that you think should be better known, are interesting or simply amusing.
Sharing the nation's art with the public that owns it and across the world is central to Art UK's mission. I would estimate that over 90% of the 3,255 collection venues on Art UK do not have the resources to put their art collections online on their own. Art UK therefore plays a crucial role in providing a shared digital infrastructure to these collections, bringing them all the benefits of scale and technology that would normally be the preserve of the national museums.
We see these collections as key stakeholders in Art UK, particularly those 650 or so Partner collections that help towards the sustainability of Art UK by paying an annual subscription.
As museums and other public art collections face continued financial challenges, our view at Art UK is that the time is ripe for considerably greater sharing of digital infrastructures. The Art UK Shop and Art Detective are other examples of shared digital infrastructures that we have built for the sector.
Whilst some 75% of our historic funding has come from the private sector, a focus for us recently has been to convince government that going forward we need to scale up the organisation to run the Art UK digital infrastructure on behalf of the sector and this requires regular public funding to be part of our funding mix.
Critical to our thinking is seeing Art UK on a 10 or indeed 20-year view, opening up substantially more art across the nation for viewing online whilst encouraging people to visit this art in person and helping to generate commercial income for the participating collections. The Art UK Shop is central to the last point.
In the last few months, Partner collections have started uploading their watercolours and other works on paper to this site. Thanks to a grant from the Paul Mellon Centre for Studies in British Art we should be able to add a substantial number this year.
However, over the next few years, the most noticeable addition to the site will be that of sculptures, subject to the HLF Board confirming a £2.8m grant on 21st March. To match the £2.8m grant we have needed to raise £1m and have £175,000 left to find. If you would like to help us reach our goal by making a contribution to this please contact me directly.
The American artist Ad Reinhardt apparently once said, 'Sculpture is something you bump into when you back up to look at the painting'. I very much hope that Art UK Sculpture will put paid to that attitude.
A key part of the project will, therefore, be digitising the sculptures, with photographs for the large majority. In our survey of over 450 public sculpture collections, 69% said that none of their collection could be seen online and 46% informed us that some or all of their sculpture collections were still being recorded on paper. This project will radically transform access to the nation's sculpture collection.
Just over the 40% of the total cost of the Art UK Sculpture will be spent on activities related to learning, volunteering, training and public engagement. I have to say that four years ago when we contemplated our approach to the HLF for funding, this substantial additional cost, beyond the cost of digitisation, rather daunted us. However, we have so many exciting activities planned – including extending Masterpieces in Schools to taking great sculptures into primary and secondary schools – that I am now 100% convinced that this expenditure will have a transformational impact on our organisation.
No mention of Art UK Sculpture can be made without also adding a thank you to my colleague Katey Goodwin who has done so much to take this project forward.
However, I am of course surrounded by an extraordinary team of wonderful colleagues and work closely with an exceptional Board of Trustees. And all of us are guided expertly by a number of Steering Panels and our newly appointed Advisory Board. We also now have an enthusiastic Audience Panel in place to help us ensure that Art UK meets the needs of all our users. If you would like to join this Panel contact Lauren Colley. If you would rather give me your comments directly, do email me.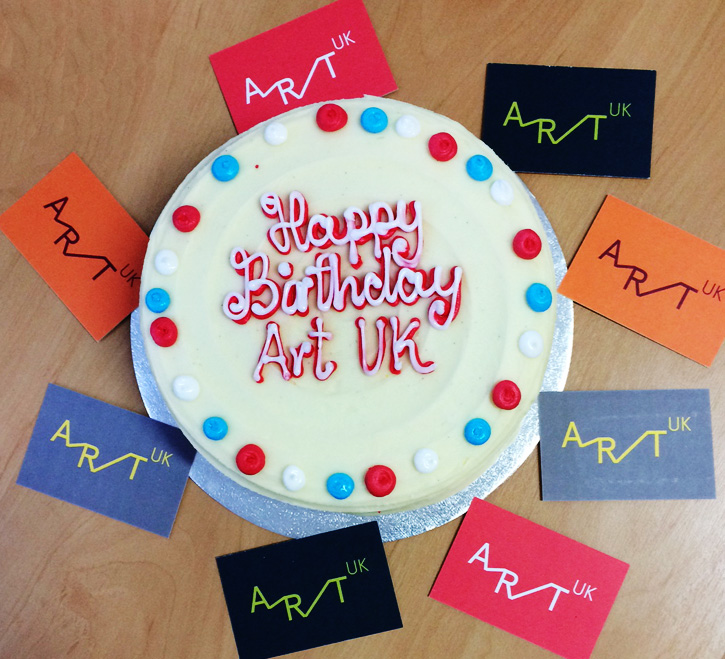 Finally, on this first birthday of Art UK, my final thank you is to our funders. None of what we do would be possible without our funders, particularly the grant-giving trusts, our Benefactors, the Scottish Government and the HLF. We are particularly indebted to Arts Council England which has been an incredible supporter in recent years.
All of us hope you will continue to find Art UK useful and enjoyable to use.
Andrew Ellis, Art UK Director