What role does public art have in representing a community? Are artworks an impactful intervention in a public space? Can they change the behaviour of people who come into contact with them?
These are some of the questions the community of Tillydrone in Aberdeen have been pondering during consultations and creative engagements with four sculptors, partly funded by Art UK's recently completed sculpture project. Each of the sculptors developed a new sculpture proposal in response to the Tillydrone Gateway Project brief, which outlined the community's need for an artwork that would welcome visitors to the area, but also remind drivers crossing a controversial new bridge that they are entering a community with a shared history that should be respected (with appropriate driving speeds and care!).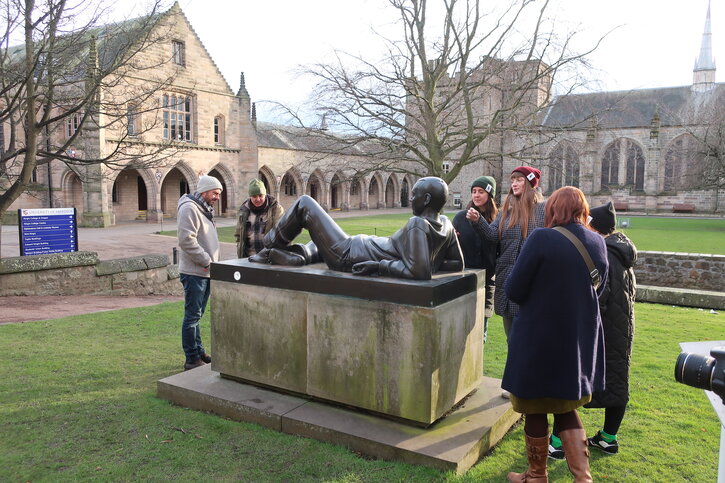 The sculpture proposal process began back in January 2020, when the shortlisted sculptors visited the community and completed a tour of nearby public sculpture. As well as visiting and discussing works by popular Scottish sculptors such as Kenny Hunter and Andy Scott, the sculptors took in the River Don's wildlife, the sculpture-like machinery of former mills scattered along its banks, and the community-owned and operated hydro-electric scheme.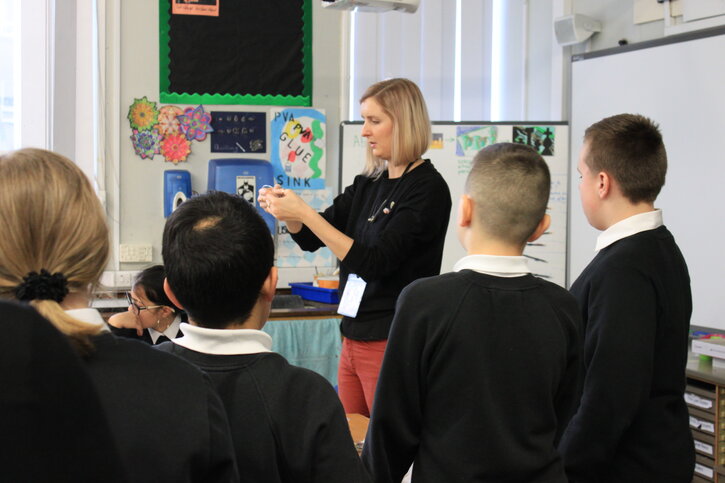 The sculptors then visited schools and community groups in the area just before the first national coronavirus lockdown took place in March 2020. Activities ranged from drawing to clay sculpting to origami folding! All of these engagements informed the following four proposals, which were presented to the public as part of a recent online consultation to help determine which proposal will be taken forward.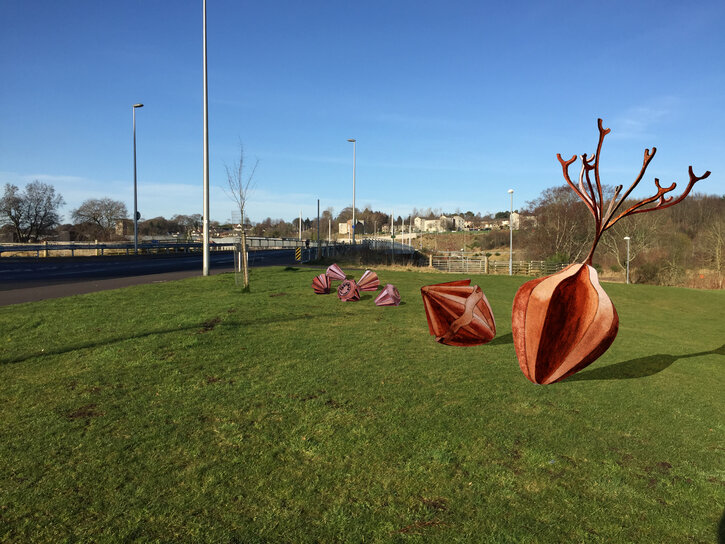 Joseph Ingleby combined man-made and natural shapes and forms, such as machine cogs and seed casings, to create a set of sculptures that symbolise Tillydrone's industrial history and nature found along the nearby River Don. A narrative is clear in the growth of a tree from the smaller cog-seeds, which Ingleby compared with spinning tops, granting them the name The Tillydrone Tops. The proposal was very much in line with Ingleby's special knack of capturing a mishmash of industrial and natural forms in his work, such as Slipstream in Glasgow.
Svetlana Kondakova's proposal spans both sides of the road, with an eye-catching blue kingfisher (native to the River Don) on one side, facing a large human head opposite, symbolising the residents of Tillydrone and their close connection with nature. Imprinted across the human head, smaller indentations are to be found on closer inspection featuring symbols and images of different aspects of Tillydrone's community, which Kondakova came to appreciate during her thoughtful and in-depth public engagement.
In conjunction with Aberdeen-based artist Allan Watson, SMART Art Agency's proposal presented a more abstract yet universal approach, with a large tree-shape made of concrete combined with a colourful house composed of coated steel. It was proposed that these interlocked symbols of home and nature would be accompanied by further colourful houses scattered throughout the community, linking the wider area with the larger Gateway sculpture.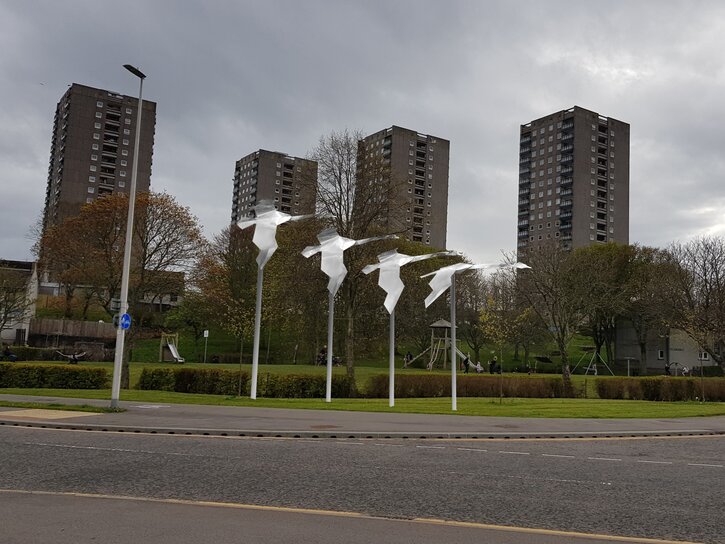 However, it was the prolific Scottish sculptor David Annand's proposal that won the most public favour. A series of four swans made of steel raised above the ground on posts resonated with the public due to the popularity of the swans that live on the river, as well as Annand's clever origami-style design, connecting the sculptures with Tillydrone's former paper mill. The design in fact came out of an origami workshop Annand ran in a local school during his in-person engagement in early 2020, with the final design depicting a gaggle of swans about to land on the River Don.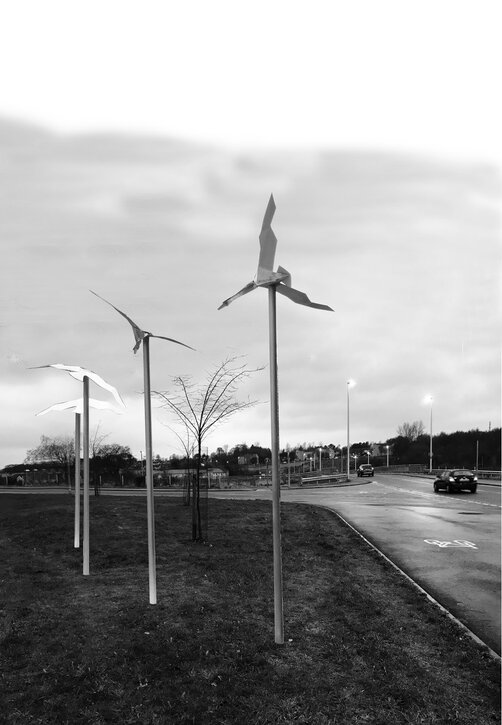 Buoyed by the overwhelmingly positive response they've received to their consultation survey, the Tillydrone Gateway Feature group are now busy filling in planning permission applications and fundraising in order for this special sculpture proposal to become a real-life artwork in their community. One survey respondent summarised the overall feedback with the following comment: 'I love that you are doing something to highlight/celebrate the area. The new bridge and development of walkways around it have really helped encourage people to walk by the river and enjoy the wildlife and surrounding area. Tillydrone has a strong community spirit and I'm always happy to see money spent on improving these often overlooked areas.'
You can keep up to date with the project's progress via their Facebook page and learn more about Art UK's National Lottery Heritage Fund-supported sculpture project. Aberdeen City & Shire is one of two regions set to take part in our new learning and engagement project, The Superpower of Looking, set to be piloted later this year in primary schools, and freely accessible as part of our new learning resources.
Shane Strachan, Learning & Engagement Officer at Art UK