The protagonists in the current political crisis in Venezuela are increasingly familiar to us from pictures in the international press. It is hard to imagine how anyone could, amid political chaos, find time to sit for their portrait. Yet among the many treasures at The Stirling Smith Art Gallery & Museum is a unique and striking portrait from an earlier, equally turbulent period of Venezuela's history, when the painted portrait had huge political significance.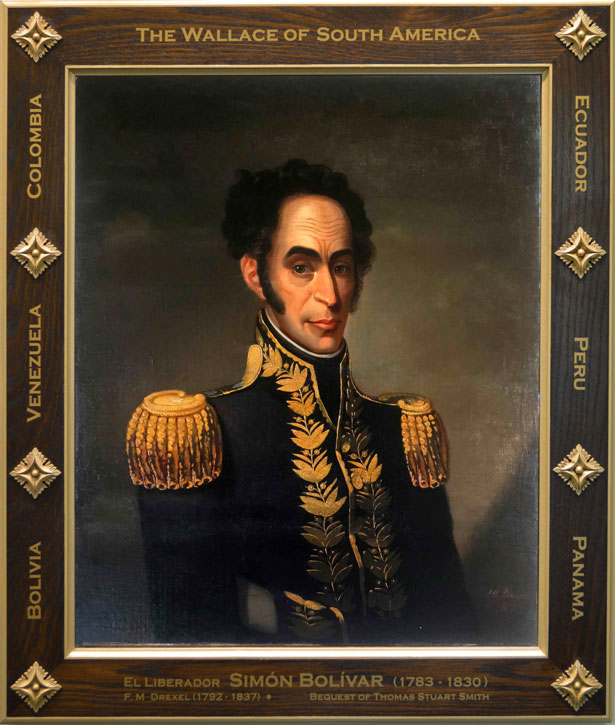 Portrait of a Man in Uniform, as it was then called, listed as by an unknown artist, looked very different when it was first recorded by the Public Catalogue Foundation (the precursor to Art UK) for the Mercers' Series catalogue of oil paintings in public collections in Central Scotland in 2013. The neglected canvas was in shreds, with large areas of paint loss.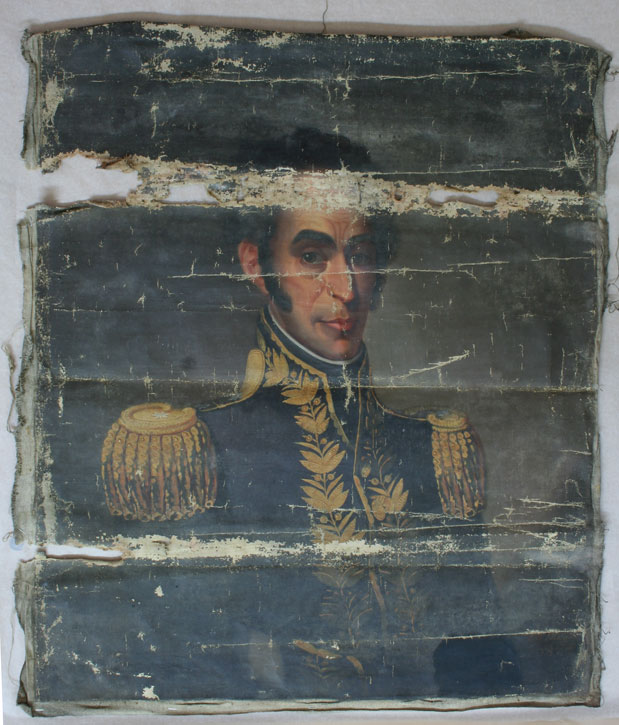 Fortunately, it was recognised by gallery volunteer Michael Donnelly as a portrait of Simón Bolívar (1783–1830), who famously led the secession of Venezuela – as well as Ecuador, Peru, Panama, Colombia and Bolivia (which was named after him) – from imperial Spain in the early nineteenth century.
Extensive restoration led to the discovery that the picture had been painted in 1827 by the Austrian-born artist, Francis Martin Drexel (1792–1863).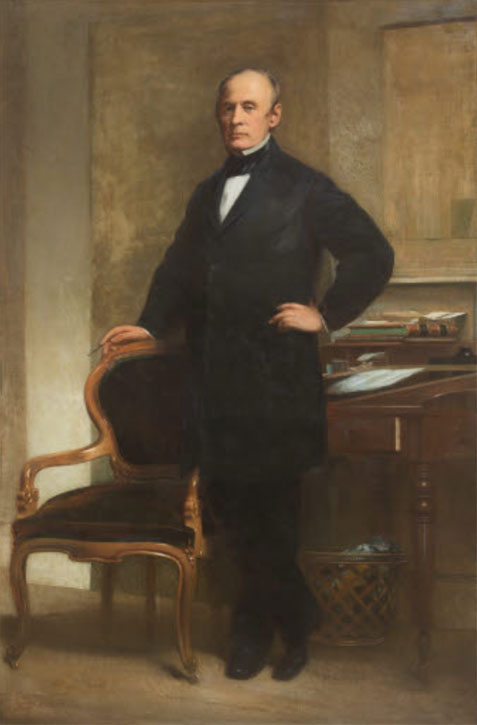 Drexel settled in Philadelphia where, in 1837, following extensive travels in South America and Mexico, he established Drexel & Co., which became one of America's largest banks. His son, Anthony Joseph Drexel (1826–1923), founded Drexel, Morgan & Co. (forerunner of the Morgan banking company) in 1871, as well as Drexel University in 1891.
A fine, custom-made frame records Bolívar's sphere of political influence. At the top is his Scottish sobriquet, followed by (clockwise) the countries he helped to liberate.
Bolívar was known in Scotland in his lifetime as 'The Wallace of South America', in deference to Sir William Wallace (c.1270–1305), who was hailed as a national hero after defeating an English army at the Battle of Stirling Bridge in 1297.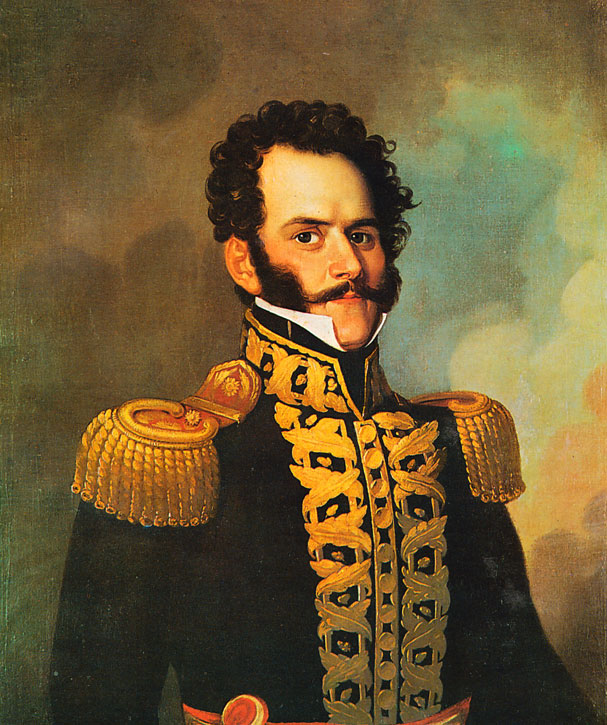 The many South American political leaders painted by Drexel included Blas Cerdeña (1792–1854), Grand Marshall of the armies of Peru, Bernardo O'Higgins (1778–1842), one of the founding fathers of Chile and José de San Martín (1778–1850), the Spanish-Argentine general who led South America's struggle for independence and served as Protector of Peru.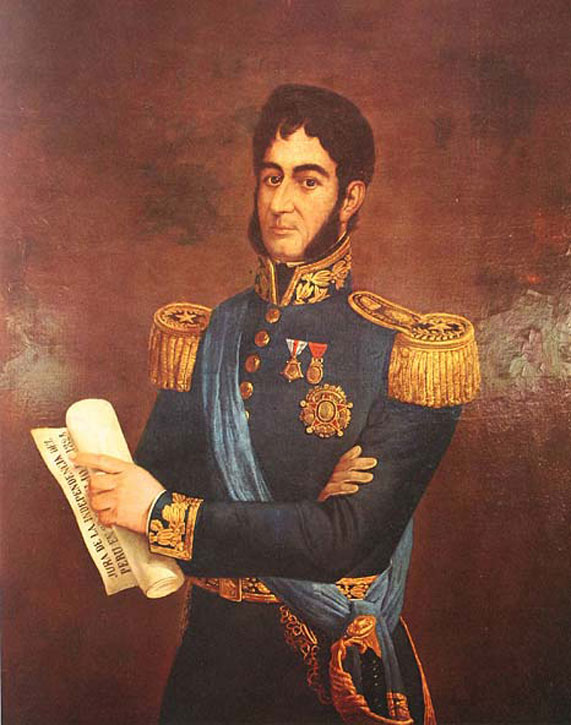 In 2018, when this portrait was in the conservation studio and still on Art UK as Portrait of a Man in Uniform, Peter Prescott pointed out on Art Detective that the subject was 'fairly obviously' Simón Bolívar and one of relatively few surviving depictions. He suggested that scholarship on nineteenth-century South American uniforms could probably confirm this. The collection replied that they were certain it was Bolívar, noting that, in addition to the obvious likeness, the acquisition fitted the political leanings of the Scottish artist and philanthropist Thomas Stuart Smith.
Smith, who founded the Smith Institute, now known as The Stirling Smith Art Gallery & Museum, was a liberal who supported the abolition of slavery. Among the famous works he painted himself are important portraits of men of colour at a time when they were generally only shown in subservient roles.
It is remarkable that this rare lifetime portrait of Bolívar ended up in a Scottish public collection. The Parliamentary Art Collection has a copy, by the living Venezuelan artist Luis Álvarez de Lugo (b.1923), after an 1825 portrait of Bolívar painted in Lima by Afro-Peruvian artist and cartographer José Gil de Castro (1775–1841).
At the time of writing, the Wikipedia entries for both Bolívar and Drexel still make no mention of this major find in Stirling.
Drexel University Archives has Drexel's original Journal of a Trip to South America, which he undertook between 29th November 1826 and 10th April 1830. Listed under 'Portraits painted in Lima', 20th February 1827, are 'Bolivar for Mr Begg' and 'Bolivar for Lobus Saltana' – it is not known which belongs to The Stirling Smith Art Gallery & Museum. The painting is inscribed on the back 'Js. Wingate, Esq./ London'.
Over to you!
Could anyone give us any information on 'Wingate, of London', as inscribed on the back of the artwork? Start an Art Detective discussion or send information to us to keep the investigation going...
Dr Marion Richards, Art Detective Officer, Art UK