Wilhelmina Barns-Graham enjoyed a particularly long career as an artist, stretching from the 1930s up until her death in January 2004, aged 91. The last 10 years of her life were particularly vital, during which she produced a group of dynamic, vibrant works epitomised by the boldly abstract Scorpio Series of acrylic works on paper, that she began in the mid-1990s. Although she gained almost immediate critical and commercial success with these works, she continued to experiment and develop right up to the end of her life. Preoccupied by the very act of painting and the joy she felt in it, this small exhibition highlights some aspects of the work she made in these final few years.
2001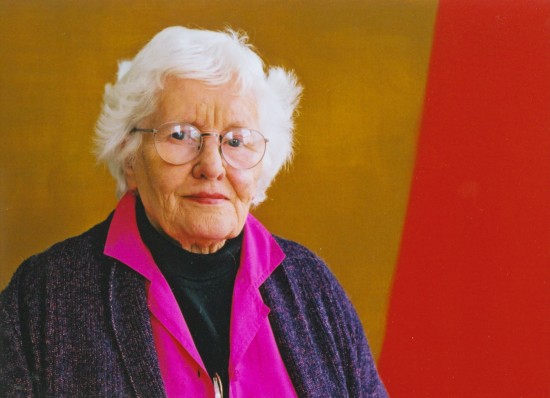 Photo credit: Rowan James
Wilhelmina Barns-Graham

Wilhelmina Barns-Graham, c.2001

1995
Scorpio Series No. 3
An early example of a Scorpio painting, so called by Barns-Graham for what she saw as the 'sting in their tail'. Painted flat on standard sized sheets of paper, she would work on a few pieces simultaneously. Their defining features are foregrounded strokes of pure colour, usually just off vertical, painted over more varied, usually less distinct backgrounds, creating movement and energy. Barns-Graham described the renewed intensity and expressiveness she brought to these works as 'letting rip'.
1999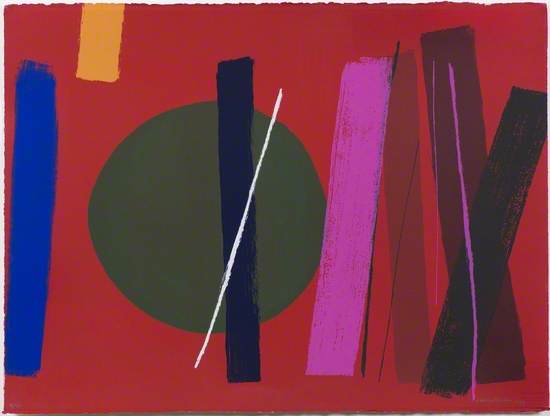 Just in Time
Hand in hand with Barns-Graham's development in painting during these final years was her immersion in printmaking. Although they share many of the formal characteristics of paintings made at the time - the single brushstrokes and here a large circle, for her they represented a very 'different way of working'. Collaborating closely with the screenprinters Graal Press, rather than the image being directly composed on the paper, she was able to make 'arrangements' of the individual elements she had created on acetate, making adjustments to the composition until happy with final version to be editioned.
Just In Time
1999
Wilhelmina Barns-Graham (1912–2004)
Screenprint on paper
H 56 x W 76 cm
NHS Lothian (Edinburgh & Lothians Health Foundation)
Five Blues
Five years on from Scorpio Series No.3, while the main compositional devices remain, including the use of enlivening thinner bands of colour, both the vertical strokes and the background are formed by more solid blocks of paint than in the earlier example. However, the sense of movement, energy and focus on dynamic colour relationships remain.
Five Blues
2000
Wilhelmina Barns-Graham (1912–2004)
Acrylic on canvas
H 91.3 x W 121.8 cm
Wilhelmina Barns-Graham Trust
Ultramarine II
Although during this period she was generally focused on more manageably sized works on paper, Barns-Graham did continue to occasionally tackle larger works on canvas. Ultramarine II's distinctive black form apparently references two very personal visual starting points - her earlier 'Firth of Forth' series from 1995-96 in which details of the distinctive steel structure of the Forth Bridge appear, and also the very particular shape of a small sculpture she owned by her friend Robert Adams (1917-84).
Ultramarine II
2000
Wilhelmina Barns-Graham (1912–2004)
Acrylic on canvas
H 91.4 x W 121.7 cm
Wilhelmina Barns-Graham Trust
Gaia Series (Mars) I
Gaia Series (Mars) I references scientist James Lovelock's then recently published Homage to Gaia, his theories about synergistic relationships within nature appealed to Barns-Graham, who had read the book with interest. Relatively large at 168cm wide, this work shows her growing interest in compositions which left fields of colour around more focused areas of loose brush work. The deep Indian Red seen in the background recurs in paintings and prints during this period, its literal earthiness coming to represent the Earth in a much broader sense.
Gaia Series (Mars) I
2000
Wilhelmina Barns-Graham (1912–2004)
Acrylic on canvas
H 122 x W 168 cm
Wilhelmina Barns-Graham Trust
Afghanistan
There are a number of works from Barns-Graham's career that diverge from her usual practice of using titles which simply reference either the colours or forms in the work, or the series of which it forms a part or even often simply leaving works as 'Untitled'. Demonstrating her keen interest in contemporary global events, earlier examples include Protest from 1968 and Fire Series No.7 (Bosnia) 1994. Similarly to these, Afghanistan was most likely titled after is was completed rather than being made in direct response to the subject matter suggested by the title.
Afghanistan
2000
Wilhelmina Barns-Graham (1912–2004)
Acrylic on canvas
H 121.6 x W 91.4 cm
Wilhelmina Barns-Graham Trust
Easter
While Afghanistan had been a one-off work in terms of colour, the following Easter Series pursued similar formal concerns in a number of bold white-on-blue and white-on-black variations, often with a line-drawn circle just visible in the background as a contrasting geometric counterpoint. With both single and double stroke versions Barns-Graham experimented with the visual power of a broad, bold brushstroke over expanses of deep variegated colour.
Easter
2000
Wilhelmina Barns-Graham (1912–2004)
Acrylic on paper
H 58 x W 76.5 cm
Wilhelmina Barns-Graham Trust
2001
Untitled (April)
A slightly different variation on both the generally intensely coloured Scorpio style paintings and the more restrained Easter series, here the predominant black brushstrokes have an almost calligraphic elegance against the parchment like background. The intense blue stroke provides the element which would help the composition to, what Barns-Graham would describe as 'sing'.
Untitled (April)
2001
Wilhelmina Barns-Graham (1912–2004)
Acrylic on paper
H 46 x W 76 cm
Wilhelmina Barns-Graham Trust
2001
Untitled (Grey)
Barns-Graham worked consistently between 2001-03 on the more pared back (compared for example to the earlier Scorpio paintings) compositions she had been developing over the preceding year or two. The acrylic on paper Untitled (Grey), restrained in terms of both its monochrome palette and formal arrangement, actually had antecedents in a canvas - Black Oval, that Barns-Graham had worked on in the late-1950s, it hadn't developed further at the time but latterly she had reappraised it as a critical moment.
Untitled (Grey)
2001
Wilhelmina Barns-Graham (1912–2004)
Acrylic on paper
H 56.7 x W 76.2 cm
Wilhelmina Barns-Graham Trust
2003
Two Reds on Purple
Throughout her career Barns-Graham always produced what might be described as 'small works' - finished pieces that mirror the formal interests of her wider practice at any particular time, but on a more 'hand-held' scale. Although measuring only 20 x 25cm Two Reds on Purple is a powerful statement - the softer dark red emerging from the dark background contrasting with the brighter comet-like streak with a focused intensity that may have been difficult to achieve on a larger scale.
Two Reds on Purple
2003
Wilhelmina Barns-Graham (1912–2004)
Acrylic on canvas
H 20.5 x W 25.2 cm
Wilhelmina Barns-Graham Trust
2003
Wait
The often dramatic use of space and more minimal brushstrokes which Barns-Graham developed over these final years combine in Wait to breathtaking effect. A meditative deep cobalt blue dominates most of the canvas, with all the action daringly hugging the the left hand edge of the composition. Here a broad black vertical stroke provides the "Wait" - holding the intense, energetic yellow and red brushstrokes in check.
Wait
2003
Wilhelmina Barns-Graham (1912–2004)
Acrylic on canvas
H 76 x W 101 cm
Wilhelmina Barns-Graham Trust
Explore artists in this Curation