What does a painting say to you? How do you approach a work of art? How does the artist create mood and feeling?

We hope this exhibition can help to explain how artists can go beyond simple representations of the world around us and stir the mind.

Art has developed and changed over time and no single work can stand alone without reference to what has gone before.
We also have a past. Can this influence our viewing?
Artists featured in this Curation:
Robert Purves Bell (1841–1931), David Fulton (1848–1930), Harrington Munroe, Robert Hamilton (1870–1925), Joseph Henderson (1832–1908), Hugh Cameron (1835–1918), George Henry (1858–1943), William Glover (1836–1916), John Lochhead (1866–1921), James Docharty (1829–1878),

and 1 more
See all
Sinclair Robert Thomson (1915–1983)
John Cochrane of Castleview -Robert Purves Bell (1841 - 1931)
The sitter was a County Councillor and also a local Justice of the Peace in Strathaven.
Robert Purves Bell was born in Edinburgh and lived some years in Hamilton from 1891 until moving to Tayport. Have a close look at this portrait, and the painting below of Robert Bennett. Which gentleman would you buy a used car from? Bell's sitter exudes confidence, almost arrogance as he lounges back in his chair.




JHM:1983:39
Robert Bennett - David Fulton (1848-1924)
Bennett was draper and watchmaker in Rutherglen and wrote poetry. He published (privately) a volume of prose and poems in 1888 and Echoes of the Past in 1892. He lived in Rutherglen with his wife Catherine and 10 children.
The artist has portrayed Bennett as a sensible but sensitive man. Contrast him with John Cochrane.
James Loudon MD - Harrington Mann (1864-1937)
Portrait of James Loudon MD, Medical Officer of the Combination Poorhouse 1896. Harrington Mann was a member of the Glasgow School of artists. His strong sense of colour reflected his admiration of James McNeil Whistler and the influence of John Singer Sargent is evident in this impressive portrait. A fitting composition for a senior medical official, this painting is fairly large which, in itself, adds gravitas.
Portrait of a Young Man -Robert Hamilton (1870-1925)
A sensitive portrait of Hamilton's son, painted early 1900s.
This was used as background for the poster advertising the exhibition, 'Visions for the Mind'. It shows the young man with a light shining on his face; he does not look to the the artist and appears in his own world. There is something in the way he faces which suggests inward thinking.
We, in the west, read from left to right. What is next and into the future is always to our right and over the page to start again. Artists often use this concept to show a figure that is either looking inwards, therefore facing left, or looking out into the future or out into the world when facing right. In other words the left side seem shut and the right open.
Malcolm Brown Watt - Robert Purves Bell (1841-1931)
Watt was a butcher in Hamilton and Motherwell and Captain of the original Hamilton Cycling Club. Bell paints him facing the artist, not in a confrontational way but active and sociable. The portrait of his wife Alison makes for a pleasant pair of paintings. Due to how the artist has depicted the couple we react favourably to them.
Alison Paterson Watt - Robert Purves Bell (1841 -1931)
Just look at the way Bell poses Alison, Malcolm's wife; a slight tilt of the head and looking just a little to the side. We naturally impose characteristics onto Mrs Watt. Kindliness, gentleness and good humour? What do you think?
1930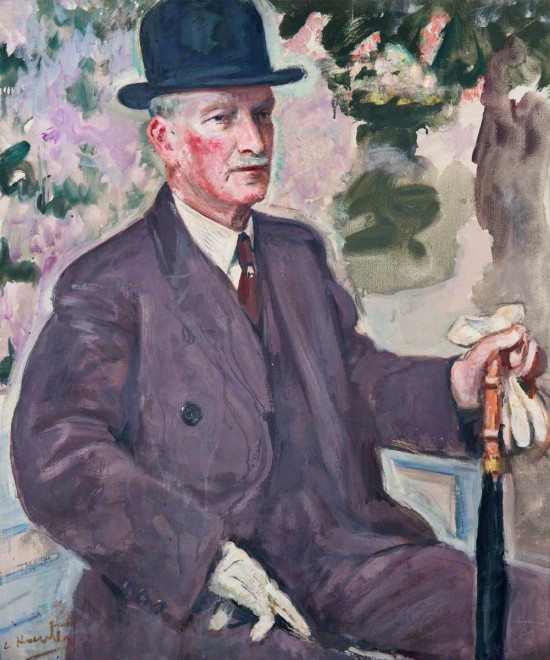 Photo credit: South Lanarkshire Council
William Stewart - George Leslie Hunter
This portrait gives us a chance to think about context, style and meaning. Mr Stewart looks to our right and therefore, going by my theory of comparing reading and the direction going forward, the gentleman is sitting on a park bench looking out into the world and not looking inwards to his own thoughts.
George Leslie Hunter was one of a group of artists known as the Glasgow Colourists and, because of the esteem these artists are held, we we are encouraged to regard this portrait as important and good, so the meaning of the work changes. We know Hunter was influenced by Cezanne and Van Gogh and we admire the flat lack of detail. We are almost trained to regard this impressionism as a leap forward in art style.

William Stewart - George Leslie Hunter

.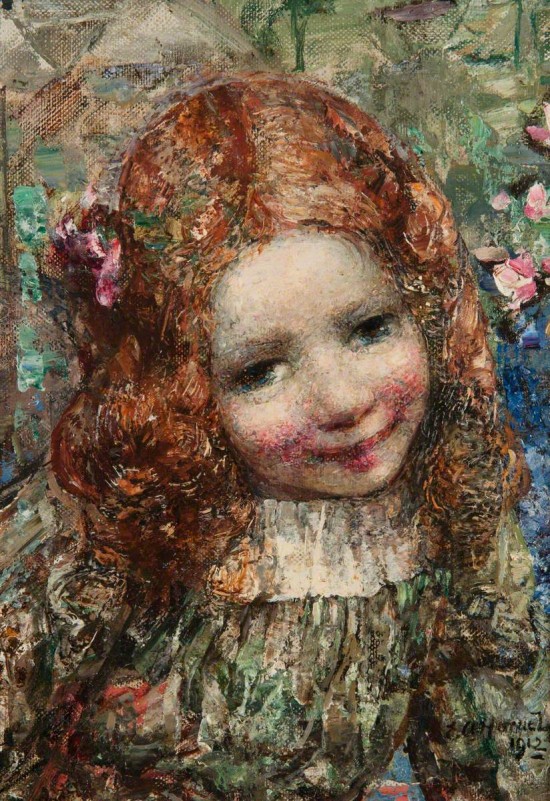 Photo credit: South Lanarkshire Council
Mary - Edward Atkinson Hornel (1864 -1933
This beautiful little painting, by an artist who spent most of his working life in Kirkcudbright, is worth thinking about. Hornel and and his friend George Henry paid a visit to Japan and they were highly impressed by Japanese decorative art, the influence of this was seen in many of Hornel's paintings.
He painted several works showing young girls in his Galloway landscape but in each the decorative colouring of Japanese art shows. This painting of Mary is hardly a portrait, but more of a work of decoration and she seems to dissolve into the pattern. Her gaze to the bottom corner reflects the figure poses in Japanese paintings and, to our eyes makes for a slightly unsettling image.

Mary - Edward Atkinson Hornel

Ayrshire Coast Scene Joseph Henderson (1832 - 1908)
19th century Scottish artists enjoyed painting the point where sea, sky and shore meet. To begin with, paintings of ships in port or harbour views dominated, but gradually painters began to explore the movement and change of light always present in the seascape. Henderson shows us in this painting how artists began to allow more freedom of the brush and we can almost smell the sea air and feel the breeze. It was difficult to compose these scenes and, as the eye needs to rest and be directed around a painting, detail is needed somewhere. Artists included boats or ships and usually figures on the shore. Henderson, with his additions creates movement and scale as well as interest.
Evening on the Shore - Hugh Cameron (1835 -1918)
Following on from the Henderson work, Hugh Cameron shows a development in style. Perhaps the greatest of all Scottish artists who depicted seascapes, William McTaggart, in his later work created paintings which showed an atmospheric unity where his details, such as figures or boats pulled onto the shore, almost are dissolved into the surroundings. Cameron shows us in this painting a young girl carrying a child up the beach and figures behind. They are almost 'ghostly' in outline and the whole work is full of atmosphere and flickering light; sketch like in form. The result produces a more reflective emotion in the viewer than a highly detailed painting.
.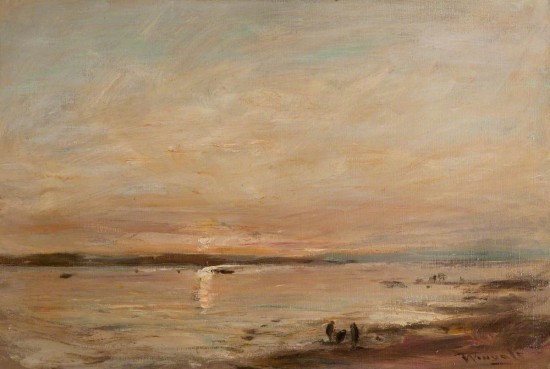 Photo credit: South Lanarkshire Council
Summer Evening - James Lawton Wingate (1846 -1924)
In this painting we see the opportunity, but also the difficulty, the artist has in showing us a sunset at sea. Colour is the most striking feature of the work. Wingate realises that at this moment the sky has the main effect on the scene and so lowers the horizon to accentuate this. Any seascape is really based on the horizontal and something has to be done to add interest. In this case the artist has included tiny figures on the shore and dark dotted boats and rocks out in the water. cleverly he uses diagonals to great effect by running the shoreline from the bottom corner and placing the features out at sea in a diagonal to the figures.

Summer Evening - James Lawton Wingate

.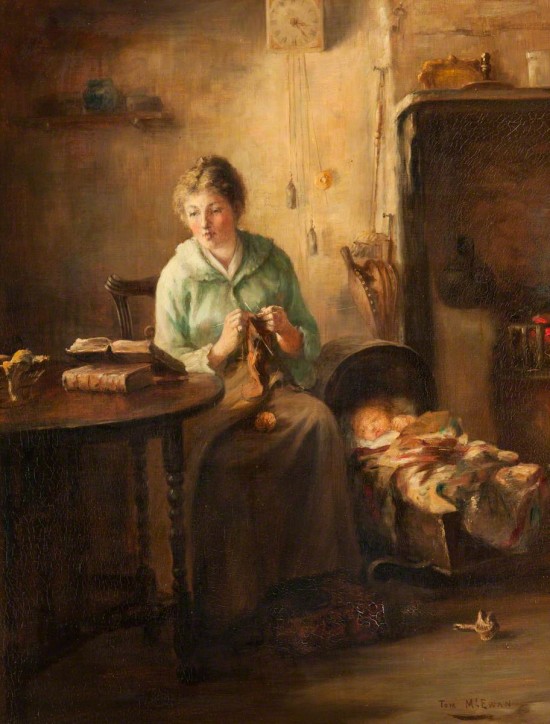 Photo credit: South Lanarkshire Council
A Time for Leisure- Thomas McEwan (1846- 1914
At this point we might look at the several meanings a work of art can project. Firstly, the meaning the artist wishes to convey , usually quite well described in the title; a young mother sits for a while while her child is asleep and most of her housework is done. Secondly, the meaning of the work to us; we take McEwan's meaning and we add the fact that this is nineteenth century and therefore the woman sits in an old fashioned poorly lit room. Thirdly, this work has now become and exhibit in a gallery, not on the wall in someone's living room. We look at it in a different way. This painting is very close to Rembrandt work of 'The Holy Family'. If McEwan had titled his painting thus, would we have looked at it completely differently?

A Time for Leisure - Thomas McEwan

.
Photo credit: South Lanarkshire Council
Interior with Mother and Child - George Paul Chalmers(1833-78)
Another painting of a young woman and child. This time horizontal format and much more evidence of brushstroke. Chalmers, heavily influenced by Rembrandt and Dutch genre scenes, provides us with an atmospheric work and, as in Hugh Cameron's seascape, we are drawn away fro detail and allowed to take in the whole.

Interior with Woman and Child - George Paul Chalmers

Two Girls in a Wood - George Henry
An important painting in that it shows obvious deviation from the traditional landscapes of the nineteenth century. As with his friend E. A. Hornel, Henry is producing a design rather than a true image. His main object in giving us this work is to stress the different greens in a summer woodland and how the sunlight shows through the trees. The two girls are not the subject of the painting but complete the composition and allow us to rest our eyes. As in musical cadences, awe are 'tuned' to expect certain forms and balance.
The Avenue, Neilsland- WIlliam Glover ( 1836 - 1916)
A typical landscape of the late nineteenth century, but does refer to French painters such as Courbet. This is not the romantic landscape for the tourist, but shows the working countryside and can be identified as a particular place. We see the detail clearly: the rooks swirling in the breeze, the cattle still in the lower fields and the hens scratching around the cart hames. We can work out that it is late summer, the lower valley trees are still in leaf but higher along the track the thin trees have had wind on them and their drying leaves have begun to go.
Country Life - John Lochhead (1866-1921)
A large horizontal work which has rather a mysterious quality. It shows figures grouped in almost formal poses to illustrate aspects of the countryside, The shepherd stands, stick in hand before young lambs apart from the ewes which wander by in the background. A woman sits beside him and on the other side of the painting a young mother stands holding a small child while a young girl holds on to her skirts. The lights in the church and houses almost point to it being evening. Plants and flowers decorate the scene. This frieze- like painting can be looked at beside James Guthrie and 'The Glasgow Boys'
Country Life
John Lochhead (1866–1921)
South Lanarkshire Council
Stirling and Abbey Craig from St Ninian's -James Docherty
This extensive landscape shows Stirling and the castle in the distance, Abbey Craig and the Wallace Monument to the right and figures in the fields in the foreground. Docherty lowers the horizon and this helps to show the extent of the view. He does include figures working in the foreground but the eye is drawn beyond these. It is a beautifully balanced picture as the Wallace Monument is placed just at the right point. When we look at paintings such as these, we are seeking balance and order and this landscape has both. Going back to meaning; because The artist has given us the title 'Stirling and Abbey Craig from St Ninians', we remember the history of that particular landscape and the work perhaps becomes one of more importance.
Haystacks at Toward - SInclair Robert Thomson ( 1915 -1983
This landscape deviates in several ways from what we have looked at previously. Thomson loses most of the sky and is concentrating on land and what it produces.
Studying this painting can allow us to think about the process of viewing art. You may not agree with what I suggest, but lets think.
The first element we notice is colour, then line, then identification and context. Of course we have accepted that this two dimensional rectangular object on the wall is going to show us something we will believe, in this case we first notice blocks of colour. (The title already has suggested fields and farmland) we then look for haystacks, division of fields and in this case we stop there. Thomson has left us with that.
.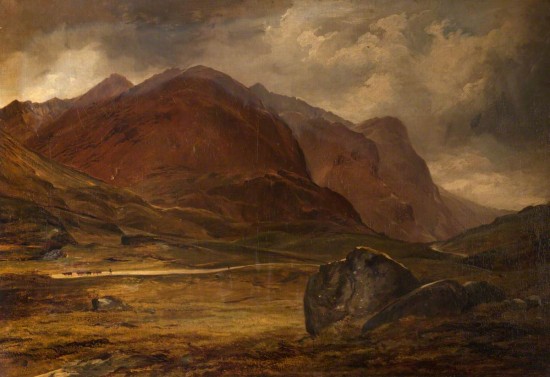 Photo credit: South Lanarkshire Council
Glencoe - Horatio McCulloch (1805 -1867)
Horatio McCulloch's main mission was to show the dramatic grandeur of Scotland, to illustrate the Scotland of Sir Walter Scott and the Romantic movement. Mountains lochs and wilderness slowly became what the tourist wished to see and replicate on the walls of their living rooms. Dark Glencoe was to become a very popular subject for artists and the work you see here exemplifies the type of painting produced. It shows the threatening sky and the outline of the fearsome mountains, with boulders placed in the foreground. With such a subject the problem would be how to convey the scale of the scene. McCulloch cleverly places a drove of cattle followed by figures on the track through the glen, stressing the almost frightening distances.

Glencoe - Horation McCulloch

Explore artists in this Curation