'The Italian Connection' is a temporary exhibition at the City Art Centre in Edinburgh, which explores the enduring artistic links between Scotland and Italy. Drawn from the City Art Centre's own collection of Scottish art, it features work in a range of media by artists including Allan Ramsay, E.A. Walton, F.C.B. Cadell, Stanley Cursiter and Eduardo Paolozzi. This Curation showcases some of the highlights of the exhibition.
For more information about the exhibition at the City Art Centre see: https://www.edinburghmuseums.org.uk/whats-on/italian-connection
Artists featured in this Curation:
Allan Ramsay (1713–1784), David Allan (1744–1796), Andrew Wilson (1780–1848), John Duncan (1866–1945), Francis Campbell Boileau Cadell (1883–1937), Stanley Cursiter (1887–1976), Philip Douglas Maclagan (1901–1972), Eduardo Luigi Paolozzi (1924–2005), Morris Singer Art Foundry Ltd, David McClure (1926–1998),

and 5 more
See all
Aleksander Żyw (1905–1995), Vincent Butler (1933–2017), William John Connon (b.1929), Alberto Morrocco (1917–1998) and Joan Renton (b.1935)
Introduction
Creative links between Scotland and Italy have existed for hundreds of years. In the 18th and 19th centuries Scottish artists journeyed to Rome and Florence to advance their professional training and career prospects. Throughout the 20th century this pilgrimage to the Mediterranean continued, with art students undertaking travelling scholarships and mature artists finding inspiration in the Italian landscape and culture. The flow of people and ideas has also developed in the opposite direction, with Italian immigrant families making their homes in Scotland and contributing to the artistic milieu.
Katherine Hall of Dunglass (d.1745)
Of all the 18th century Scottish artists who spent time in Italy, Allan Ramsay had one of the most enduring connections with the country.
His first visit took place early in his career in 1736, when he travelled to Rome to study under Francesco Imperiali. During the same trip he also trained in Naples with Francesco Solimena. Ramsay subsequently established himself in London as a fashionable portrait painter, but returned to Italy three more times, staying for at least a year on each occasion. He was almost seventy when he made his final trip in 1782.
Charity
The painter David Allan was born in Alloa, the son a shoremaster. Despite relatively humble beginnings, he received the patronage of Lord Cathcart and other aristocratic families, which enabled him to train in Italy between 1767 and 1777.
While in Rome, Allan studied Classical and Renaissance art, and developed an interest in history painting, possibly influenced by the artist Gavin Hamilton. In 1773 he won a gold medal at the Academy of St Luke for his composition 'The Parting of Hector and Andromache'.
Allan focused mostly on history and genre subjects after his return to Scotland. This painting, however, is an allegorical work made for St Peter's Episcopal Chapel, formerly located at Roxburgh Place in Edinburgh.
Charity
David Allan (1744–1796)
Oil on canvas
H 108 x W 60.8 cm
Museums & Galleries Edinburgh – City of Edinburgh Council
Edinburgh, before the Mound Was Completed
Andrew Wilson began his artistic career as a pupil of Alexander Nasmyth. After training in Edinburgh and London, he spent several extended periods in Italy, visiting Rome for the first time in about 1800. His experiences there informed his practice as a landscape painter, imbuing his scenes with a Classical formal style. This oil sketch of Edinburgh was executed not long after his return to Scotland in 1818, when he was appointed as Master of the Trustees' Academy.
Wilson was also a successful picture dealer, who took advantage of his contacts and connections on the Continent. Over the years he bought and sold a number of significant Italian Renaissance paintings, including 'The Adoration of the Magi' by Jacopo Bassano.
Hymn to the Rose
Although John Duncan was a key proponent of the Celtic Revival movement in Scotland, his creative influences were diverse. In 1890 he visited Rome and Florence, and was struck by the work of Italian Renaissance masters like Sandro Botticelli and Fra Angelico. Their confident use of line and chiaroscuro encouraged him to hone his draughtsmanship. He was also inspired to experiment with the technique of tempera painting.
'Hymn to the Rose' reveals how Duncan's style was informed by his enthusiasm for early Italian art. The youths in medieval costume are modelled and delineated with great precision, while the botanical detail in the Italianate garden setting recalls similar backdrops employed in Renaissance compositions.
Hymn to the Rose
1907
John Duncan (1866–1945)
Oil on canvas
H 122.2 x W 122.2 cm
Museums & Galleries Edinburgh – City of Edinburgh Council
Interior – Santa Maria della Salute, Venice
In 1910 the Scottish Colourist F.C.B. Cadell travelled to Venice, funded by the art collector Sir Patrick Ford. The trip would become an important turning point in the young artist's career. Cadell was inspired by the light and colour of his new surroundings, and gradually began painting in a looser manner, using a brighter palette. These experiments established the basis of his distinctive mature style.
This canvas depicts the octagonal nave of the Santa Maria della Salute in Venice. Free-flowing brushwork and precise colour accents capture the interplay of light and shadow in the opulent Baroque interior. Upon Cadell's return to Scotland, this was one of six paintings that Patrick Ford selected as repayment for his patronage.
1913
Synthesis of the Supper Room at an Arts Club Reception
Stanley Cursiter was one of the first artists to champion Italian Futurism in Scotland. He initially encountered Futurist artworks in 1911 at the Grafton Gallery in London. Two years later, with help from the art critics Roger Fry and Clive Bell, he staged a ground-breaking display of Futurist and Post-Impressionist paintings in Edinburgh, as part of the 1913 Society of Scottish Artists exhibition.
Cursiter also experimented with Futurism himself. Throughout 1913 he produced a group of Futurist-inspired paintings. This composition presents an interior in which space is broken into colourful facets, figures are abstracted, and perspective and scale are distorted. The result reflects the intense, noisy atmosphere of the setting.
1921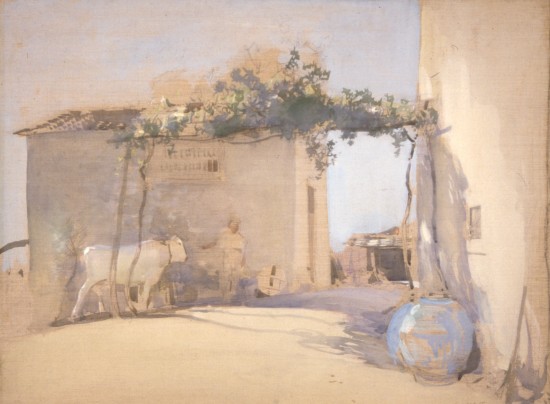 Photo credit: Museums & Galleries Edinburgh - City of Edinburgh Council. (Photo: Antonia Reeve)
Farmyard near Florence
E.A. Walton painted this scene in the final months of his life, during a trip to visit his step-daughter Lillian Law, who was living in the village of Le Catese on the outskirts of Florence. He had a particular talent for conjuring the effects of sunlight and shadow in his landscapes, a skill demonstrated here with apparent effortlessness.
Walton made his name in the 1880s as a member of the Glasgow Boys. This informal grouping of artists rejected the formulaic practices of traditional Victorian painting in favour of a fresher, more naturalistic approach. Following the example of French Realists like Jules Bastien-Lepage, Walton favoured the honesty of rural subjects and often worked en plein air, painting outdoors in all conditions.

Edward Arthur Walton (1860-1922), 'Farmyard near Florence', 1921, gouache on linen.

San Gimignano, Italy
This oil painting depicts the picturesque hill town of San Gimignano in Tuscany, which is famed for its medieval towers.
Philip Douglas Maclagan was born in China, the son of a missionary, but returned to Scotland as a child in 1905. He was educated at George Heriot's School in Edinburgh, and received his artistic training during the early 1920s at the Royal Academy Schools in London.
Maclagan painted landscapes throughout his career, exploring a range of locations both within the UK and abroad. Several of his Italian landscapes date from the mid 1920s. As well as San Gimignano, he produced scenes of Torcello and Ravenna.
San Gimignano, Italy, 1925
Philip Douglas Maclagan (1901–1972)
Oil on canvas
H 43.3 x W 63.8 cm
Museums & Galleries Edinburgh – City of Edinburgh Council
1947
Horse's Head
Eduardo Paolozzi was born to Italian parents in Leith in 1924. During the Second World War, male members of his family were interned as 'enemy aliens', despite the fact they had been living and working in the UK for many years. Although he was only a teenager, Paolozzi was detained in Saughton Prison for three months.
After his release, and a period of military service, he focused on an artistic career, studying at Edinburgh College of Art and the Slade School of Art in London. In subsequent years he established himself as one of the country's foremost sculptors.
Horse's Head
1947 & 1974
Eduardo Luigi Paolozzi (1924–2005) and Morris Singer Art Foundry Ltd (founded 1927)
Bronze
H 69 x W 37 x D 47 cm
Museums & Galleries Edinburgh – City of Edinburgh Council
1956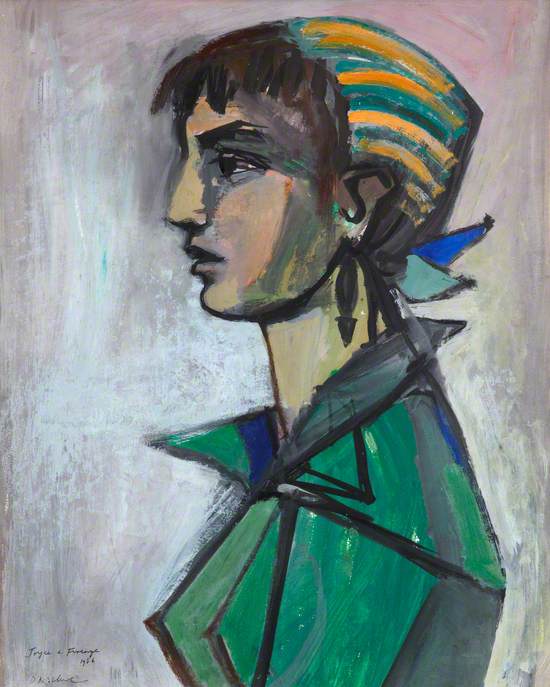 Joyce a Firenze
This striking portrait by David McClure depicts his wife Joyce. It was painted in 1956 while the couple were living in Florence with their young son.
Their stay was the result of an Andrew Grant Fellowship, which McClure had been awarded following completion of his training at Edinburgh College of Art. Based in Florence for six months, he explored the city's architecture, making studies in watercolour and gouache of sites including the Duomo and the Santa Maria Novella. In 1957 the family relocated to Sicily, where they lived in a medieval tower house in Casteldaccia. McClure staged his first ever solo exhibition in Palermo, and his experiences there continued to inform his painting for several years to come.
Joyce a Firenze
1956
David McClure (1926–1998)
Gouache, ink & oil on card
H 49.5 x W 40.6 cm
Museums & Galleries Edinburgh – City of Edinburgh Council
Olivier (Olive Trees)
Polish-born artist Aleksander Żyw studied in Warsaw, and first experienced the Mediterranean while undertaking a travelling scholarship in the 1930s. After the Second World War he moved to Edinburgh, where he became a respected member of the Scottish art scene.
In 1949 he made his first post-war visit to Italy, a trip which prompted him to return annually. Ten years later he and his wife bought an olive grove near Castagneto Carducci in Tuscany, and he established a second studio there.
This large canvas is one of a series from the 1960s based on the theme of olive trees. The gnarled trunk that dominates the image has been divorced from its surroundings, compelling the viewer to focus on its subtle textures and tones.
Olivier (Olive Trees)
c.1964–1965
Aleksander Żyw (1905–1995)
Oil & charcoal on canvas
H 161 x W 116.5 cm
Museums & Galleries Edinburgh – City of Edinburgh Council
Bathers
The sculptor Vincent Butler received his initial training in Manchester and Edinburgh, but completed his studies in Italy. Enrolling at the Brera Academy of Fine Art in Milan in 1955, he was taught by Marino Marini and Giacomo Manzù, whose approach to figuration had a major impact on him. Butler remained in Italy for a few years, and later moved to Nigeria, before finally re-settling in Edinburgh where he taught life-modelling and bronze casting.
This relief sculpture was created not long after Butler returned to Scotland in 1963. The stylised treatment of the figures and horse recall not only the works of Marini and Manzù, but also the ancient Etruscan and Classical sources that informed them.
Bathers
1965
Vincent Butler (1933–2017)
Fibreglass on wood
H 51 x W 53.5 x D 10 cm
Museums & Galleries Edinburgh – City of Edinburgh Council
Anticoli, Italy
Anticoli Corrado is a traditional Italian hill town in the Abruzzi mountains near Rome. During the 19th century it was a thriving artists' colony. Its popularity had waned by the time William John Connon visited in the early 1960s, but he still found inspiration in the setting. Here, he has taken an abstract approach to the landscape, paring back a view of the town to its essential formal elements, while maintaining a sense of its architectural density.
Connon trained at Gray's School of Art in Aberdeen in the late 1950s, where he was taught by Robert Henderson Blyth and Ian Fleming. Although the northeast of Scotland remained his home, Mediterranean vistas were a recurring theme in his work.
Anticoli, Italy
William John Connon (b.1929)
Oil on board
H 121.9 x W 142.3 cm
Museums & Galleries Edinburgh – City of Edinburgh Council
1985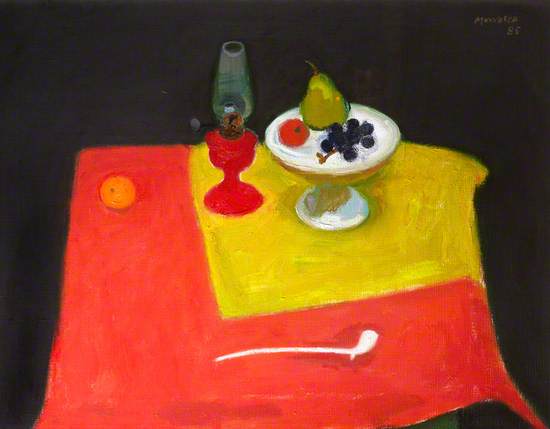 Still Life with a Clay Pipe
During the late 19th and early 20th centuries many Italians emigrated to Scotland, escaping famine and poverty at home. Over subsequent decades they established businesses and raised families, laying the foundations for a strong Scots-Italian community.
Alberto Morrocco was born in Aberdeen in 1917 to Italian parents. He studied at Gray's School of Art in Aberdeen during the 1930s, and went on to become Head of Painting at Duncan of Jordanstone College of Art in Dundee.
Throughout his career he remained based in Scotland, but made regular visits to Italy. Painting in locations such as Venice, Palermo and Rome, he produced vibrant landscapes and colourful still life compositions.
Still Life with a Clay Pipe
1985
Alberto Morrocco (1917–1998)
Oil on canvas
H 61 x W 73.7 cm
Museums & Galleries Edinburgh – City of Edinburgh Council
Amalfi Cathedral
This oil painting depicts Amalfi Cathedral, as viewed from the Piazza del Duomo. The colour scheme is unusually pale, and the surrounding architecture gives the impression of dissolving into the atmosphere, concentrating attention on the ornate front façade of the building and its grand entrance staircase.
Joan Renton studied at Edinburgh College of Art between 1953 and 1957. There, she was influenced by tutors such as William Gillies and John Maxwell, both of whom had visited Italy during their formative years. When Renton was awarded a travelling scholarship in 1959, she chose to spend it in Spain. However, she explored Italy in later life, painting both around the Amalfi Coast and further north in Tuscany.
Amalfi Cathedral
Joan Renton (b.1935)
Oil on canvas
H 88 x W 73 cm
Museums & Galleries Edinburgh – City of Edinburgh Council