The Glasgow Boys and Girls were a group of radical young artists, most of whom came from Glasgow or thereabouts, who rebelled against the jaded Victorian passion for highland scenes and story-telling pictures. They sprang to prominence in the 1880s as documentary painters of rural life in all its harsh reality. This Curation, which draws largely from work in the Fleming Collection as well as public collections, is a forerunner of an actual exhibition to be staged at the Granary Gallery, Berwick-upon-Tweed later in the summer. Unless otherwise stated all works are courtesy of the Fleming Collection, a charity which promotes Scottish art and creativity through loans from its outstanding collection of Scottish art, cultural diplomacy and education.
Artists featured in this Curation:
Jules Bastien-Lepage (1848–1884), Flora Macdonald Reid (1860–c.1940), James Guthrie (1859–1930), Edward Arthur Walton (1860–1922), John Lavery (1856–1941), Alexander Ignatius Roche (1861–1921), William York MacGregor (1855–1923), James Paterson (1854–1932), James McLachlan Nairn (1859–1904), William J. Kennedy (1859–1918),

and 6 more
See all
Alexander Mann (1853–1908), Edward Atkinson Hornel (1864–1933), George Henry (1858–1943), Bessie MacNicol (1869–1904), David Gauld (1867–1936) and Arthur Melville (1855–1904)
Pas mèche (Nothing Doing) 1882
Jules Bastien-Lepage (1848–1884)
Oil on canvas
H 132.1 x W 89.5 cm
National Galleries of Scotland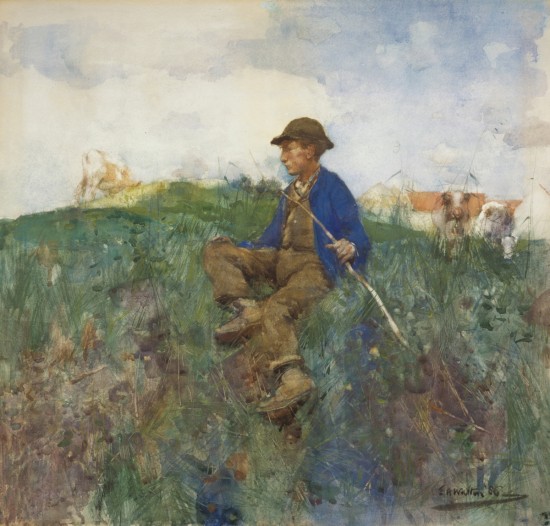 Photo credit: National Galleries of Scotland. Purchased with the assistance of the Art Fund 2007.
Edward Arthur Walton (1860–1922)
Edward Arthur Walton, The Herd Boy, 1886, watercolour and gouache on paper
Flora Macdonald Reid (1860–c.1940)
Oil on canvas
H 101.6 x W 61 cm
The Fleming Collection
The Bridge, Crowland c.1882
James Guthrie (1859–1930)
Oil on canvas
H 30.5 x W 23.2 cm
The Fleming Collection
A Hind's Daughter 1883
James Guthrie (1859–1930)
Oil on canvas
H 91.5 x W 76.2 cm
National Galleries of Scotland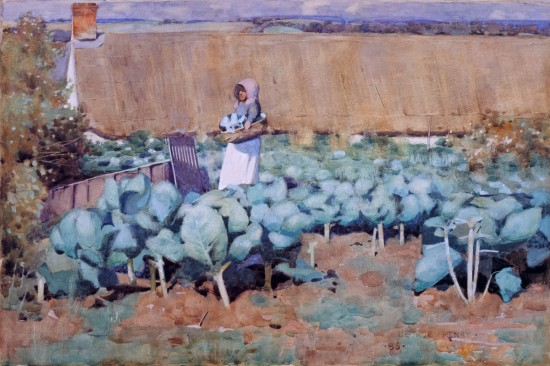 Photo credit: The National Trust for Scotland, Broughton House & Garden
George Henry (1858–1943)
George Henry, A Cottars Garden, 1885, watercolour
Edward Arthur Walton (1860–1922)
Oil on canvas
H 78.7 x W 63.5 cm
The Fleming Collection
John Lavery (1856–1941)
Oil on canvas
H 150.8 x W 150.4 cm
National Museums Northern Ireland
Alexander Ignatius Roche (1861–1921)
Oil on canvas laid down on board
H 45.7 x W 38 cm
The Fleming Collection
William York MacGregor (1855–1923)
Oil on canvas
H 48.9 x W 61 cm
The Fleming Collection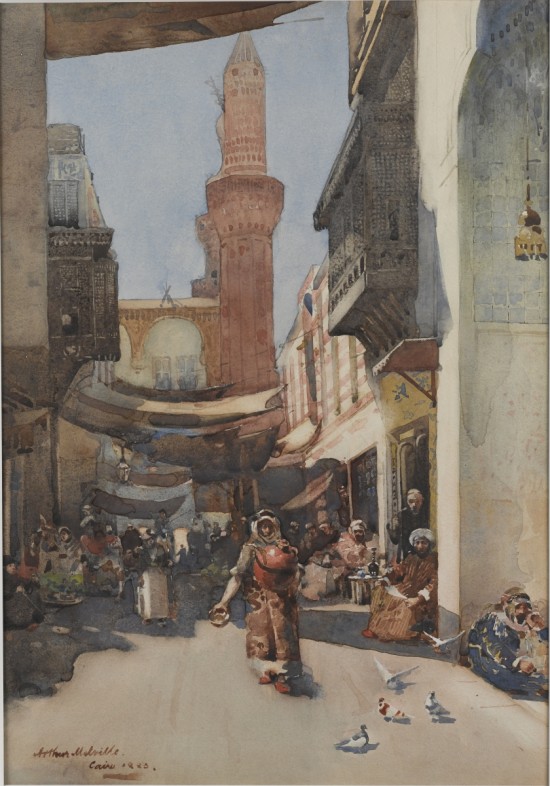 Photo credit: The Fleming Collection
Arthur Melville (1855–1904)
Arthur Melville, A Cairo Street, 1883, watercolour on paper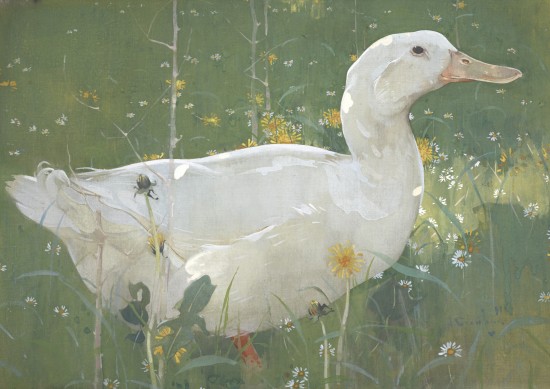 Photo credit: National Galleries of Scotland
Joseph Crawhall (1861–1913)
Joseph Crawhall, The White Drake, c.1895, gouache on linen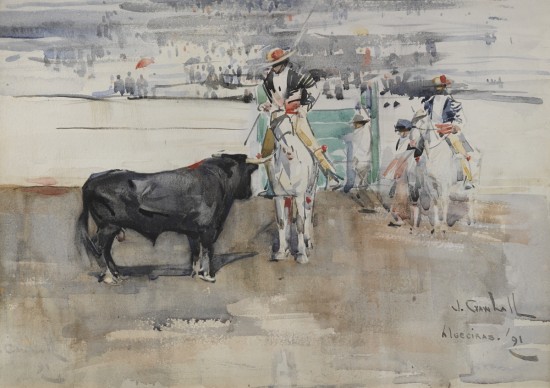 Photo credit: The Fleming Collection
Joseph Crawhall (1861–1913)
Joseph Crawhall, The Bull Ring, Algeciras / Bullfight, Algeciras, 1891, watercolour on paper
James McLachlan Nairn (1859–1904)
Oil on canvas
H 30.5 x W 45.7 cm
The Fleming Collection
John Lavery (1856–1941)
Oil on canvas
H 30.5 x W 35.5 cm
The Fleming Collection
William J. Kennedy (1859–1918)
Oil on canvas
H 28 x W 38.3 cm
The Fleming Collection
Alexander Mann (1853–1908)
Oil on canvas
H 43 x W 53.3 cm
The Fleming Collection
Edward Atkinson Hornel (1864–1933)
Oil on canvas
H 40.6 x W 60.9 cm
The Fleming Collection
Edward Atkinson Hornel (1864–1933)
Oil on canvas
H 59.7 x W 39.4 cm
The Fleming Collection
A Galloway Landscape 1889
George Henry (1858–1943)
Oil on canvas
H 121.9 x W 152.4 cm
Glasgow Museums
Bessie MacNicol (1869–1904)
Oil on canvas
H 74 x W 63.5 cm
National Trust for Scotland, Broughton House & Garden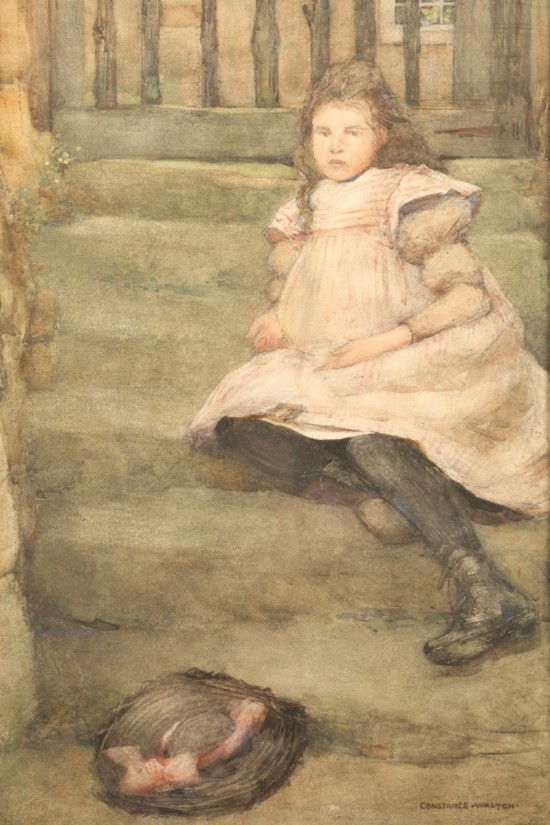 © the artist's estate. Photo credit: The Fleming Collection
Constance Walton (1865–1960), RSW
Constance Walton, Day Dreams, c.1895, watercolour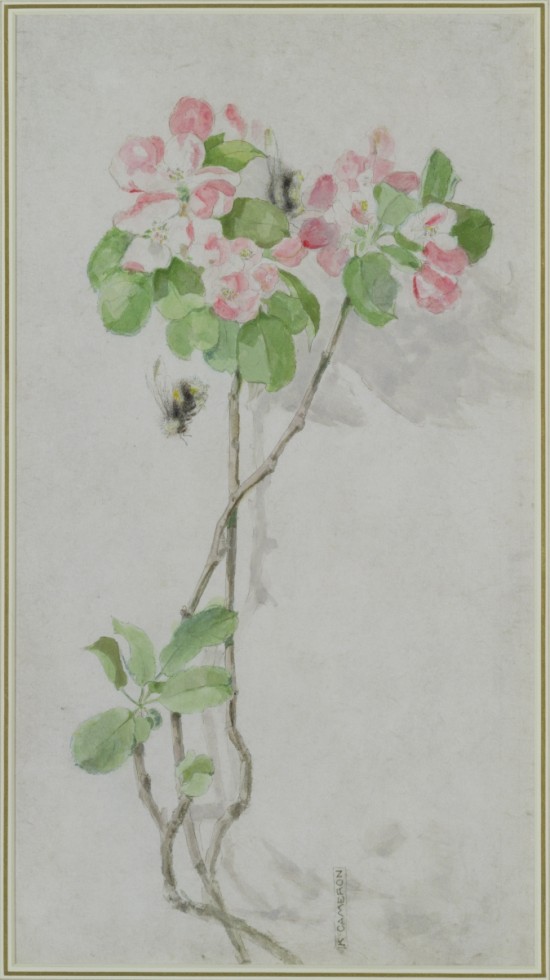 © Courtesy the estate of the artist. Photo credit: The Fleming Collection
Katherine Cameron (1874–1965), RWS, RE, FRSA
Katherine Cameron, Apple Blossom and Bees, c.1900, pencil and watercolour on paper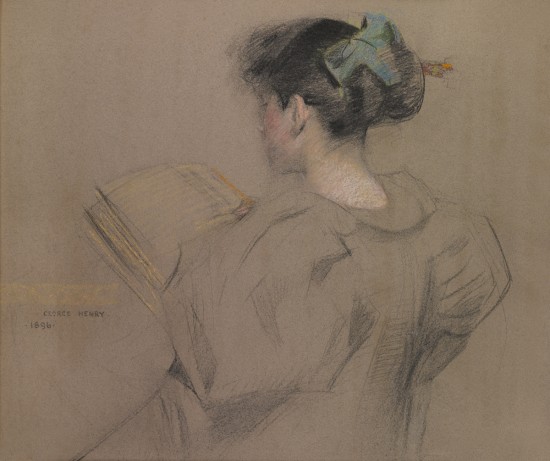 Photo credit: The Fleming Collection
George Henry (1858–1943)
George Henry, Girl Reading, 1896, pastel on paper
Alexander Ignatius Roche (1861–1921)
Oil on canvas
H 127 x W 111.8 cm
The Fleming Collection
David Gauld (1867–1936)
Oil on canvas
H 50.8 x W 40.6 cm
The Fleming Collection
James Paterson (1854–1932)
Oil on canvas
H 61 x W 40.6 cm
The Fleming Collection
The Highland Glen c.1893
Arthur Melville (1855–1904)
Watercolour on paper
H 58.5 x W 84 cm
The Fleming Collection
Explore artists in this Curation