The Newlyn School were a group of artists who settled in Newlyn in the 1880s and painted scenes of life in the local fishing community. Although most famous for painting outdoors -en plein air- these artists were also highly skilled at painting interiors, which included cottages, schools, sail lofts, workshops and scenes posed in the artists' own homes and studios.The exhibition explores the lives of Newlyners through these paintings, bringing together a fine selection of interiors depicting domestic scenes of contemplation and grief as well as cheerful card games, reading and other pastimes.Including works from both public and private collections, some works have rarely, if ever, been exhibited at a public gallery in Cornwall.
The Health of the Bride
This painting was exhibited at the Royal Academy in 1889. It was immediately bought by Sir Henry Tate for 600 guineas and later presented to the Tate Gallery. The money from this sale finally gave Forbes the financial independence to marry fellow artist Elizabeth Armstrong in 1889, after a long engagement. The painting is arguably one of Forbes' classic works, demonstrating his skills as the complete artist. The work was painted mainly in the artist's own studio using villagers as models for the various characters; the model for the bride was Mary Ann Rowe, nee Stephenson.
The Jubilee Hat
This scene depicts preparations for Queen Victoria's Golden Jubilee celebrations in Newlyn.
The Jubilee Hat
1887
Frank Wright Bourdillon (1851–1924)
Oil on canvas
H 92 x W 67.5 cm
Penlee House Gallery & Museum
1903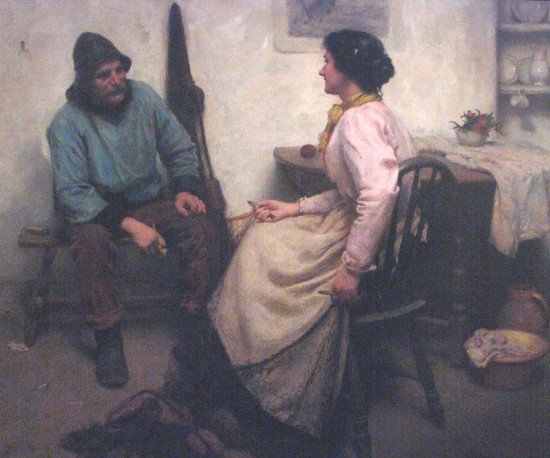 Photo credit: Bowerman Charitable Trust
Mending Nets
Courtship scenes are frequently (though not exclusively) set within the home. Fishing families operated as economic units: maintaining equipment and clothing was an important part of domestic work. Netmending is a picturesque motif in fisherfolk paintings generally; here it functions as a metaphor binding the couple together.

Mending Nets, 1903 - Edwin Harris. Bowerman Charitable Trust

Dinner Time – Ambrose Rouffignac in the Sail Loft
The boy shown here is Ambrose Rouffignac, whose Newlyn family have Huguenot ancestry. He was thirteen when Tuke painted him in sail-maker Philip Harvey's loft. Ambrose went on to become a master mariner and a captain in the Merchant Navy; he died in May 1917 when his ship, SS Antinoe, was torpedoed and sunk.
The Mariner's Sunday School
Over generations the church or chapel has been an important influence in Cornish culture. One particular movement attracting wide support among mainly working-class communities was known as Primitive Methodism. Originating in Staffordshire in 1807 its absence of hierarchy and ritual attracted many to its cause. A Primitive Methodist church was established in Fore Street, St Ives in 1831. Its interior is depicted here with a church elder teaching at a Sunday school.
Primitive Methodists at Prayer
Titcomb represents an intense form of personal worship and he wrote of Primitive Methodist believers 'talking familiarly to Jesus, as only Methodists can'. Their form of worship was accessible to ordinary people, who found the informal participation appealing. The artist gives a powerful depiction of the interior of the St. Ives Primitive Methodist Church during an 'after-service' when members of the congregation engage in a period of individual prayer. The bearded man facing forward is Richard Harry, a master mariner, affectionately known as Captain Dick, who sat as a model for the artist until two days before his death in 1890 aged 86.
A Hopeless Dawn
As morning approaches, an evening meal still on the table, a young woman is hit with the reality that her husband has drowned. Bramley uses body position rather than facial expression to convey total despair to extremely dramatic effect. The open bible and table, altar-like with candle, bowl and bread, suggest that religion will offer consolation. This painting was bought for the nation from funds provided by the Chantrey Bequest, securing the status of the Newlyn School artists. The title of the work comes from a John Ruskin quote.
A Hopeless Dawn
1888
Frank Bramley (1857–1915)
Oil on canvas
H 122.6 x W 167.6 cm
Tate
Time Moveth Not, our Being 'tis that Moves
Langley was very interested in portraying the hardships of life in a working fishing village and the theme of loss features heavily in his work. This was Langley's first success in London, in January 1883, and led to his election to the Royal Institute of Painters in Watercolours later that year. The title of this work is taken from 'Time, A Poem' by Henry Kirke White (1785 –1806). The sitter is recorded as Grace Kelynack, who became one of his regular models.
1882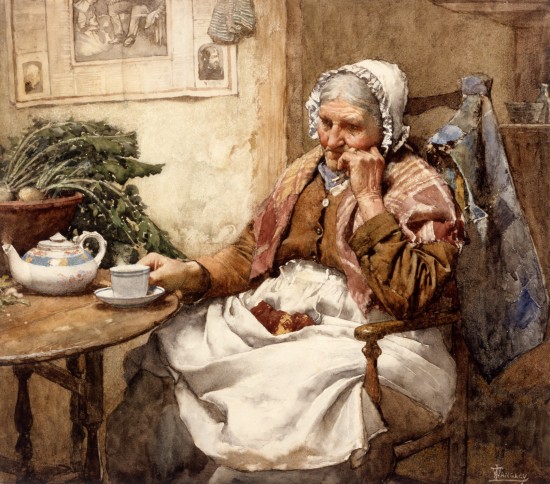 Photo credit: Private Collection
A Quiet Afternoon
Langley's portrayals of old age are mostly embodied by women as they were more readily available to model; he had two or three favourites that appear time and again in his works. This features Betsy Lanyon, a fishwife who modelled for him from the early 1880s, but in the 1891 census she described herself as an artist's model.

A Quiet Afternoon, 1882 - Walter Langley. Private Collection

'By hammer and hand, all arts doth stand' (The Forge)
Fortescue joined Stanhope Forbes and other local artists in Newlyn in 1885 and three of his locally-themed works were shown at the Royal Academy in 1887. Fortescue stayed in Newlyn for only a short period before settling at St Ives around 1894.
Young Apprentice (Newlyn Copperworks)
This shows John Drew MacKenzie, instigator of the Newlyn Industrial Class, instructing Johnny Payne Cotton (who produced Newlyn Copper until the 1950s). The Newlyn Industrial Class was set up in order for the local community earn a living at times when the fishing industry was not very lucrative.
The Cornish Pasty
Elizabeth Forbes based this etching on a photograph of a Cornish kitchen and she exploits the same play of dark and light as can be seen in the photograph. She produced a similar composition in charcoal entitled A Cornish Interior, now in Ontario.
The Cornish Pasty
1885
Elizabeth Adela Forbes (1859–1912)
Drypoint on paper
H 20 x W 26.5 cm
Penlee House Gallery & Museum
Finery
The title of Suthers' Newlyn interior focuses attention on dress. The word 'finery' carried moral connotations for Victorian viewers: a love of finery was often seen as the cause of a young woman's downfall. Plain dress was associated with Quaker and, later, Wesleyan values. In this period, the role of dress to differentiate between the social classes was eroded as men, and especially women, gained access to fashionable clothes. The artists, however, rarely reflected such changes. The sparsely furnished interior was typical of many fisherman's cottages.
Finery
Leghe Suthers (1856–1924)
Oil on canvas
H 74 x W 103 cm
Atkinson Art Gallery Collection
The Harbour Window
This was Forbes's diploma painting and gained him Associate Membership of the Royal Academy in 1911. It was painted in the upstairs window of The Ship Inn, Mousehole and the model was Annie Blewett, who lived next door. Through the window can be seen the crane jibs, used to place the wooden baulks across the harbour entrance.
The Harbour Window
1910
Stanhope Alexander Forbes (1857–1947)
Oil on canvas
H 112.5 x W 86.7 cm
Royal Academy of Arts
1920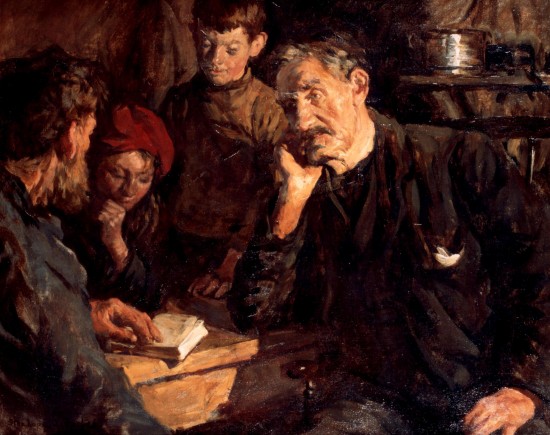 Photo credit: Bowerman Charitable Trust
Treasure Island
Reading materials appear in a number of Newlyn School paintings, implying a high level of literacy, but evidence in relation to school attendance does not support this theory. In this painting, a group featuring different generations clusters around a man reading aloud from the adventure story Treasure Island.

Treasure Island, 1920 - Stanhope Forbes. Bowerman Charitable Trust

The 22 January 1901 (Reading the News of the Queen's Death in a Cornish Cottage)
While many Newlyn interiors were set in studios, Forbes's scene was painted in Primrose Cottage, in the home of the Hichen family who were among the models. The title of the painting refers to the date of Queen Victoria's death. Reading the paper is 'Uncle William' Hichen, whom Forbes also painted in Off to Skibbereen and The Seine Boat. His rugged features, fine physique and direct nature made him a favourite, according to Mrs Lionel Birch, Forbes's biographer. Through the device of the newspaper, this Cornish fishing family becomes a metaphor for the country as a whole on an occasion of national loss, but also hints at the continuity of life, showing a family spanning three generations.
1909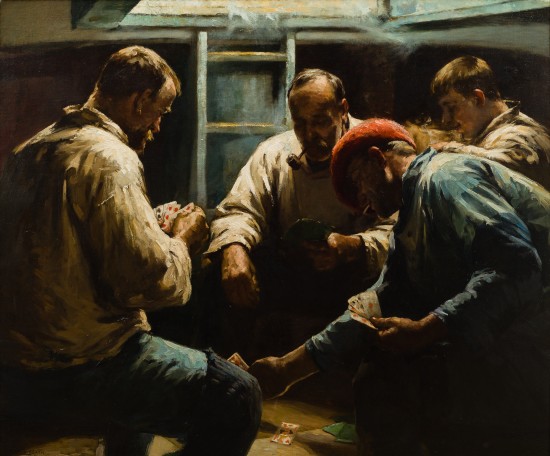 Photo credit: Penlee House Gallery & Museum
A Game of Cut-Throat Euchre
A group of fishermen are playing this traditional Cornish card game in the hold of a fishing boat. Frank Heath painted this while he was living in Newlyn, before moving to Lamorna and adopting a brighter and sunnier palette. It was shown at the Royal Academy summer exhibition in 1909.

A Game of Cut-Throat Euchre, 1909 - Frank Gascoigne Heath. Penlee House Gallery & Museum

1890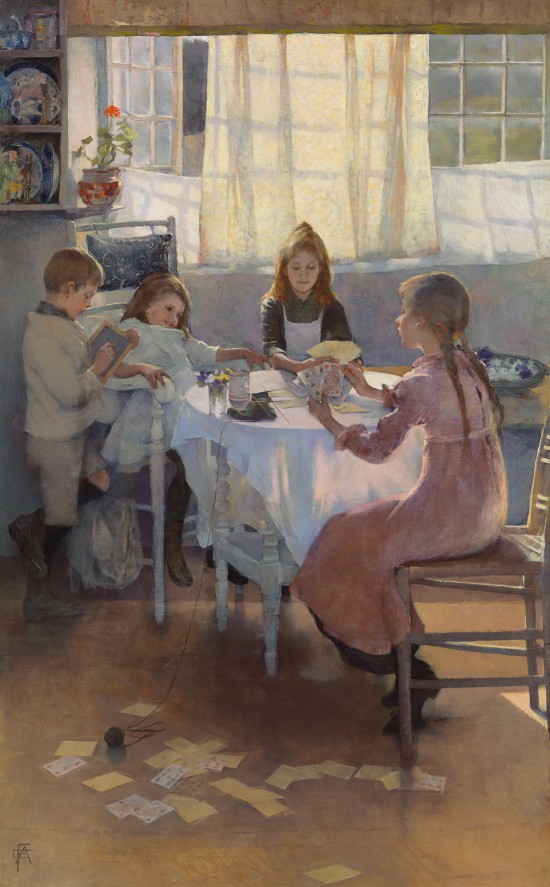 Photo credit: Private Collection.
A Game of Old Maid
When this painting was shown at the Royal Academy in 1891 a contemporary art critic wrote that it was "remarkable for its truthful rendering of direct and reflected light, its refinement of tone and breadth of treatment." Elizabeth Forbes particularly well-known for her depictions of children and held exhibitions devoted to this subject matter.

A Game of Old Maid, c.1890 - Elizabeth Forbes. Private Collection.

Reflections
This striking portrait is of Harvey's wife Gertrude. The setting of this painting is Maen Cottage, the Harveys's Newlyn home, which was a substantial granite house on three floors. An imaginative use of the adjustable looking glass allows us to see the reflected image of the hat band, which Gertrude examines. Gertrude went on to establish herself as a noted artist and also modelled for many of Harvey's paintings.
Reflections
1916
Harold C. Harvey (1874–1941)
Oil on canvas
H 49.5 x W 45 cm
Merthyr Tydfil Leisure Trust
1929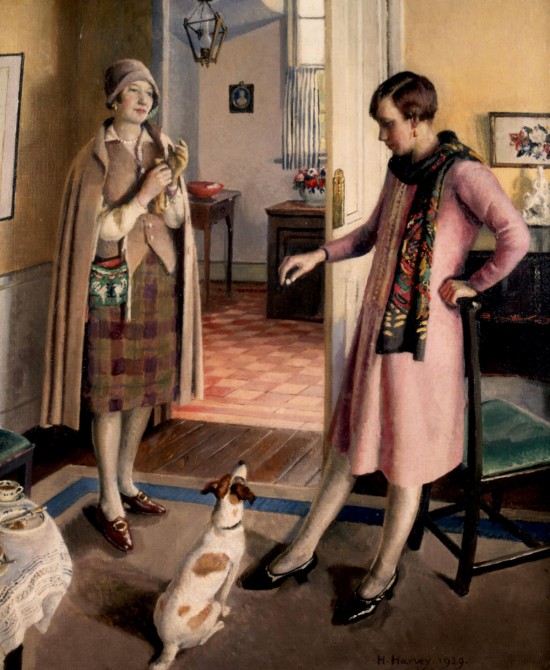 Photo credit: Bowerman Charitable Trust
Titbits
Two fashionably dressed women converse in the tastefully furnished dining room of Maen Cottage - the artist's home. The cloaked woman is Gertrude Harvey, whilst the other unknown model, offering a titbit to the dog, is wearing a silk scarf produced by the internationally renowned Newlyn-based company, Crysede.

Titbits, 1929 - Harold Harvey. Bowerman Charitable Trust