In celebration of Women's History Month, this Curation is dedicated to retelling the remarkable legacy of Rupert Bear's creator - Mary Tourtel. Although best known for creating one of Britain's favourite bears, Tourtel's life tells a story of extraordinary female accomplishment, independence and exploration during the late 19th and early 20th century. It is a story that begins and ends in Canterbury, and is testimony to the pioneering creativity the city has inspired.
The Curation is based on The Beaney's Rupert Bear Centenary Exhibition, which has sadly been unable to open due to COVID-19 restrictions. However, we hope this Curation will offer a glimpse into the inspiring beginnings of Rupert and the woman who brought him to life.
Early Life
Mary Tourtel, born Caldwell, was the last child of Sarah and Samuel Caldwell. She was born and grew up in 52 Palace Street, Canterbury in 1874. Her father was a stonemason and stained glass designer at Canterbury Cathedral and her eldest brother, Edmund, was also an artist with an interest in painting animals.
.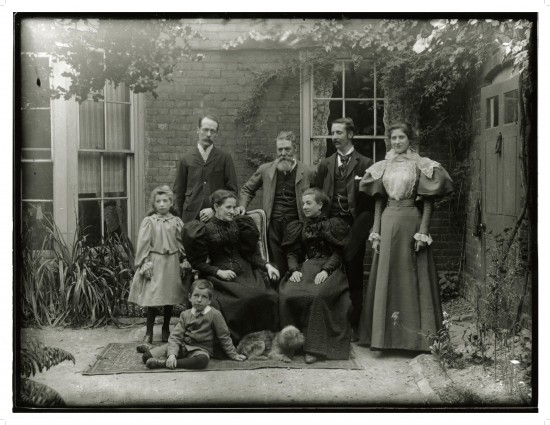 Photo credit: Canterbury Museums and Galleries
Childhood in Canterbury
In this photograph, the Caldwell family stand outside their home at 5 Palace Street, Canterbury for a family portrait. Mary can be seen standing on the far right.
For Mary, Canterbury in the early 1900's would have looked very different to how it does today. Most notably, the entire east side of the high street was destroyed during the Blitz of WWII and reconstructed in the 1960s with the buildings you see today.

The Caldwell family outside their home at 5 Palace Street, Canterbury.

Education
Like her father and brother, Mary also had a keen interest in art and attended the Sidney Cooper School of Art from 1891 until 1896, under Thomas Sidney Cooper himself, where she was awarded the Prince of Wales scholarship. Just like her tutor, she had a particular fondness and ability for capturing the likenesses of animals. She later went on to study at the Royal College of Art in London between 1897 and 1900.
1899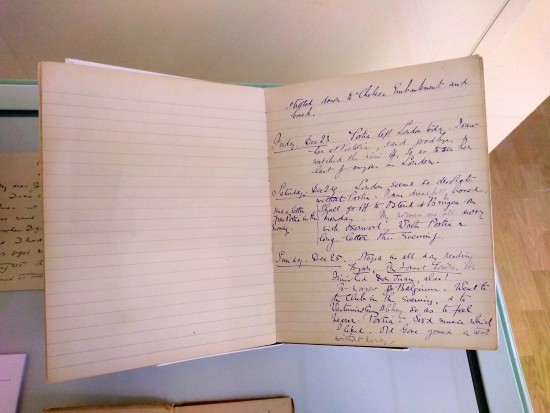 Photo credit: Canterbury Museums and Galleries
Herbert Tourtel
In 1899, Mary became engaged to Herbert Tourtel who was a journalist for the Daily Express. Herbert's diary, pictured here, helps reveal more about their relationship, with Herbert declaring that "She is one of the most frank interesting, candid girls I have ever met". Mary and Herbert married a year later in 1900, leaving Canterbury to work in London.

Herbert Tourtel's Diary

Career
Mary's career as a childrens' book illustrator spanned 38 years, from 1897, with her first publications when she was just 23, to 1935. She illustrated and wrote Rupert Bear from his creation in 1920 until 1935, contributing over 3,500 Rupert pictures and at least 87 stories.
1897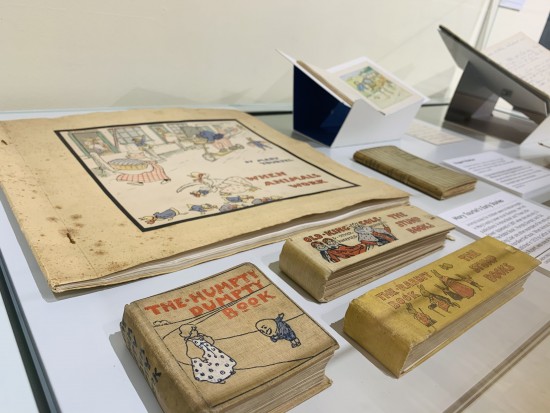 Photo credit: Canterbury Museums and Galleries
Early Stories
Animal books for children were to feature largely in Mary's early career as an illustrator. Her first publications 'A Horse Book' and 'Three Little Foxes' appeared in 1897 when she was only 23. 'The Rabbit Book', 'Humpty Dumpty' and 'Old King Cole' are more examples of her early work. Interestingly, a handkerchief book titled 'When Animals Work' was published in 1919 by Sefton in which a bear, very similar to Rupert, was one of the characters.

Mary Tourtel's Early stories

1920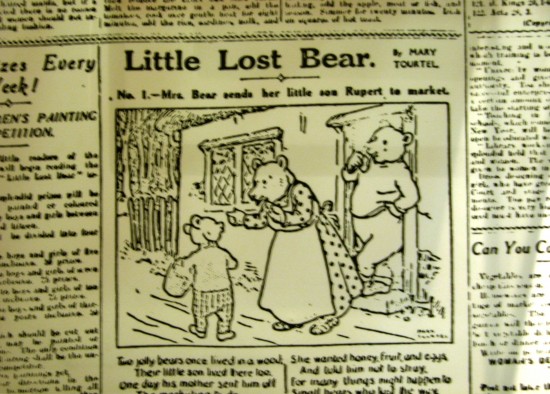 Photo credit: Canterbury Museums and Galleries
Creating Rupert
Rupert Bear first appeared in the Daily Express on 8 November 1920, at the foot of the women's page. The Daily Express wanted to compete with the childrens' characters that were starting to appear in other papers. Now Sub-editor, Herbert Tourtel asked Mary if she could create a character that would attract a younger audience in order to increase the paper's sales.

The first Rupert Story - Little Lost Bear

1921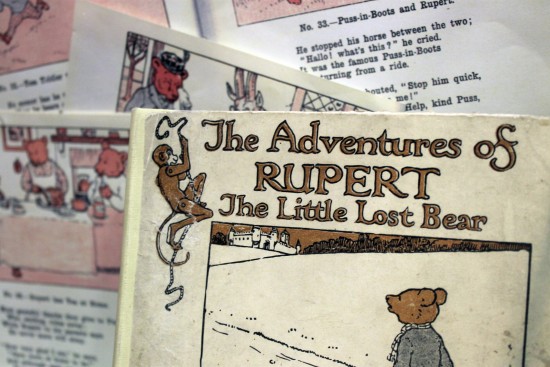 Photo credit: Canterbury Museums and Galleries
The Little Lost Bear
The first Rupert Bear book 'The Adventures of Rupert, The Little Lost Bear' was created in 1921. Rupert was dressed in a blue jumper and a cream checkered scarf and trousers. The stories in this book took inspiration from fairy tales like the Brothers Grimm, as well as introducing original characters like Bill Badger, Rupert's best friend.

The Adventures of Rupert, The Little Lost Bear

1928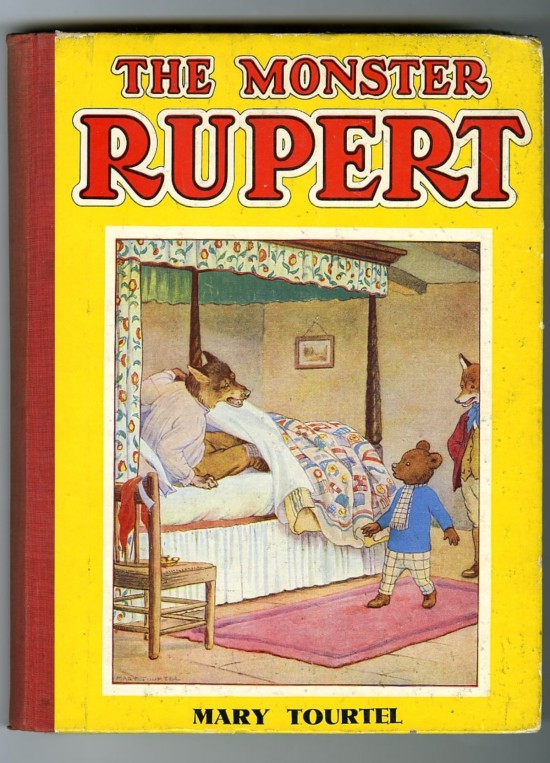 Photo credit: Canterbury Museums and Galleries
Rupert Little Bear Library
Between 1920 and 1935, several series of books were written or taken from the Daily Express and published. From 1928 to 1936, Sampson Low, Marston & Co. Ltd. published adventure stories entitled 'Rupert Little Bear Library'. They featured Rupert Bear, his best friend Bill Badger, along with Edward Trunk, Algy Pug, Podgy Pig and many other friends and magical creatures.

Rupert and the Monster, Sampson Low, Marston & Co. Ltd.

1931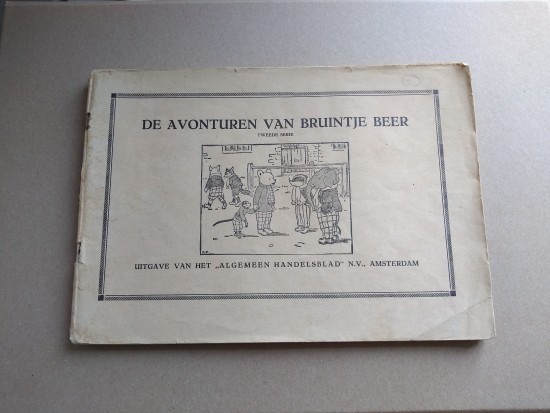 Photo credit: Canterbury Museums and Galleries
International Acclaim
Although a British national treasure, the love for this anthropomorphic bear became international, with Mary's Rupert inspiring writers across the pond in Europe.
This dutch book titled 'De Avonturen van Bruintje Beer' is from 1931 and was published in Amsterdam by Algemeen Handelsblad. Handelsblad, inspired by Rupert Bear, drew Bruintje during the 1920s, 30s and 40s wearing a red jumper and yellow-checked scarf, just like Rupert, but with green-checked trousers instead of the iconic yellow.

'De Avonturen van Bruintje Beer' by Algemeen Handelsblad

Later Life
During the 1930s, illustrating became challenging for Mary as her eyesight and health began to deteriorate. After drawing Rupert for 15 years, she finally retired as the Rupert Bear illustrator in 1935, with Alfred Bestall later taking over the Daily Express's Rupert Bear stories.
1935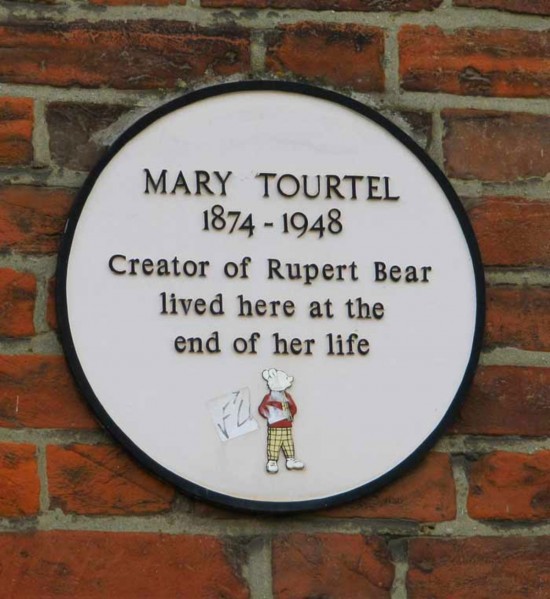 Photo credit: Canterbury Historical and Archaeological Society
Mary's Final Years
Throughout her life, Mary travelled to many countries with Herbert, having decided to remain childless in order to enjoy the freedom of travel. She therefore lived most of her life in different hotels, never having a fixed home. However, when Herbert passed away in Germany in 1931, she moved back to England to spend her final years in Canterbury at the hotel on Ivy Lane, until her death in 1948.
This plaque can be seen at the back of the Ivy Lane hotel as one of three plaques commemorating Mary Tourtel's life in Canterbury.

Mary Tourtel Plaque outside the Ivy Lane hotel, Canterbury