The twentieth century was a time of great change for women. This exhibition spotlights four British artists working in the early 1900s: Vanessa Bell, Gwen John, Laura Knight and Dod Procter. Each established a successful career at a time when there had been few celebrated women artists. The exhibition reveals how the women challenged the conventions of their day to become respected painters, while showcasing each as an important artist in her own right.
This Curation features some of the artworks on display in the exhibition Challenging Convention at the Laing Art Gallery, Newcastle upon Tyne (17 May - 21 August 2021*). The exhibition features loans from over 30 UK public collections.
*Provisional (may be subject to small changes)

Changing Times
When the Royal Academy was formed in 1768, two female artists were among the 36 founding members. But it took a long time for another woman to achieve the same status: by the time Laura Knight finally became the first elected female Academician in 1936, 168 years had passed. As Knight herself commented, a lack of opportunity had held women back. But in 1930 she wrote: 'at last they are having their chance.'
Laura Knight, Vanessa Bell, Gwen John and Dod Procter were all born towards the end of the 19th century. They were each determined to pursue their art, seizing the opportunity to enter art school and to exhibit their work within a changing society as the 20th century dawned.
Gwen John: London to Paris
By the time Gwen John entered the Slade School of Art in 1895, more female than male students were enrolled. A prizewinning student at the Slade, John continued her studies in Paris, where she eventually settled. She was well-known to other artists working in Paris, a centre for artistic ideas, and exhibited her work on both sides of the English Channel. An American collector called John Quinn purchased many of her paintings.
In 1911 she moved to Meudon, a Paris suburb, and converted to Catholicism. She lived quietly there, avoiding the 'family conventions & ties' that could present an obstacle to her art. Many of her paintings return to the same select group of subjects that preoccupied her.
Winifred John
This portrait dates from early on in Gwen John's career, before she had adopted the more restricted colour palette seen in most of her work. The model was John's sister, Winifred, with whom she had a close relationship. The sisters explored the Pembrokeshire countryside together as children, keen to escape the strict discipline of their home. Winifred also modelled for various other works by John.
Like Gwen, Winifred left Britain as a young woman: she moved to America in 1903, where she worked as a respected violinist and music teacher. Gwen moved to France around the same time, settling in Paris in 1904.
A Corner of the Artist's Room in Paris
This painting depicts Gwen John's attic studio in Paris. The few items of furniture look inexpensive, but the painting transforms an everyday subject into something almost magical. The soft light and the stillness of the painting are evocative, perhaps suggesting a psychological meaning beyond the room and objects actually represented within the canvas. Like many of John's paintings, this one invites contemplation.
John lived in Paris from 1904, painting and earning money by working as an artist's model for artists including the sculptor Auguste Rodin, who became her lover. When she made this painting, their affair was coming to an end.
Chloë Boughton-Leigh
The sitter for this painting was Chloe Boughton-Leigh, one of Gwen John's closest friends. Chloe and her sister Maude had also studied at the Slade School of Art and were part of John's small intimate circle.
John made three paintings of Chloe, plus a series of drawings. In this painting the austere costume and mostly grey-toned colour palette allows the emphasis to be on the warm reddish tones of Chloe's face and hands. Her uncertain facial expression suggests that she is ruminating on something. While Chloe's likeness is depicted, she also functions more generally as a contemplative woman alone in an interior, a common theme in John's work.
Vanessa Bell: An Unconventional Home
After the death of her father in 1904, Vanessa Bell moved with her siblings to Bloomsbury, then a bohemian part of London. She married the art critic Clive Bell in 1907, and the couple's house became a focal point of the artistic circle now known as the Bloomsbury Group. Vanessa had two sons with her husband, and a daughter with the artist Duncan Grant. In 1916 Vanessa moved with Grant and his lover David Garnett to Charleston in Sussex, which became a unique and unconventional home. She embraced motherhood while retaining an intense focus on her art, a rare feat in her day.
Bell's most daring work dates from the 1910s, the same decade that she was involved in London's two landmark Post-Impressionist Exhibitions.
Helen Dudley
In this painting the shade of earthy pink Bell often used is contrasted against areas of dark paint, as well as turquoise, red and mustard hues. Although facial details are minimal, the sitter has great force of character, her personality suggested through her pose and expression.
The sitter was Helen Dudley, who met Bell and the Bloomsbury Group through her friendship with the philosopher Bertrand Russell. Bell made the portrait at the Guildford home of the critic Roger Fry. A few years before, Fry had organised the earliest London exhibitions of French Post-Impressionist artists. This painting seems to reveal the influence of Matisse.
Helen Dudley
c.1915
Vanessa Bell (1879–1961)
Oil on canvas
H 72.4 x W 61 cm
Tate
View of the Pond at Charleston, East Sussex
This bold painting captures the view from Bell's first floor studio at Charleston in East Sussex. She noted the 'extraordinary peace and beauty of the place'.
Bell made a feature of the window, using it to frame the view of the pond. The details of the interior are not allowed to recede, though: Charleston's bold decor is captured, the vase on the sill and the patterned curtain giving a sense of its Bohemian homeliness. The landscape itself is semi-abstract, the reflections of the trees appearing like abstract shapes in the water.
Bell is increasingly considered one of the most innovative British painters of the early twentieth century.
.
The Vineyard
This sunny landscape seems to nod to French art and the example set by Cézanne in particular, while the contrast between the greens and the earthy pink is characteristic of Bell's own unique colour palette. The subject matter is probably a French vineyard. Bell had French ancestry and felt an affinity with the country, which she first visited in her late teens. Along with the artists Duncan Grant and Roger Fry, she spent long periods painting in the south of France during the 1920s in particular. This painting probably dates from around 1930, when Bell was in her early fifties.
The Vineyard
1942 or before
Vanessa Bell (1879–1961)
Oil on board
H 47 x W 55.5 cm
Atkinson Art Gallery Collection
Laura Knight: Establishment Pioneer
Laura Knight had to overcome many challenges to build a hugely celebrated career. Her talent was first recognised by her mother, who worked as an art teacher and helped Laura enter Nottingham School of Art as a teenager. There, Laura resented the fact that female students were not allowed to draw from nude models.
She developed her practice further at an artists' colony in Staithes, Yorkshire, before moving to Newlyn in Cornwall, where she revelled in the light and landscape.
In 1927 Knight became only the second female associate of the Royal Academy, and in 1936 she was the first to be elected a full Academician. While enjoying these and other accolades, she continued to fight the inequalities facing women artists.
.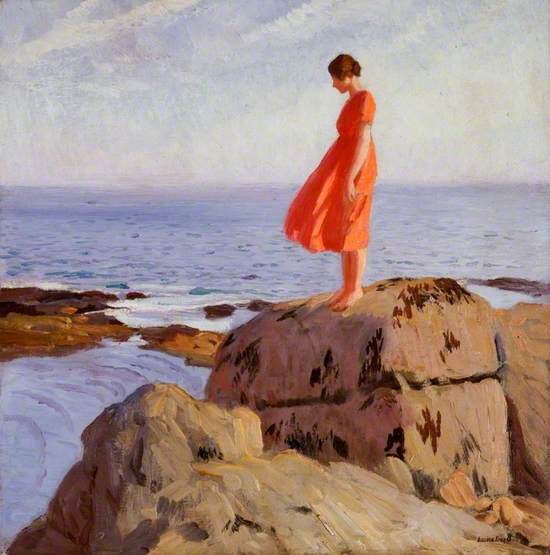 A Dark Pool
This carefully composed painting dates from Knight's time as part of an artists' colony in Cornwall. The rocky viewpoint shown was one of her favourite subjects and it appears in various other studies. The picture is a good example of the way she combined realistic depictions of figures and landscapes with vigorous brushwork, as demonstrated by the marks comprising the rocks in the foreground. The female figure is shown as both part of, and an addition to, the landscape, her vivid dress billowing in the breeze.
A Dark Pool
c.1908–1918
Laura Knight (1877–1970)
Oil on canvas
H 46 x W 45.8 cm
Laing Art Gallery
A Balloon Site, Coventry
During the Second World War, Knight's work as an official war artist took her to airfields and factories all over England. This painting shows a team of women operating a barrage balloon. These were used to force German planes to fly above 5000 feet, which reduced the accuracy of enemy bombing and made them more vulnerable to attack. Women had been flying the balloons since April 1941; it was found that fourteen women, rather than twenty as initially thought, could replace a team of ten men to operate the balloons.
The two world wars Knight lived through played a key role in changing attitudes towards women and work. The Second World War ended a policy preventing married women from being employed in certain jobs.
.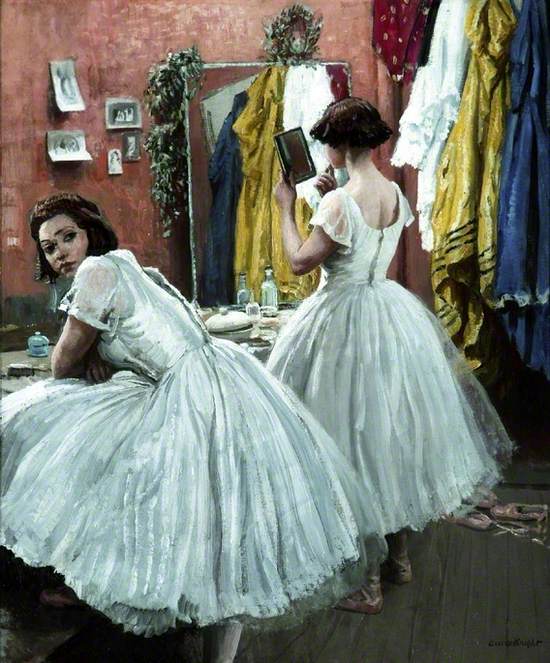 A Dressing Room at Drury Lane
Laura Knight sought out a diverse range of subject matter, from hospital patients to circus performers. This painting reflects her sustained interest in ballet dancers as a subject for her art. A later example, it was first exhibited at the Society of Women Artists in 1951. Knight's interest is – as is often the case – backstage rather than in relation to performance. Her dancers are captured semi-unaware, one doing her makeup using a handheld mirror while the other looks directly at the viewer, her expression unreadable. The backdrop suggests something of the excitement and chaos of life backstage.
Dod Procter: The Female Gaze
From 1923 the Newlyn-based artist Doris Procter exhibited her work under the gender-neutral first name 'Dod'. In Newlyn she met other artists, most significantly her husband, Ernest, and her good friend, Laura Knight.
From the early 1920s Procter focused on depictions of young women, seen through the unconventional lens of the female gaze. In 1927 her painting Morning was voted picture of the year at the Royal Academy Summer Exhibition. Procter followed in Knight's footsteps by becoming only the third woman to be elected an associate of the Royal Academy in 1934. She became a full Academician in 1942.
Procter also made still life paintings, which continue her explorations of femininity using objects.
.
Early Morning
This canvas is a second, smaller version of Procter's most famous painting, Morning, which was voted Picture of the Year at the 1927 Royal Academy Summer Exhibition. The painting was exhibited in New York and even on board the Cunard Company liner ships during its transit, before touring 23 British regional galleries between 1927 and 1929. It was subsequently purchased for the nation as part of the Tate collection. With Morning, Procter became a household name.
The model for the paintings was Cissie Barnes, the daughter of a Newlyn fisherman.
Early Morning
1927
Dod Procter (1892–1972)
Oil on canvas
H 51.4 x W 101.6 cm
Brighton & Hove Museums
.
The Hall Table
Within this painting, symbols of femininity are brought to the fore. The delicate ivory-coloured gloves are paired with a bunch of tulips which appear to have been bought from a florist. The lilac tissue paper used to wrap the flowers balance the composition to offer a separation from the gloves.
In the foreground, there is an intriguing box of cigarettes which references consumption. Interestingly, in the 1930s Procter designed a chocolate box for Cadbury's which featured a bunch of flowers.
The Hall Table
exhibited 1931
Dod Procter (1892–1972)
Oil on canvas
H 38.1 x W 49.5 cm
Towneley Hall Art Gallery & Museum
.
Ancilla with an Orange
After the death of her husband in 1935, Procter travelled widely. She produced many portraits of the people she met on her travels, especially children. She also began to use softer brush strokes, in contrast to the naturalistic style of her earlier work.
She spent the winter of 1956 in Jamaica. Although the country was only a few years from independence by then, the booming tourist industry for British and American travellers probably made it possible for her to ignore the political tensions. Instead, she focused on her portraits of individual local people, which proved popular when she exhibited them back in England. The girl in this lively painting holds a piece of greenish fruit, which the picture's title identifies as an orange.
Ancilla with an Orange
Dod Procter (1892–1972)
Oil on canvas
H 60 x W 51 cm
RWA (Royal West of England Academy)