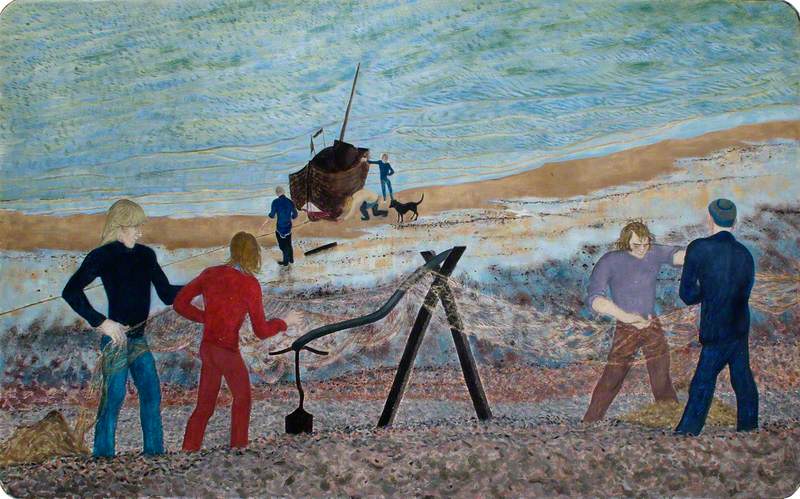 © the artist. Photo credit: St George's Hospital
Painter, born in St Albans, Hertfordshire, was married for a time to the artist Jeffery Camp. She studied at Camberwell School of Art, 1958–62, then Slade School of Fine Art, 1963–5, having received a Leverhulme Travel Scholarship to Italy in the intervening year. In the 1960s and 1970s showed frequently with Young Contemporaries and with LG, having the first of several solo shows at Piccadilly Gallery in 1968. Also showed Serpentine Gallery in 1979 and Air Gallery in 1984. There was a retrospective at Piers Feetham Gallery in 2002. She was elected a member of LG in 1970 and won a prize four years later in John Moores Exhibition, Liverpool. Yhap lived for many years in Hastings, Sussex, and based much of her work on its beach and fishermen.
Read more
The supports can be of odd shapes, incorporating driftwood and rope. Tate Gallery and public galleries in Hastings and Hove hold her work. The name Yhap is Chinese, through her father, her mother having been Viennese.
Text source: 'Artists in Britain Since 1945' by David Buckman (Art Dictionaries Ltd, part of Sansom & Company)