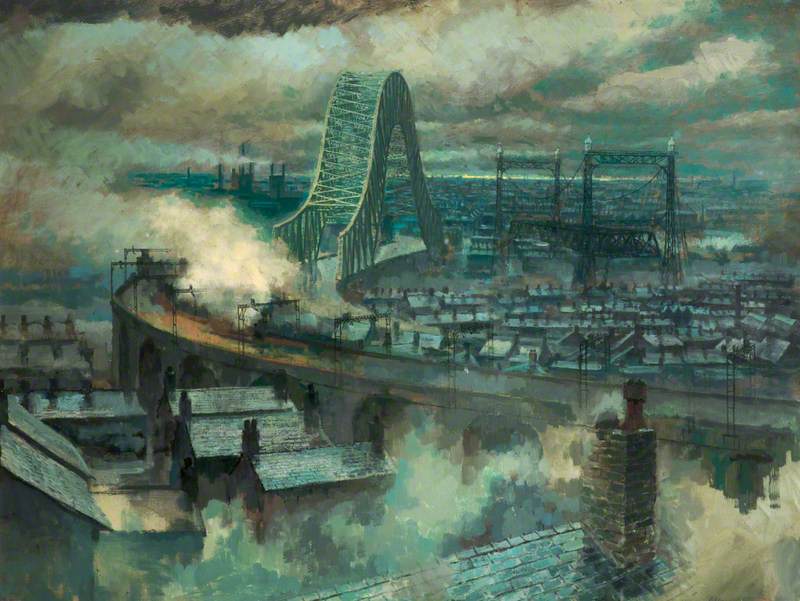 © the artist's estate. Photo credit: Halton Borough Council
Artist and teacher, born in Birkenhead, Cheshire. He studied there at Laird School of Art, 1951–4, at Liverpool College of Art, 1955–6, then Birmingham Polytechnic, 1976–7. Yeomans went on to teach at Nuneaton School of Art, 1964–87. He worked extensively with David Berry-Hart and with him formed The Firm, four painters and two sculptors, including Geoff Wilde, Paul Littlehales, Ed Pooley and Mark Compton. Yeomans took part in residencies and workshops at Leicestershire schools, 1985–90; Lever Brothers, Port Sunlight, 1987–8; Cannon Hill Arts Centre, Birmingham, 1991; Queen's Hall, Narberth, 1996; and Walker Art Gallery, Liverpool, 1999. He was a prolific exhibitor of prints, drawings and paintings, participating in numerous group and invitation exhibitions.
Read more
For Yeomans, painting was "a love affair with a surface". As a student, he was influenced by the Euston Road School; took an aversion to post-war, post-painterly abstraction; the search for "a colloquial vision that everyone could access" leading him to Photo-Realism. By the time of his solo exhibition at Y Tabernacl, The Museum of Modern Art, Wales, in 2001, his work was moving towards abstraction, textured surfaces which had depth and were multi-dimensional. Yeomans settled at Amroth, Pembrokeshire, and took inspiration from post-industrial detritus rather than the landscape. Other later solo exhibitions included Williamson Art Gallery & Museum, Birkenhead, 1999, and Oriel Henry Thomas Gallery, Carmarthen, and Theatr Mwldan, Aberteifi, both 2001. His retrospective evitcepsorter, at the Williamson in 2004, was accompanied by a well-illustrated and informative catalogue. Yeomans' work received considerable media coverage. Those holding examples include the CASW; Walker and Williamson Art Galleries; Granada Collection, Manchester; S H Picker Trust; Balliol College, Oxford; the Leicester and Liverpool Schools Collections; and numerous private collections. Yeomans' wife was the artist Andrea Kelland.
Text source: 'Artists in Britain Since 1945' by David Buckman (Art Dictionaries Ltd, part of Sansom & Company)