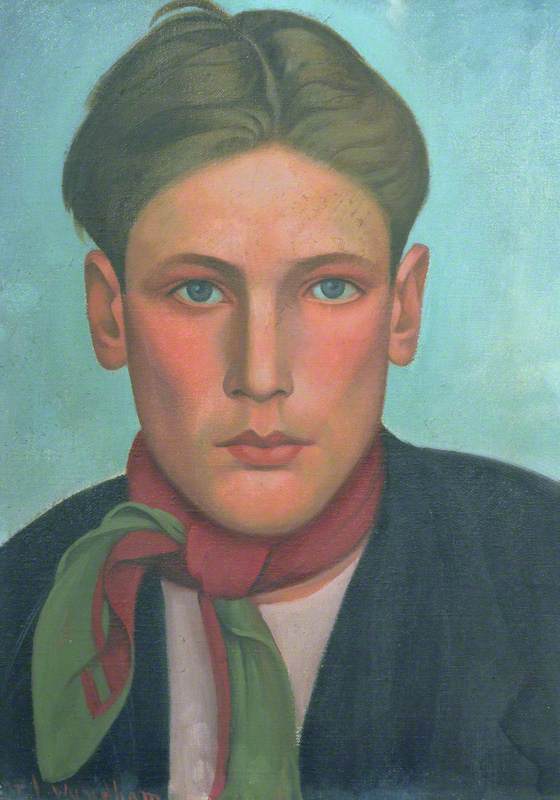 Photo credit: Bridgeman Images
Painter, printmaker, writer and collector of modern art, full name Guy Richard Charles Wyndham. Dick Wyndham was born into the landed aristocracy and educated at Wellington College and the Royal Military College, Sandhurst. Served in World War I in the Army at the second Battle of Ypres, then Salonika, winning the Military Cross. Bored with the life of a country gentleman at Clouds House, Wiltshire, Wyndham took up art, studying under Harold Speed and Wyndham Lewis. He bought Tickerage Mill, outside Uckfield, Sussex, near his friend Edward Wadsworth, and drove fast cars, flew his own plane and partied with an artistic group. Wyndham showed at Goupil and Leicester Galleries and Tooth, having a first solo exhibition there in 1933, and had work bought by Edward Marsh, Manchester City Art Galleries and galleries in Brighton, Hull, Rochdale and Belfast.
Read more
Landscapes with water were a noted feature of Wyndham's work. His books included a novel, Painter's Progress, 1938, and The Gentle Savage, about travels in the Sudan, 1936, celebrated with a show at Tooth in 1937. Wyndham was invalided out of the Army in World War II after a breakdown. Became a foreign correspondent in the Near East and was shot by a sniper in Palestine. His life was recounted by Caroline Dakers in the catalogue of a retrospective show at Henry Wyndham Fine Art, 1993. Wyndham appeared in Wyndham Lewis' novel The Apes of God as Richard Whittington.
Text source: 'Artists in Britain Since 1945' by David Buckman (Art Dictionaries Ltd, part of Sansom & Company)