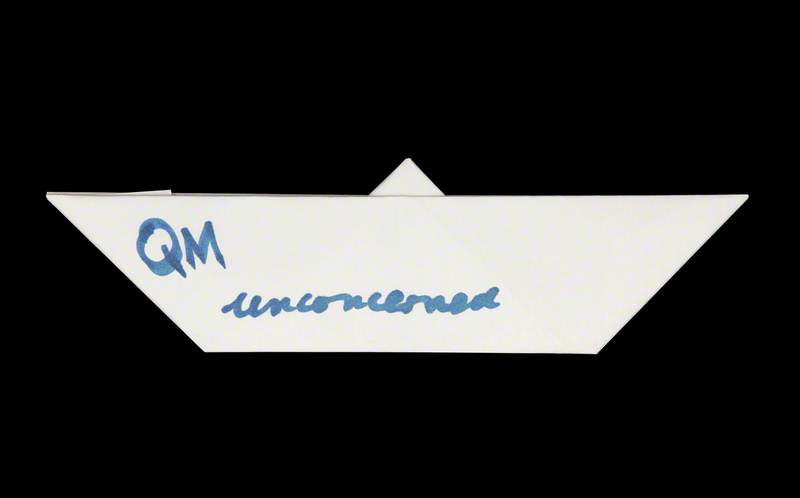 © George Wyllie Estate. Photo credit: University of St Andrews
Sculptor using metal who later developed into mixed media, installations, outdoor events, performance and theatre artist, born in Glasgow. He was self-taught and commenced artworks in 1965. Wyllie was an associate of RSA, a former president and then honorary member of SSA, a council member of the Glasgow Group and an honorary doctor of literature, Strathclyde University. In 1993 he gained a British Council Award to lecture in India and Singapore. Solo shows included Collins Exhibition Hall, Strathclyde University in Glasgow, 1976 and 1981; Serpentine Gallery, 1981; A Day Down a Goldmine, Third Eye Centre, Glasgow, 1982; Worcester Art Museum, Massachusetts, America, 1984; The Paper Boat Installation, World Financial Center, New York, 1990; Cottier Theatre, Glasgow, 1998; and eightieth-birthday exhibition at the Rebecca Hossack Gallery in 2002.
Read more
He completed sculpture for General Accident World Headquarters, Perth. Stirling University, Whitworth Art Gallery in Manchester and Kelvingrove Art Gallery, Glasgow, hold examples. Lived in Gourock, Renfrewshire.
Text source: 'Artists in Britain Since 1945' by David Buckman (Art Dictionaries Ltd, part of Sansom & Company)