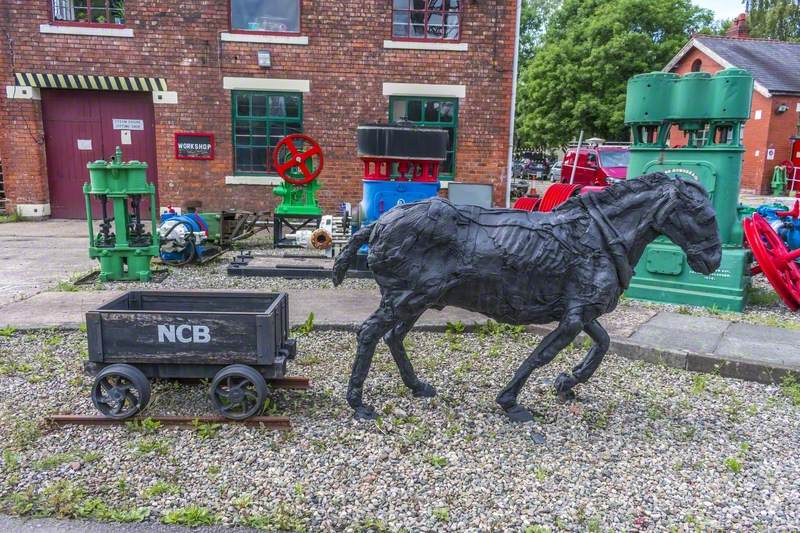 © the artist. Photo credit: Fiona Matthewson / Art UK
Sculptor, born in Aduard, Netherlands, growing up on the family dairy farm which gave her a fine knowledge of the animals she later sculpted so realistically and feelingly. Arrived in England in 1979, she worked with disturbed adolescents in Wiltshire, then did an art foundation course at Manchester Polytechnic, 1983–4. Gained a first-class honours degree at North East London Polytechnic, 1984–7, specialising in sculpture, then studied fine art (sculpture) at the Polytechnic in Manchester, where she settled, 1987–8, for her master's degree. Mixed exhibitions included MAFA from 1988, of which she was elected a member in 1993, winning a Major Award in 1994; and Het Schaap in de Kunst, Hein Jurgens, Tilburg, Netherlands, in 1994, the year she was also elected an affiliate of RBS.
Read more
Solo shows included The Green Room, Manchester, 1988, and Raw Clay, Flaxman Gallery, Stoke-on-Trent, 1990. Wouda's first public sculpture commission was Leigh Pit Pony, for Groundwork Trust, Wigan, 1989; others including two sculptures for London Docklands Development Corporation, 1991; Walsall Working Horse, for Walsall Civic Centre, 1992; and two relief sculptures for the entrance hall of Bury Museum and Art Gallery, 1994. In 1995–8 Chanticleer: Prints and Sculpture by Adrienne Craddock and Marjan Wouda toured the United Kingdom, organised by Sheeran Lock. Of Wouda's 2002 show at Curwen Gallery, Kyffin Williams commented on "the almost surrealist twist to her work that immediately makes it thought provoking," some of it having "a tenderness that is most moving". Lived in Prestwich, Manchester.
Text source: 'Artists in Britain Since 1945' by David Buckman (Art Dictionaries Ltd, part of Sansom & Company)