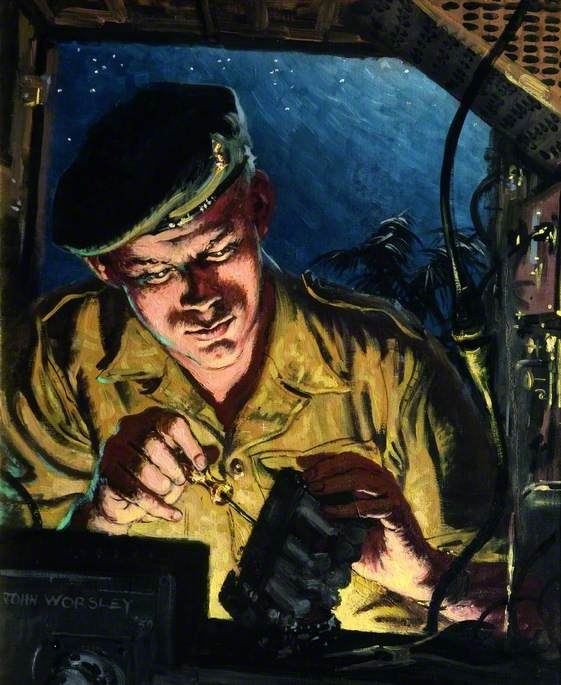 © the artist's estate. Photo credit: Royal Signals Museum
Artist able to work in any medium, born in Liverpool, brought up partly in Kenya, then in Sussex where he attended Brighton College. Went to Goldsmiths' College School of Art, 1934–7, studying under James Bateman, Clive Gardiner and Stanley Anderson. The son of a naval officer, Worsley in 1939 joined up and became a midshipman on the armed merchant cruiser Laurentic, in which he was sunk off Ulster, but survived to paint a picture of the incident. By this time he was contributing work to the War Artists' Advisory Committee, and after further active service he was appointed as a war artist attached to the commander-in-chief, Mediterranean. Taken prisoner, Worsley ended up as a prisoner of war in Germany and made a valuable record of life in Marlag O camp, managing to bring most of his drawings – with much difficulty – back to England after his release.
Read more
Worsley thought up the legendary papier mâché head Albert to facilitate prisoner of war escapes, featured in the film Albert RN. During the closing stages of the war Worsley painted portraits of Admiral Sir John Cunningham and Field-Marshal Bernard Montgomery. The only serving sailor to become an Official War Artist, Worsley made a unique contribution in capturing a record of action and ship life. Imperial War Museum holds his work. From 1966 Worsley made hundreds of sketches of criminal suspects, based on victim accounts, to aid the police; these were often uncannily accurate, and led to arrests. Worsley also drew for the comics Eagle and Girl; with the journalist Macdonald Hastings made a live series for Tyne Tees Television called Man Bites Dog, for Anglia producing 1,300 pictures to illustrate a children's story series; illustrated many children's books; painted portraits of the famous; and was a sculptor, wood and glass engraver. He was for a time president of the RSMA. Lived in London.
Text source: 'Artists in Britain Since 1945' by David Buckman (Art Dictionaries Ltd, part of Sansom & Company)