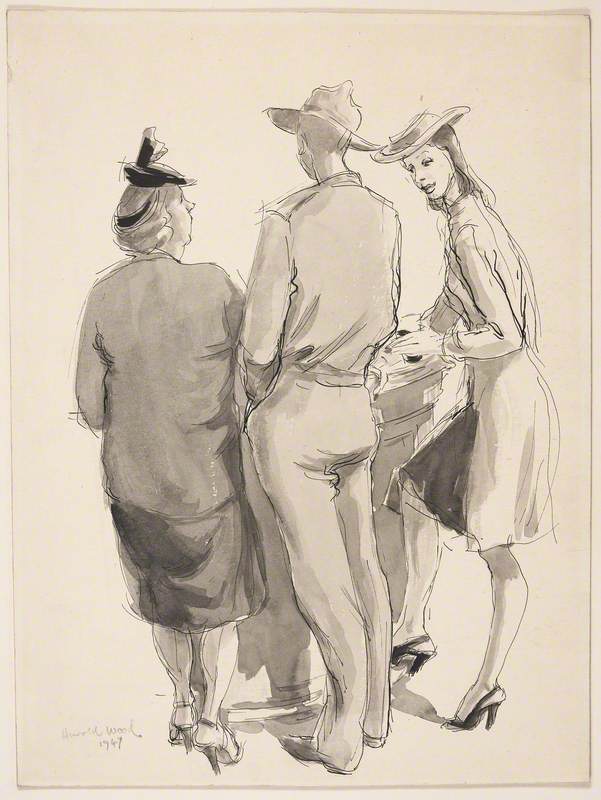 © the artist's estate. Photo credit: Harris Museum, Art Gallery & Library
Versatile and colourful artist, born in Preston, Lancashire, where he studied part-time at Harris Art School, 1935–9. He claimed to be "self-taught in painting"; however, in the five years to World War II he "learned much technical expertise" while working in the decorative art department at Leyland Paint & Varnish. After over six years' wartime service in the Army, including a period in Germany, Wood worked as an illustrator in London. He learned etching for two terms at the Central School of Arts and Crafts, but otherwise "spent all my spare time in the National Gallery". The early Italian masters, Oskar Kokoschka whom he met in 1954, and the writings of John Berger were key influences. For a time Wood was involved in town planning, architectural drawing and model-making, including work for Lancashire County Council, Peterlee New Town and George Wimpey.
Read more
There was a period restoring furniture in Rye. From 1955 Wood painted full-time, having a notable solo show at Beaux Arts Gallery in 1956. His own family experiences, "a kind of social realism", were key themes, and he gained publicity for a series of oversize portraits of himself and his pregnant pig pictures. As well as mixed shows at Zwemmer and Redfern Galleries and in the provinces, Wood had a solo show at Upper Grosvenor Galleries, 1964, and at Bramante Gallery, Victoria, 1968–70. Eventually Wood worked on commission for the Mathaf Gallery, spending time in Saudi Arabia, reconstructing scenes of the kingdom's history and the story of Abdul Aziz Ibn Saud. He carried out extensive commissions for the writer Wolf Mankowitz and sold to clients in the entertainment world, including Leslie Bricusse, John Mills, Bryan Forbes and Charlton Heston. Completed a mural for Yorkshire High School for Boys, Scarborough, 1959, and Cleveleys Parish Church, 1963. Lived finally at Arlinstown, Ballinghassig, County Cork, Ireland.
Text source: 'Artists in Britain Since 1945' by David Buckman (Art Dictionaries Ltd, part of Sansom & Company)