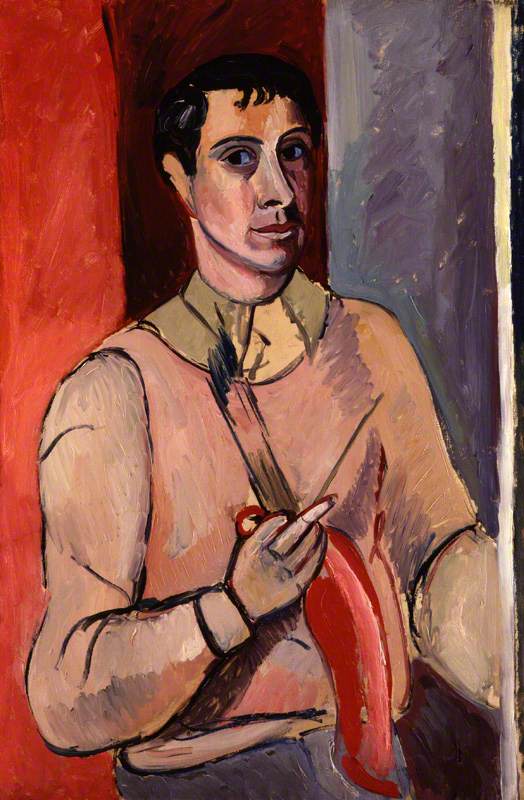 © National Portrait Gallery, London. Photo credit: National Portrait Gallery, London
Portrait, flower and landscape painter, mainly in oil, illustrator and draughtsman in pen and ink and pencil. Born in Johannesburg, South Africa, Wolfe came to England and studied at the Slade School 1916–8, having in his native country worked for periods as a child actor and for a jeweller, during which time he had his first serious art lessons with the British painter George Smithard. Whilst at the Slade was invited by Nina Hamnett to join Roger Fry's Omega Workshops, with which he first exhibited in 1918, the same year that he initially showed with LG. One-man show at Leon Levson's Gallery, Johannesburg, in 1920, having returned in 1919 to paint there; the proceeds helped to fund his return to London, which then became his base, although he was throughout his life to travel in search of the sun.
Read more
Over the years he painted in places such as France – he was early an admirer of Matisse, who influenced his work – Italy, Morocco, Spain, Tunisia and Mexico. Wolfe became a friend of many notable writers, such as Aldous Huxley, William Plomer and Arnold Bennett, his portraits of the last two being notable (Plomer is in the National Portrait Gallery). In the early 1930s designed sets for C B Cochran. During World War II work included acting as a censor for the BBC at Bristol. Wolfe exhibited extensively in Britain and abroad, mixed and one-man shows, and was elected RA in 1972. There was an Arts Council retrospective in 1967 and in 1997 another, celebrating his centenary, at Paisnel Gallery and James O'Connor, 4 New Burlington Street. Tate Gallery and many other public galleries hold Wolfe's work, which is often rich in colour, suffused in sunlight and highly decorative, but with an underlying strong draughtsmanship. This was evident in his show at The Millinery Works in 2003. Song of Songs was at Y Tabernacl, Machynlleth, in 2004–5.
Text source: 'Artists in Britain Since 1945' by David Buckman (Art Dictionaries Ltd, part of Sansom & Company)