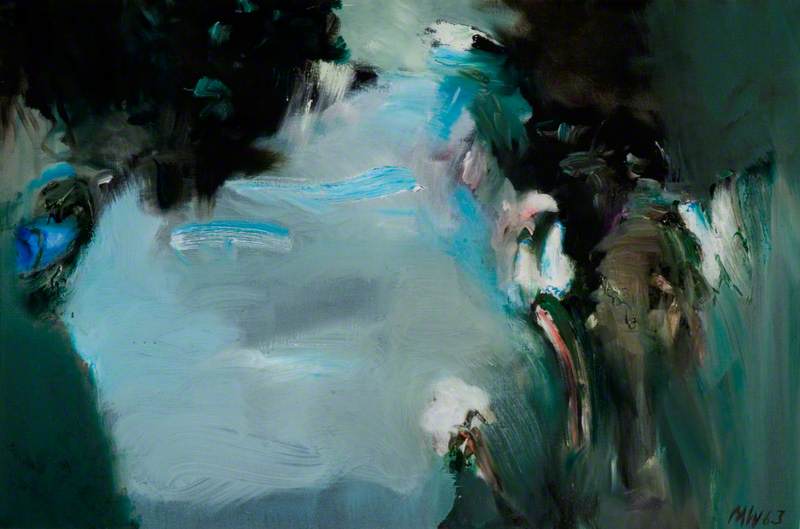 © the artist's estate. Photo credit: The New Art Gallery Walsall
Painter, draughtsman and writer, full name John Michael Wishart, who was married for a time to the artist Anne Dunn, their son being the artist Francis Wishart. Michael's father was the wealthy Ernest Wishart, founder of the Communist publishing houses Wishart & Company and Lawrence & Wishart, Michael's mother Lorna being one of the Garman sisters. Kathleen Garman became the model, mistress and wife of the sculptor Jacob Epstein, Mary marrying the South African poet Roy Campbell. Lorna was the lover of poet Laurie Lee – their daughter Yasmin was brought up by the Wisharts – then of the painter Lucian Freud, who painted several notable early portraits of her; both Lee and Freud eventually married Lorna's nieces. Michael studied at Bedales School, then the Central School of Arts and Crafts, under Bernard Meninsky; Anglo-French School where teachers included André Lhote; Cedric Morris' East Anglian School of Painting; and in Paris at Académie Julian.
Read more
Wishart's hectic social and personal life, his friendship with major writers and painters and life abroad are entertainingly described in his autobiography High Diver, 1977. Wishart exhibited in RA Summer Exhibitions, including his portrait of the ballet dancer Rudolf Nureyev, 1968. Had a solo show at Archer Gallery, 1944; series at Leicester and Redfern Galleries; a retrospective at David Paul Gallery, Chichester, 1976; and an exhibition at Parkin Gallery, 1985. Michael Wishart The Last Works was a show at The Mayor Gallery in 2005. Arts Council and Contemporary Art Society hold examples. Lived in Hove, Sussex, but died in London, where he had been born.
Text source: 'Artists in Britain Since 1945' by David Buckman (Art Dictionaries Ltd, part of Sansom & Company)