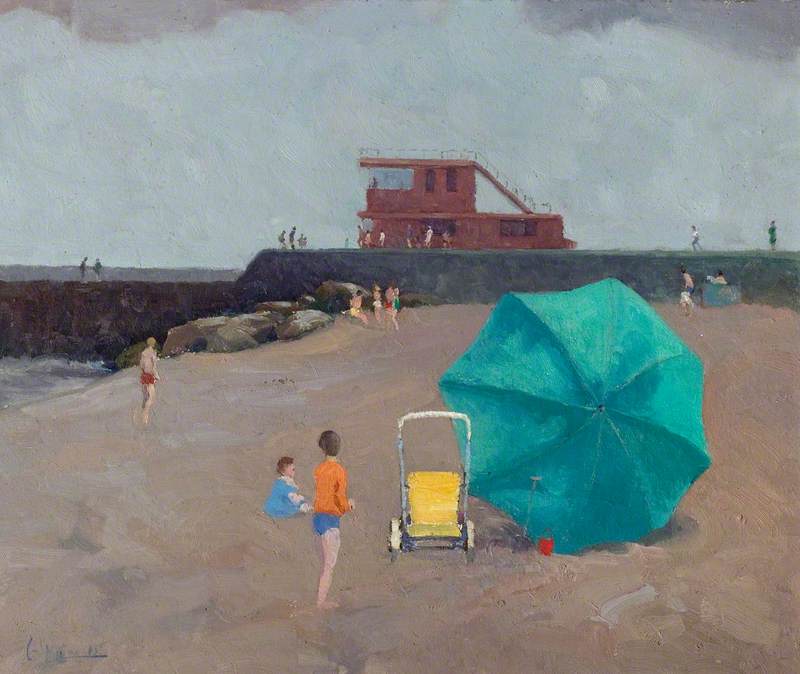 © the copyright holder. Photo credit: The Collection: Art & Archaeology in Lincolnshire (Usher Gallery)
Artist, author and chartered surveyor, born in Norfolk, where he settled at Thurlton. Wilson painted from 1953, following contact with his near-neighbour the painter Sir John Arnesby Brown. He studied with the marine artist Rowland Fisher, 1956–63, and was much helped by the painter Anna Airy. Wilson retired as a surveyor in 1983 to paint full-time, working extensively in East Anglia and Dorset as well as abroad, mainly in France and Italy. By retirement, he was an experienced exhibitor. Exhibitions included Great Yarmouth Central Library, 1962 and 1963; Scunthorpe Museum & Art Gallery, 1964; The Lincolnshire Association, Old Barracks, Lincoln 1967; shared exhibitions at Austen Hayes Galleries, York, 1979 and 1980; shared show at Omell Galleries, Windsor, 1984; Phoenix Gallery, Lavenham, 1991; Omell Galleries, Albemarle Street, and Hunter Simmonds Gallery, Westbourne, both 1992; Frederick Gallery, Raveningham, 1994; and shared exhibition, Woodgates Gallery, East Bergholt, 1999.
Read more
His extensively illustrated book Painting the Scene appeared in 2003. Wilson was a past-president of the Lincolnshire Artists' Society. He is represented in collections in Great Yarmouth, Lincoln and in Plymouth, Massachusetts, America.
Text source: 'Artists in Britain Since 1945' by David Buckman (Art Dictionaries Ltd, part of Sansom & Company)