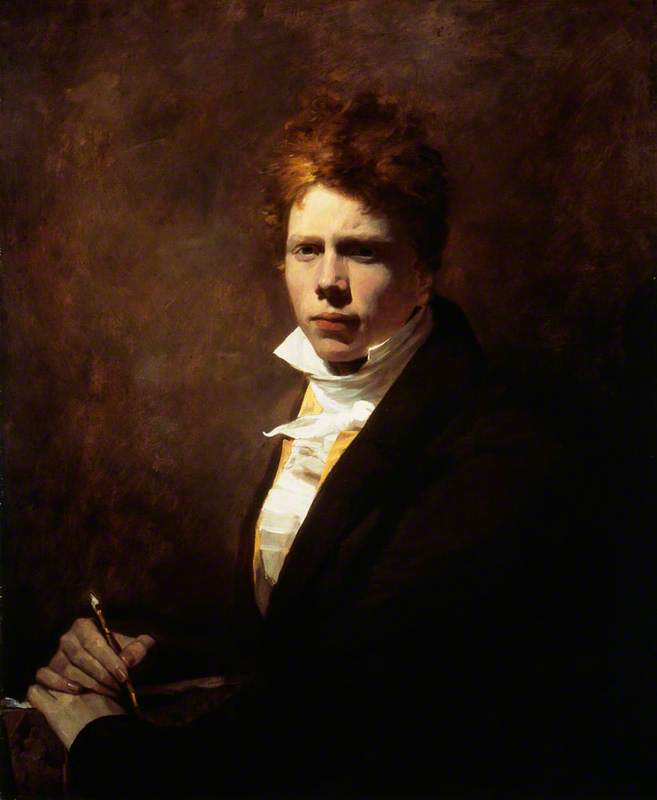 Photo credit: National Galleries of Scotland
(b Cults, nr. Cupar, Fife, 18 Nov. 1785; d at sea, off Gibraltar, 1 June 1841). Scottish painter, active mainly in London. He is principally famous as the most popular genre painter of his time, but he also produced historical subjects and portraits. Wilkie trained in Edinburgh and then in 1805 moved to London, where he studied briefly at the Royal Academy Schools. His Village Politicians (priv. coll.) was the hit of the RA exhibition of 1806, helping to establish him as a leading figure in his profession at a remarkably early age: in 1811 he was elected a Royal Academician when he still only 25 (younger even than Turner had been when he reached this milestone). He was strongly influenced in technique and subject matter by 17th-century Netherlandish artists such as Ostade and Teniers, and the public loved the wealth of lively and often humorous incident in his paintings.
Read more
His Chelsea Pensioners Reading the Gazette of the Battle of Waterloo (1822, Wellington Mus., London), commissioned by the Duke of Wellington, was so popular when shown at the Royal Academy that a rail had to be erected in front of it to protect it from the crowds (a precaution not repeated until 1858, with Frith's Derby Day). In 1825–8 Wilkie travelled on the Continent for reasons of health (he had long been prone to nervous illness) and his work changed radically under the influence of Renaissance and Baroque painting, becoming weightier in subject matter and broader in touch. The change was regretted by many of his contemporaries (Haydon said that 'Italy was Wilkie's ruin'). In 1840 he went to the Holy Land to research material for his biblical paintings and died at sea on the return journey; Turner (one of his many artist friends) commemorated him in Peace: Burial at Sea (1842, Tate, London). Wilkie's success did much to establish the popularity of anecdotal painting in Britain and many Victorian artists were influenced by him. His great reputation declined after his death and did not substantially revive until the later 20th century, the reassessment beginning with a major exhibition held in 1958 in Edinburgh (NG) and London (RA).
Text source: The Oxford Dictionary of Art and Artists (Oxford University Press)