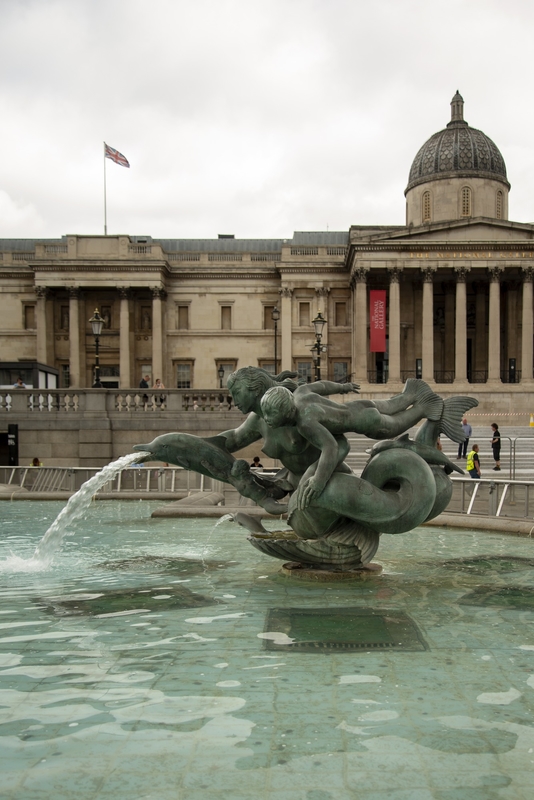 © the artist's estate. Photo credit: Maarten Roes Francken / Art UK
British sculptor (and occasional painter). He was born in Codsall, Staffordshire, and studied at Wolverhampton School of Art, 1908–12, and the *Royal College of Art, 1912–17. Although he came to be regarded as the ultimate establishment sculptor, as a young artist he did engage with what was then the adventurous practice of *direct carving: Mother and Child (1926, Wolverhampton Art Gallery) is a fine example. Wheeler did many portrait busts, but the major part of his output was devoted to public sculpture: his biggest commissions were for the Bank of England, for which he did various works between 1930 and 1937, including three bronze doors and a series of giant stone figures on the exterior. His style could be rather ponderous, although Dennis Farr justly praises the Jellicoe Fountain, Trafalgar Square (begun in the late 1930s, unveiled 1938), as a 'delightful monument in a period not well endowed in this respect'.
Read more
From 1956 to 1966 Wheeler was president of the *Royal Academy in which capacity he is best remembered for the controversial sale of Leonardo da Vinci's cartoon of The Virgin and Child with St Anne and St John the Baptist. His autobiography, High Relief, appeared in 1968.
Text source: A Dictionary of Modern and Contemporary Art (Oxford University Press)