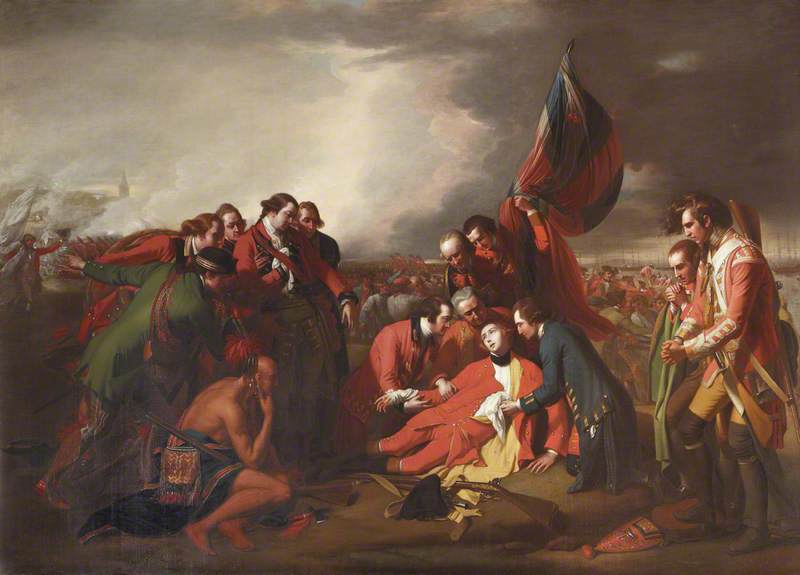 Photo credit: National Trust Images
(b Springfield [now Swarthmore], nr. Philadelphia, 10 Oct. 1738; d London, 11 Mar. 1820). American history and portrait painter who spent almost all his career in England. After early success as a portraitist in New York, he studied for three years in Italy (1760–3), chiefly in Rome, then settled in London. There he soon repeated the professional and social success he had enjoyed in Italy, helped by his good looks and charm and by the novelty value of his being an American. Initially West had set up as a portraitist in London, but it was as a history painter that he made his mark. In Rome he had been in contact with the circle of Gavin Hamilton and Mengs, and his early work is in a determined but rather flimsy Neoclassical style (Agrippina Landing at Brundisium with the Ashes of Germanicus, 1768, Yale Univ.
Read more
AG). With his famous Death of Wolfe (1770, NG, Ottawa), however, he broke new ground. This was not, as is sometimes asserted, the first history painting to feature contemporary costume (Edward Penny (1714–91), for example, had painted the same subject in modern dress in 1764 (Ashmolean Mus., Oxford); however, it was the first picture in such vein to become a popular and critical success in Britain. It was exhibited in 1771 at the Royal Academy (of which West had been a foundation member in 1768) and was so admired that West had to make several replicas; he also made a fortune from the sale of engravings. George III admitted he had been wrong to think it 'very ridiculous to exhibit heroes in coats, breeches, and cocked hats' and he appointed West his official history painter in 1772. West's innovation was soon adopted by other artists, most notably his countryman Copley, and it marks an important turning point in taste. In 1792 West succeeded Reynolds as president of the Royal Academy; he resigned in 1805 following internal squabbles, but he resumed the post the following year and held it until his death. In his later works, his style grew away from Neoclassicism: he was in the vanguard of the Romantic movement with paintings such as the melodramatic Saul and the Witch of Endor (1777, Wadsworth Atheneum, Hartford), and his Death on the Pale Horse (1817, Pennsylvania Academy of the Fine Arts, Philadelphia) has been hailed as a forerunner of Delacroix. West's historical importance far outweighs the quality of his work, which (in spite of its modernity in ideas) is often heavy-handed. He was the first American painter to achieve an international reputation and was an inspiration to many of his countrymen. Numerous young Americans who followed him to London benefited from his generosity in advice and practical help, including Allston, Copley, and Morse, so he well deserves his title of 'the father of American painting'. His British pupils included John Downman, who called West his 'most beloved teacher'.
Text source: The Oxford Dictionary of Art and Artists (Oxford University Press)