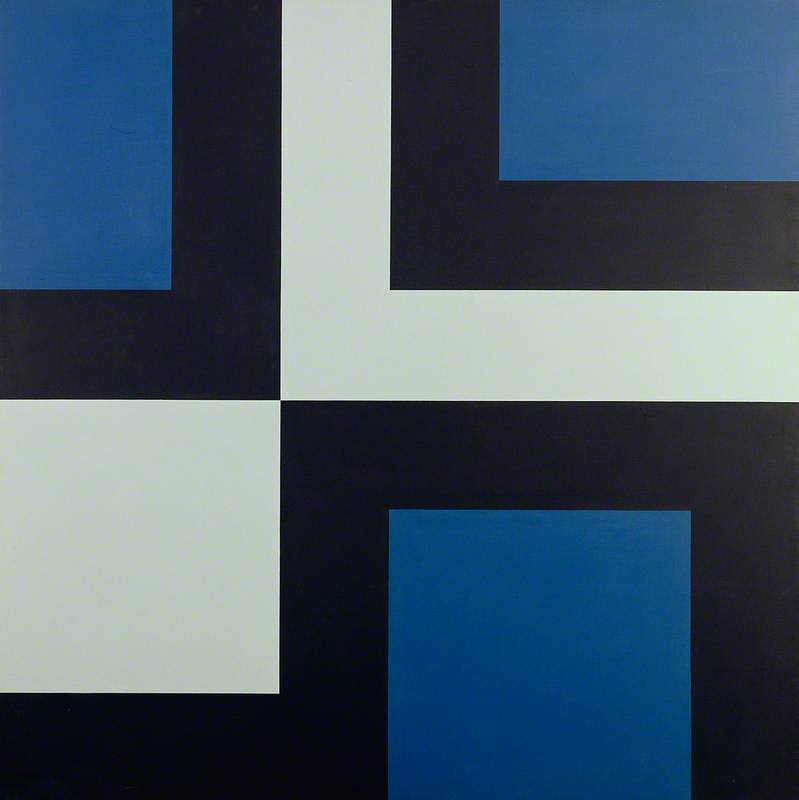 © the artist. Photo credit: Robert and Lisa Sainsbury Collection, Sainsbury Centre for Visual Arts, University of East Anglia
Artist and lecturer, born in London, who studied at the fine art department, University of Newcastle, 1958–63, notable teachers Victor Pasmore and Richard Hamilton; gaining a Hatton Scholarship, 1962–3; in 1963 taking a postgraduate course at Chelsea School of Art. She was head of pre-diploma studies at Harrogate School of Art, 1964–6; was a part-time lecturer in painting, Norwich School of Art, 1966–73; and lecturer there, 1973–90. Early influences on Webb's work were Robert and Sonia Delaunay, Matisse, Picasso, Braque, Mondrian and Richard Smith. "My concern is with colour and the emotions and sensations it can evoke frequently linked to the memory of place." Webb won a Northern Arts Prints Award, 1970; Eastern Arts Award, 1984; £3,000 Painting Award, originated by Wingfield Arts and Music, 1991; and an Eastern Arts Award for Travel and Research in Portugal, 1997.
Read more
She participated in many group exhibitions, including Galerie Varenne, Paris, 1969–70; Northern Arts Association Print Exhibition Art Gallery, Middlesbrough, prize winner, 1970; John Moores Liverpool Exhibition, 1974; Drawings for All, Gainsborough's House, Sudbury, from 1986; RA Summer Exhibition, from 1990; Flowers East Print Show, from 1994; Kettle's Yard Open, Cambridge, 1995; and ARTfutures, Contemporary Art Society Art Market, Royal Festival Hall, from 1999. Among Webb's later solo exhibitions were the Fermoy Gallery in King's Lynn, and Mace Ltd, Shoreditch, both 1996. The Arts Council; Universities of Newcastle and East Anglia; Lincolnshire, Northern and Eastern Associations; Leicester, Suffolk and Norfolk Education Authorities; Kettle's Yard; and many corporate collections hold examples. Lived in Fressingfield, Suffolk.
Text source: 'Artists in Britain Since 1945' by David Buckman (Art Dictionaries Ltd, part of Sansom & Company)