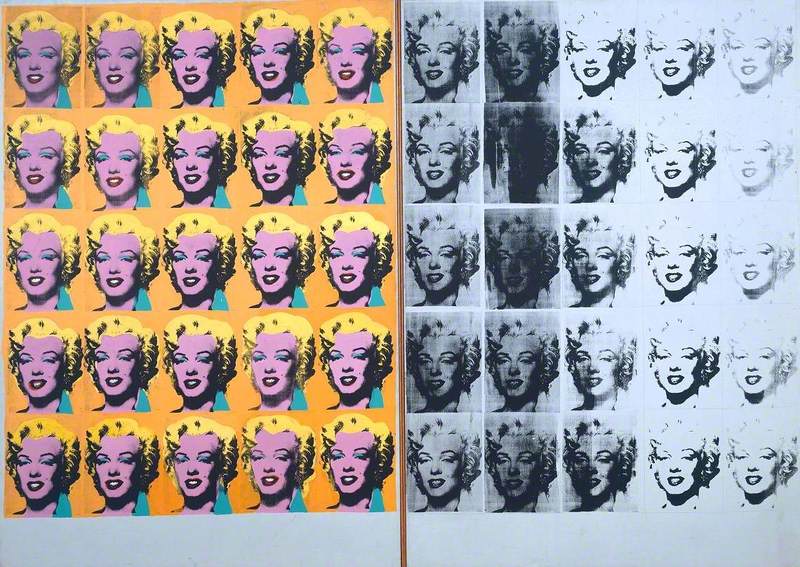 © The Andy Warhol Foundation for the Visual Arts / Artists Rights Society (ARS), New York / DACS, London 2023. Photo credit: Tate
(b Pittsburgh, 6 Aug. 1928; d New York, 22 Feb. 1987). American painter, printmaker, sculptor, draughtsman, film-maker, and writer, one of the most famous and controversial artists of the 20th century. During the 1950s he was enormously successful as a commercial artist in New York (specializing in shoe advertisements). In 1960 he began making pictures based on mass-produced images such as newspaper advertisements and comic strips, then in 1962 of Campbell's soup cans. They were exhibited in that year with sensational success and Warhol soon became the best-known figure in American Pop art. In the same vein as his soup cans he did pictures of Coca-Cola bottles and made equally banal sculptures of Brillo soap-pad boxes and similar cartons. He also embarked on a lengthy series of pictures of Marilyn Monroe, Elvis Presley, Elizabeth Taylor, and other celebrities.
Read more
Similar in method but different in effect were his pictures of disasters such as car crashes and views of the electric chair. Whatever the subject in his pictures, he often made use of rows of repeated images. The screenprinting process that he favoured allowed limitless replication, and he was opposed to the idea of a work of art as a piece of craftsmanship, hand-made and expressing the personality of the artist: 'I want everybody to think alike. I think everybody should be a machine.' In keeping with this outlook he used clippings of 'dehumanized' illustrations from the mass media as his sources, turned out his works like a manufacturer, and called his studio 'The Factory'. There he was surrounded by a crowd of helpers and hangers-on, described by Robert Hughes as 'cultural space-debris, drifting fragments from a variety of sixties subcultures'. Warhol liked to give the idea that he took a paternal interest in his followers, but Eric Shanes (Warhol, 1991) writes that 'Just how cynical he could be in his dealings with his entourage is demonstrated by an incident that occurred in October 1964 when one of his hangers-on, Freddie Herko, committed suicide by jumping from a fifth-floor window in Greenwich Village while high on LSD: Warhol was heard to complain repeatedly that Herko should have forewarned him so that he could have filmed his death.'In 1966 Warhol announced his retirement as an artist to devote himself to films and to managing the rock group the Velvet Underground, but in fact he never gave up painting. As a film-maker, he became perhaps the only 'underground' director to be well known to the general public. His first films were silent and virtually completely static: Sleep (1963)—a man sleeping for six hours; and Empire (1964)—the Empire State Building seen from one viewpoint for eight hours—'I like boring things.' Later films, such as the two-screen Chelsea Girls (1966), gained widespread attention because of their voyeuristic concentration on sex. In 1968 Warhol was shot and severely wounded by a bit-part player in one of his films, a member of SCUM (The Society for Cutting Up Men). The incident encouraged him to turn away from the unconventional types who had made up his entourage and instead become associated with high society (in the 1970s he made an enormous amount of money churning out commissioned portraits of wealthy patrons). In his later years he was perhaps more famous for his celebrity-courting lifestyle and deliberately bland persona than for his art; indeed, it could be argued that his advertising skills were nowhere more brilliantly deployed than in promoting himself. In purely financial terms his success in promoting himself was prodigious. At his death (from complications following a routine gall bladder operation) he left a fortune estimated at $100,000,000, most of which went to create an arts charity, the Andy Warhol Foundation. His status as an artist, however, is controversial. Even his most fervent admirers tend to admit that he added little to his achievement as a painter after the mid-1960s, but large claims are sometimes made for his earlier works. Warhol published a celebrity magazine called Interview, and several books appeared under his name, some genuinely written by him, others put together from tapes. The Diaries of Andy Warhol appeared posthumously in 1989. In 1994 a museum dedicated to his work opened in his home town of Pittsburgh.
Text source: The Oxford Dictionary of Art and Artists (Oxford University Press)