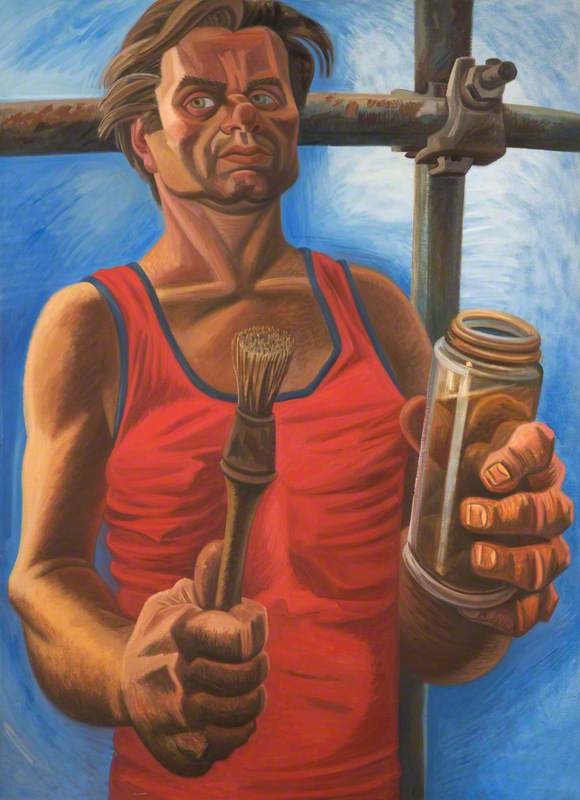 © the copyright holder. Photo credit: Gallery Oldham
Painter, notably a muralist, and teacher, born in Liverpool, father a merchant seaman. Despite a poor background, was encouraged by his mother and his art master David Copestake at Hillfoot Hey Grammar School, then attended Liverpool College of Art, 1961–5. Partly supported his studies by playing in a Rock band, Liverpool Flintstones, 1959–64, sometimes at the Cavern Club with The Beatles. On the strength of highly imaginative Surrealist work, entered Royal College of Art on a postgraduate scholarship, 1966–9. His diploma show contained pictures mixing realism, fantasy and grotesque eroticism. After a stay in Morocco, Walker lived in squats in Notting Hill. From 1972 until his death lectured at a wide range of colleges and polytechnics.
Read more
After remarrying, Walker settled in a semi-derelict house in Poplar. Although he had had early success with a solo show at Clytie Jessop Gallery in 1970, Walker's enthusiasm for more socially aware subjects prompted him to concentrate on public murals. In 1973 he had worked with John Bratby on hoardings around Sam Wanamaker's World Centre for Shakespeare Studies. Additionally completed murals for the new Whittington Hospital, Islington, 1977; Bow Mission, 1978; Army recruitment panels for Imperial War Museum, 1981; and Peace Mural, Dalston Junction, commissioned by Greater London Council, 1983–4. There was a memorial show at Royal Festival Hall, 1985, another at Bluecoat Gallery, Liverpool, 1987.
Text source: 'Artists in Britain Since 1945' by David Buckman (Art Dictionaries Ltd, part of Sansom & Company)