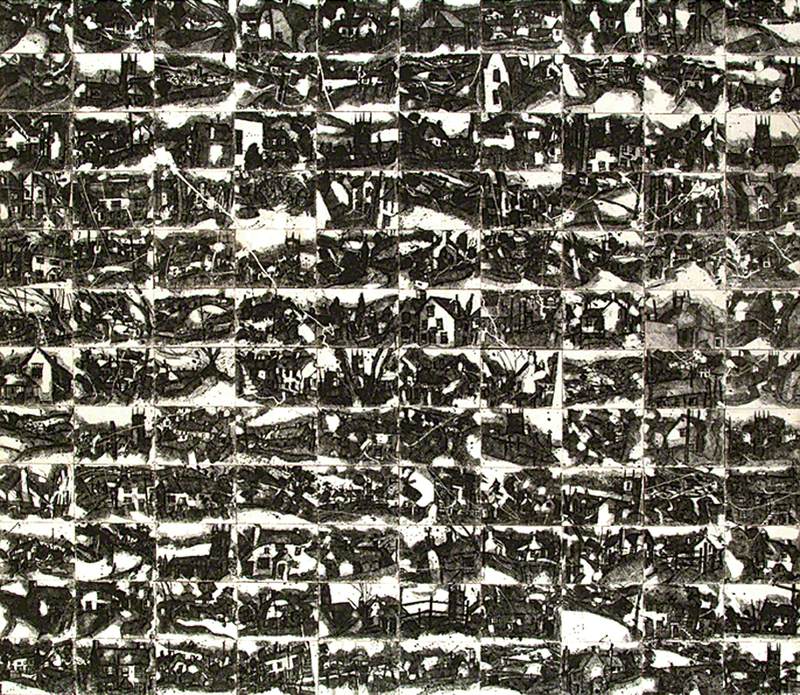 © John Virtue. All rights reserved, DACS 2021. Photo credit: Towner
Painter and draughtsman, born in Accrington, Lancashire. He studied at Slade School of Fine Art, 1965–9. Gained an Arts Council Major Award in 1981 and in 1983 was a major prizewinner in 4th Tolly Cobbold Exhibition. He was included in John Moores Liverpool Exhibition from 1987, other group shows including Nigel Greenwood Gallery in same year and Norwich School of Art, 1988. Showed solo with Lisson Gallery from 1985, having a retrospective Green Haworth: Ten Years 1978–88, London and tour including America, 1988. In 1995 there was an important exhibition at Arnolfini Gallery, Bristol, which toured, and Tate St Ives showed New Work in 2000–1. From 1971–88 Virtue worked at Oswaldtwistle which was the subject of much of his work, an example being Arts Council's Green Haworth I, of 1979–80.
Read more
Later lived in South Tawton, then Exeter, Devon. Virtue made many studies in ink and pencil on small prepared boards of a uniform size which he then reduced by selection and combined into bigger panels. From January 2003, Virtue was appointed artist-in-residence at the National Gallery for two years, having an exhibition there of London Paintings in 2005.
Text source: 'Artists in Britain Since 1945' by David Buckman (Art Dictionaries Ltd, part of Sansom & Company)