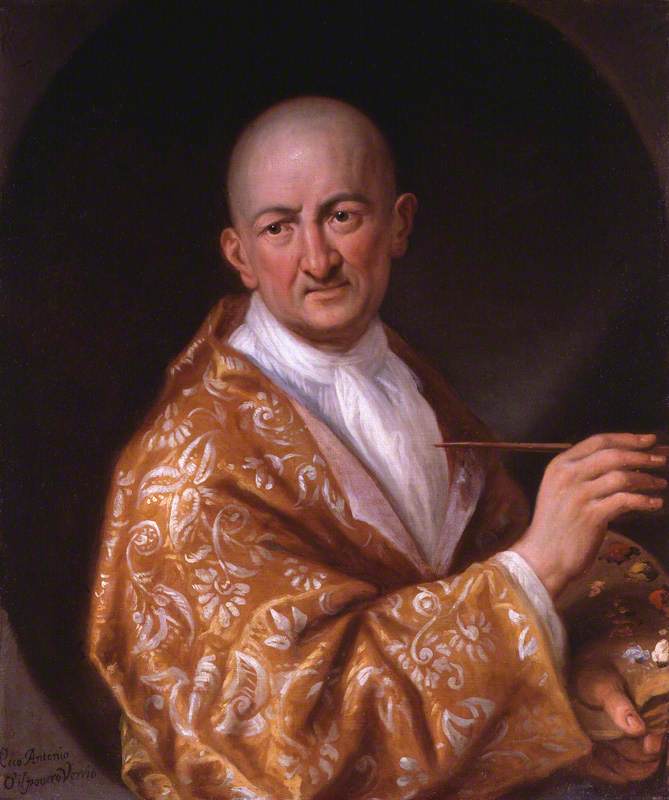 Photo credit: National Portrait Gallery, London
(b Lecce or Naples, c.1636; d Hampton Court, Middlesex [now in Greater London], 15 June 1707). Italian decorative painter who settled in England in 1671/2. He is said to have trained in Venice, and he worked in Naples and France before moving to England; there he enjoyed an enormously successful and well-remunerated career as the first of the foreign artists who dominated the fairly brief period when Baroque wall and ceiling painting was in vogue in the country. He was much employed at royal buildings—Whitehall Palace, Windsor Castle, and Hampton Court—and also worked at great aristocratic houses such as Burghley and Chatsworth. In 1684 Charles II appointed him 'our chief and first painter' in succession to Lely. His wealth and prestige were based on his self-assertiveness and the lack of native talent in his field rather than on his skills as an artist, for his work is at best mediocre (and often dismal) judged by European standards: Sir Oliver Millar wrote that his 'figure-drawing is often almost ludicrously clumsy'.
Read more
Laguerre, his one-time assistant, was a better painter but had less worldly success. The two artists are indissolubly linked because of Alexander Pope's famous lines: 'On painted ceilings you devoutly stare, /Where sprawl the saints of Verrio or Laguerre' (Epistle to the Earl of Burlington, 1731).
Text source: The Oxford Dictionary of Art and Artists (Oxford University Press)