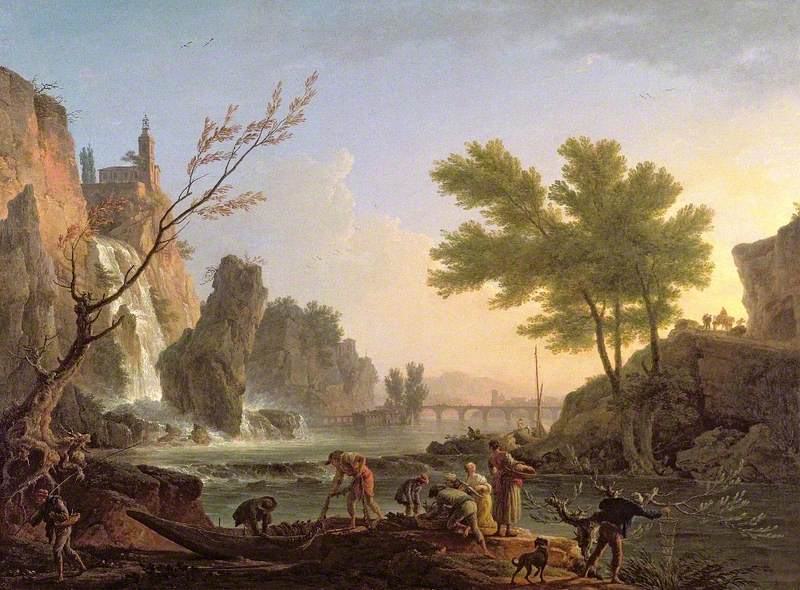 Photo credit: Bridgeman Images
Family of French painters, three members of which attained distinction. Claude-Joseph Vernet (b Avignon, 14 Aug. 1714; d Paris, 3 Dec. 1789) was one of the leading French landscape painters of his period. From 1734 to 1753 he worked in Rome, where he was influenced by the light and atmosphere of Claude and also by the more wild and dramatic art of Salvator Rosa. With Hubert Robert, he became a leading exponent of a type of idealized and somewhat sentimental landscape that had a great vogue at this time. Vernet was particularly celebrated for his paintings of the seashore and seaports, and on returning to Paris in 1753 he was commissioned by Louis XV to paint a series of the seaports of France. He produced fifteen (more were planned but not executed), now divided between the Louvre and the Musée Maritime, Paris.
Read more
His son Antoine-Charles-Horace, known as Carle Vernet (b Bordeaux, 14 Aug. 1758; d Paris, 27 Nov. 1836), painted large battle pictures for Napoleon, notably the Battle of Marengo (1806, Versailles), and after the restoration of the monarchy he became official painter to Louis XVIII, for whom he did racing and hunting scenes. His son Horace Vernet (b Paris, 30 June 1789; d Paris, 17 Jan. 1863) was one of the most prolific of French military painters, specializing in scenes of the Napoleonic era. A portrait of Napoleon (1815) and a set of four large battle pieces (1821–6) are in the National Gallery, London. He also did animal and Oriental subjects. From 1828 to 1834 he was director of the French Academy in Rome. Paul Delaroche was his son-in-law.
Text source: The Oxford Dictionary of Art and Artists (Oxford University Press)