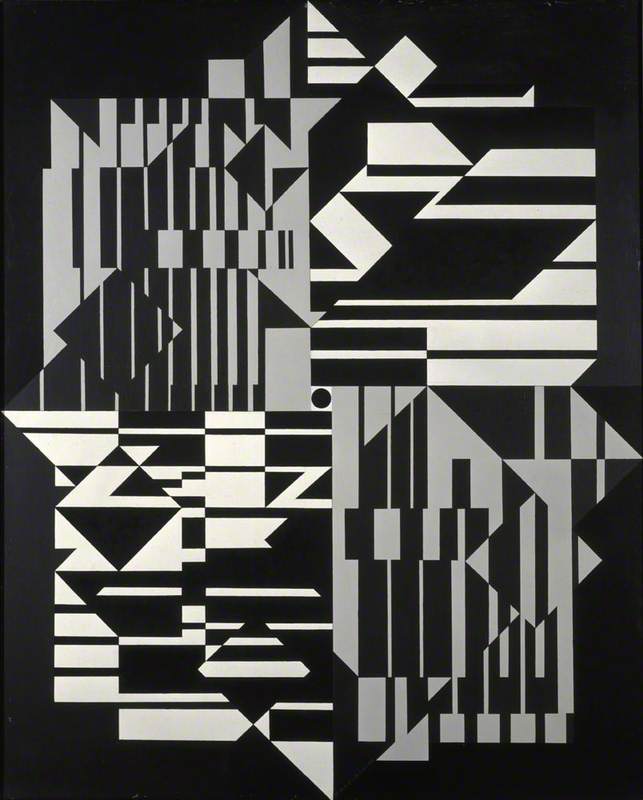 © ADAGP, Paris and DACS, London 2021. Photo credit: National Galleries of Scotland
Hungarian-born painter, sculptor, and designer who settled in Paris in 1930 and became a French citizen in 1959, the main originator and one of the leading practitioners of *Op art. He studied in Budapest at the Poldini-Volkman Academy of Painting and the Mühely School (known as the *Bauhaus of Budapest) before he settled in Paris in 1930. For the next decade he worked mainly as a commercial artist, particularly on the designing of posters, showing a keen interest in visual tricks and space illusions. From 1943 he turned to painting and he had his first one-man exhibition in 1944, at Denise *René's gallery. About three years later he adopted the method of geometrical abstraction for which he is best known. Typically he created a hallucinatory impression of movement through visual ambiguity, using alternating positive–negative shapes in such a way as to suggest underlying secondary shapes.
Read more
His fascination with the idea of movement led him to experiment with *Kinetic art and he also collaborated with architects in such works as his relief in aluminium for Caracas University (1954), and the French Pavilion at 'Expo '67' in Montreal, hoping to create a kind of urban folk art. From 1961 Vasarely lived mainly in the South of France, where he founded two museums devoted to his work—the Fondation Vasarely at Aix-en-Provence, which he designed himself, and the Château and Musée Vasarely at Gordes (both are now closed). There are two Vasarely museums in Hungary, in Budapest and his birthplace Pecs. According to his obituary in The Times, 'To him the artist was simply an artisan who creates his artefacts at will and in volume, so that they can be accessible to the ordinary person'. http://www.vasarely.com/site/intro.htm The official website.
Text source: A Dictionary of Modern and Contemporary Art (Oxford University Press)