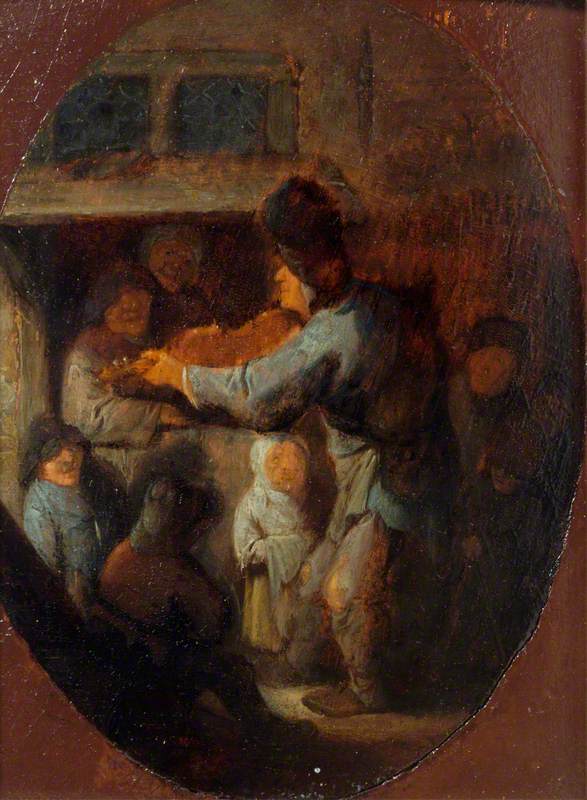 Photo credit: Victoria and Albert Museum, London
(bapt. Haarlem, 10 Dec. 1610; d Haarlem, 27 Apr. 1685). Dutch painter, draughtsman, and etcher, active in Haarlem. Although he turned his hand to many subjects, he was principally a genre painter. According to Houbraken, he and Adriaen Brouwer (whose work is similar) were fellow pupils of Frans Hals. Ostade's early pictures depict lively scenes of peasants carousing or brawling in crowded taverns or hovels. In his later works (after c.1650) his peasants learn better manners and the rooms they live in are tidier. These later pictures are lighter in key and more colourful; thus they follow the general trend of Dutch painting around this time. Ostade was successful, prolific, and much imitated. He is said to have taught Jan Steen and his other pupils included his brother Isaak van Ostade (bapt.
Read more
Haarlem, 2 June 1621; bur. Haarlem, 16 Oct. 1649), who likewise worked in Haarlem. As well as painting genre scenes in the manner of Adriaen, Isaak was an outstanding exponent of the winter landscape, and his early death cut short a career of great promise. Good examples of the work of both brothers are in the National Gallery, London.
Text source: The Oxford Dictionary of Art and Artists (Oxford University Press)