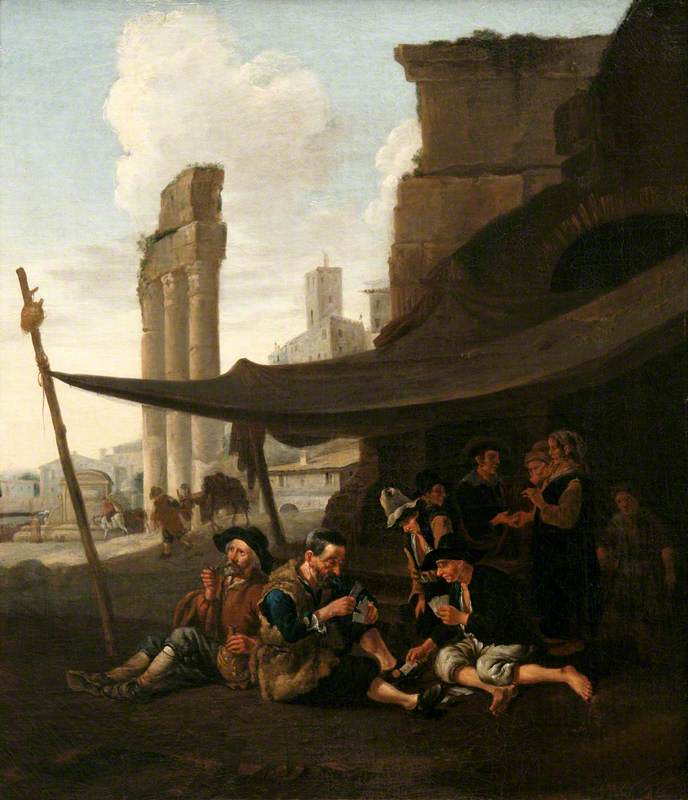 Photo credit: Mount Edgcumbe House
(bapt. Haarlem, 14 Dec. 1599; d ?c.1642). Dutch painter, active for much of his career (c.1625–38) in Rome. There he was nicknamed 'Il Bamboccio' (which may be translated as 'little clumsy one' or 'rag doll'), as he was crippled or deformed in some way. His self-portrait in the Pallavicini Gallery in Rome suggests that he bore his handicap with good humour, and he was one of the leaders of the Schildersbent, a fraternal organization set up by the Netherlandish artists in Rome to protect their interests. Van Laer was the first artist to specialize in scenes of street life in Rome. His work proved popular with collectors and he inspired numerous followers who were known as the 'Bamboccianti'. They were mainly other Northerners working in Rome, such as the Flemings Jan Miel (1599–1663) and Michiel Sweerts, but also included Italians such as Michelangelo Cerquozzi and Viviano Codazzi (1611–72).
Read more
Their pictures are called bambocciate (the singular is bambocciata—Italian for 'childishness') or in French bambochades; an English equivalent—bambocciade—exists, but it is rarely used. In about 1638 van Laer returned to his native Haarlem. He is said to have set off for Rome again in 1642, and nothing is heard of him thereafter.
Text source: The Oxford Dictionary of Art and Artists (Oxford University Press)