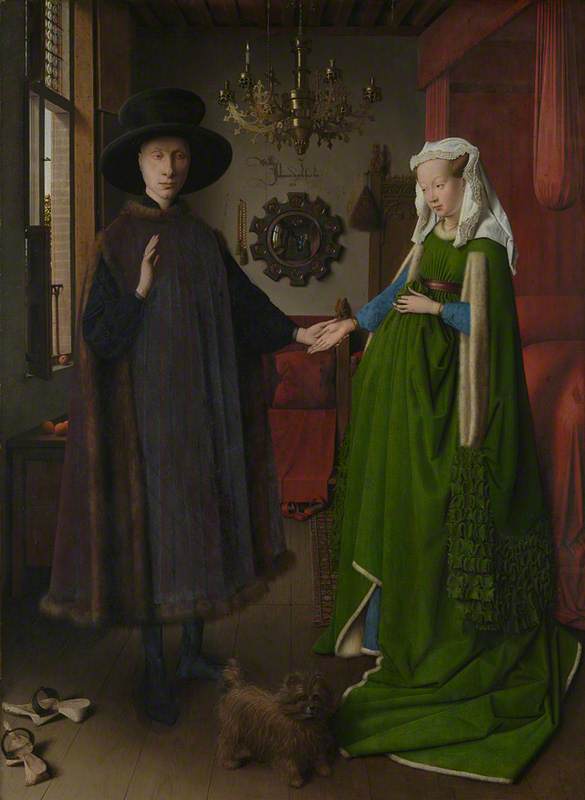 Photo credit: The National Gallery, London
(b ?Maaseik, c.1380/90; d Bruges, June 1441). The most celebrated painter of the Early Netherlandish School. Within a few years of his death he had a reputation on both sides of the Alps as a painter of great stature and importance, and although he is no longer credited with being the 'inventor' of oil painting, as was long maintained, his fame has continued undimmed to the present day. Nothing is known for certain of his early life and he is first recorded in 1422, working in The Hague at the court of John of Bavaria, Count of Holland. In 1425 John died and later in the same year Jan entered the service of Philip the Good, Duke of Burgundy, in Bruges, moving soon afterwards to Lille. Jan remained in Philip's employment for the rest of his life, serving him as varlet de chambre (equerry) as well as painter.
Read more
Philip evidently held him in personal affection as well as high professional regard (he was godfather to one of Jan's children), and on several occasions he sent him on diplomatic missions, most notably to Portugal in 1428–9 as part of an embassy that arranged a marriage between the duke and a Portuguese princess. After his return from Portugal, Jan seems to have settled permanently in Bruges, where he bought a house in 1432. It is only from this point that his career as an artist comes into focus, for all his dated paintings belong to the period 1432–9 and there are many difficulties concerning the few works that have at times been attributed to his earlier years. The central problem of his career—and one of the most discussed in the history of art—concerns the work that has always been the basis of his resounding fame, the great altarpiece of the Adoration of the Lamb (completed 1432), in Ghent Cathedral. An inscription on the frame states that it was begun by 'the painter Hubert van Eyck, than whom none was greater', and completed by 'Jan, second in art'. Jan's brother Hubert is such an obscure figure that some scholars have questioned the authenticity of the inscription and doubted Hubert's existence. There is certainly no obvious division between the work of two hands in the altarpiece, but the prevailing opinion now is that the inscription is essentially genuine, although debate continues as to how far work had progressed at Hubert's death (a now destroyed gravestone in Ghent is said to have given his date of death as 18 September 1426). Thus, Jan's contribution to the central masterpiece of Early Netherlandish painting is uncertain. Dürer called the Ghent Altarpiece 'a stupendous painting' and the comment is appropriate both to the majesty and iconographical richness of the huge polyptych, and also to its breathtaking technical mastery. It consists of twelve panels, eight of which are painted on both sides (they are hinged so they can fold over the central section), making twenty images in all. These images are overwhelming in their beauty and brilliance of colour and remarkably wide-ranging in the things they represent: vivid portraits of the donors, realistic full-length nudes (of Adam and Eve), landscapes, townscapes, interior views, sumptuous costumes and manifold still-life details. Collectively the altarpiece is almost like a manifesto of everything that oil painting could achieve in naturalistic effects.Apart from the Ghent Altarpiece, about two dozen other paintings are reasonably attributed to Jan. They are all either religious works or portraits, although he is known to have painted pictures of other subjects (including a nude woman at her bath), which are now lost. Outstanding among the surviving works are the famous double portrait Giovanni Arnolfini and his Wife (1434, NG, London) and two paintings of the Virgin and Child with donors—the Madonna with Chancellor Rolin (c.1435, Louvre, Paris) and the Madonna with Canon van der Paele (1436, Groeningemuseum, Bruges). The Louvre painting, with large figures in the foreground set against a distant panoramic landscape, shows Jan's all-embracing vision of the natural world and his mastery of light and space, as well as detail and texture—in Erwin Panofsky's words, 'his eye operates as a microscope and as a telescope at the same time'. The 'Man in a Red Turban' (1433, NG, London) is generally considered to be a self-portrait. All Jan's single portraits are fairly similar in format, showing the sitter bust-length in three-quarter view against a plain background. They are more objective than those of his great contemporary Rogier van der Weyden, with the features subjected to relentlessly close scrutiny, but they nevertheless convey a sense of inner life.Jan stands with the Master of Flémalle as the founder of the Early Netherlandish School and his technique became the accepted model for his successors. His closest follower and chief successor in Bruges was Petrus Christus, but his influence was wide (it is seen, for example, in the work of Luis Dalmau in Spain) and profound. In the Netherlands itself, however, the more emotional style of Rogier van der Weyden came to have even greater influence, and the very perfection of Jan's work must have made him the most daunting of models.
Text source: The Oxford Dictionary of Art and Artists (Oxford University Press)