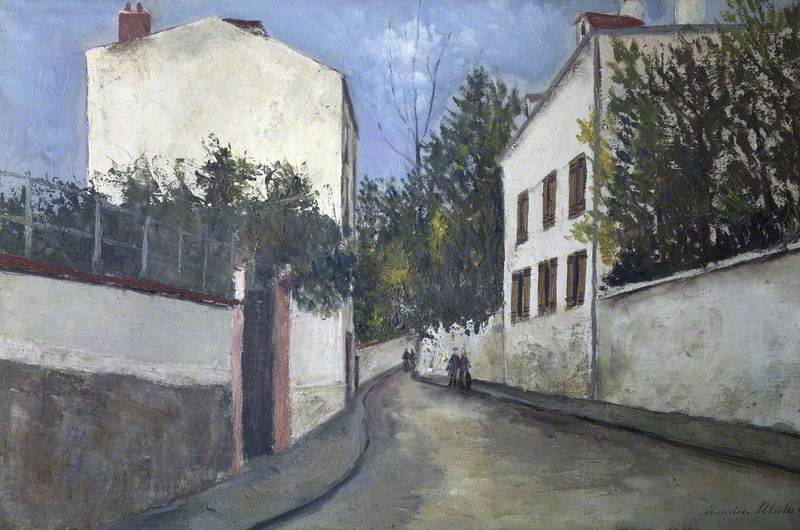 © ADAGP, Paris and DACS, London 2022. Photo credit: The Courtauld
(b Paris, 26 Dec. 1883; d Dax, 5 Nov. 1955). French painter, mainly of townscapes. The illegitimate son of Suzanne Valadon, he took his surname from the Spanish painter Miguel Utrillo (1862–1934), who legally recognized him as his son in order to help him (his real father—according to some sources—was Puvis de Chavannes, who was 40 years older than Valadon). He began to paint in 1902 at the urging of his mother, who hoped that it would remedy the alcoholism to which he had been a victim since his boyhood. Valadon gave him his first lessons, but he was largely self-taught. He had a successful joint exhibition with his mother in 1923, and subsequently he became prosperous and critically acclaimed. However, he continued to be an alcoholic (in 1934 the Tate Gallery wrongly stated in a catalogue that he had died of drink that year, thus bringing on the Trustees' heads a libel suit, settled out of court).
Read more
In his later years he devoted as much time to religious devotions as to painting. Utrillo's large output consists mainly of street scenes in Montmartre, although he also did numerous views of churches and cathedrals (Church at St Hilaire, c.1911, Tate, London). The period from about 1910 to 1916 is known as his 'white period' because of the predominance of milky or chalky tones in his pictures (he sometimes mixed plaster with his paint to enhance the sense of texture), and it is generally agreed that he did his best paintings during this time. They subtly convey solitude and emotional emptiness and have a delicate feeling for tone and atmosphere, even though he often worked from postcards. His later work is livelier but less touching. Utrillo's work is in many public collections in Europe, the USA, and elsewhere, and (no doubt because of the deceptive simplicity of his paintings) he is among the most forged of modern artists.
Text source: The Oxford Dictionary of Art and Artists (Oxford University Press)