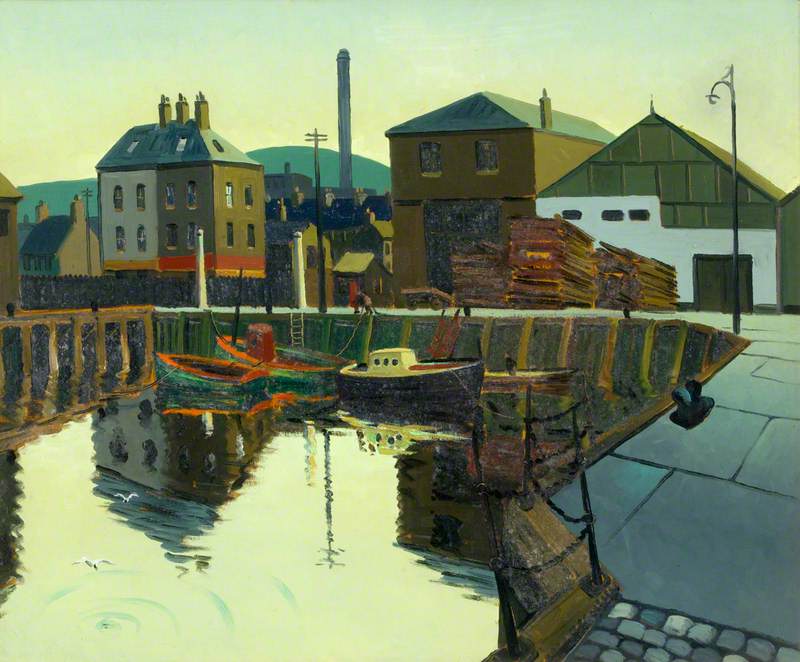 © the artist's estate. Photo credit: Royal Ulster Academy Diploma Collection
Painter, designer and teacher whose work was included in the exhibition Millennium 2000, at the Albemarle Gallery in 1999–00. Born in Newtownards, County Down, Northern Ireland, Turner attended the Methodist College, Belfast, then Queen's University and Stranmillis College. He taught art and music at Boys' Model School, Belfast, 1947–50, then art from 1950–82 at Stranillis College, from 1966 also giving lessons at a school he founded on Achill Island, where he painted in the summer. In 2003, Turners Achill and Beyond, an exhibition at Messum's, showed how both Desmond and his daughter Patricia caught the flavour of the west of Ireland in atmospheric landscapes. Turner also designed sets for the Grand Opera House and Group Theatre, Belfast, the Patricia Mullholland Irish Ballet and other companies.
Read more
He was a member of the RUA and showed widely elsewhere, having a strong overseas following in America and Australia. Ulster Television; Queen's University, Belfast; Ulster Museum; Department of the Environment, Northern Ireland; Cork University Hospital; and University of Limerick National Self-Portrait Collection of Ireland hold examples.
Text source: 'Artists in Britain Since 1945' by David Buckman (Art Dictionaries Ltd, part of Sansom & Company)