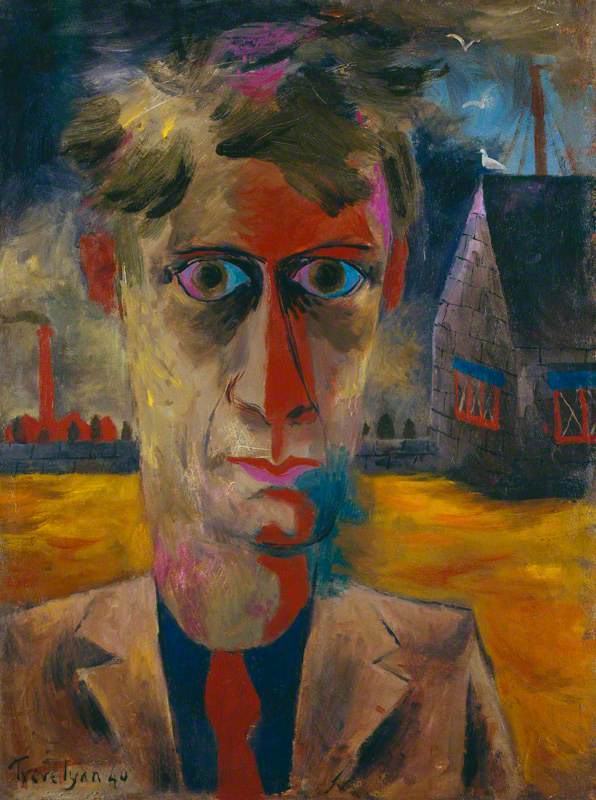 © National Portrait Gallery, London. Photo credit: National Portrait Gallery, London
Painter, printmaker, teacher and writer, born in Dorking, Surrey, son of the poet and scholar R C Trevelyan. Educated at Bedales School and Cambridge University, where he was a member of the Experiments group. For several years in early 1930s studied with S W Hayter at Atelier 17 in Paris. His early work was experimental, his paintings incorporating everyday objects. At university he had written that "to dream is to create" and so it was logical that he became one of the English Surrealist group in 1936. During service as a camouflage officer in the Royal Engineers during World War II he declared his religion to be Surrealism. His pictures, in a variety of styles, retained a dreamlike, often childlike, fantastic quality. Was married to the potter Ursula Darwin (later Mommens), marriage dissolved in 1950; then from 1951 the painter Mary Fedden.
Read more
He was a tutor at Chelsea School of Art, 1950–60, and engraving tutor at the Royal College of Art, 1955–63. Made Hon. Senior RA in 1986. Published his autobiography Indigo Days in 1957. In 1998 a retrospective toured from Royal College of Art, with an etchings retrospective at Bohun Gallery, Henley-on-Thames. That gallery held a joint show of Trevelyan and Fedden in 2003, with a Trevelyan exhibition of etchings and lithographs in 2005. Tate Gallery holds his work. Lived in London.
Text source: 'Artists in Britain Since 1945' by David Buckman (Art Dictionaries Ltd, part of Sansom & Company)