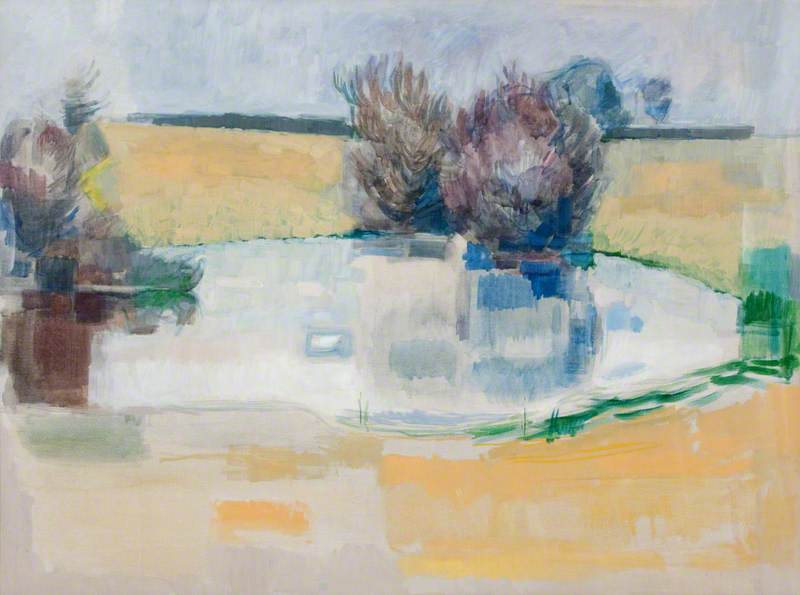 © the artist's estate. Photo credit: Amgueddfa Cymru – National Museum Wales
Painter, draughtsman, teacher and writer. Born in London, Townsend studied at the Slade School of Fine Art, 1926–30, under Henry Tonks. He then began to travel extensively in Europe and the Near East. His first one-man show was at the Bloomsbury Gallery, in 1932. In the 1930s became involved in Labour politics, while working as a painter and book illustrator. Among Townsend's contemporaries at the Slade were the painters William Coldstream, Claude Rogers, Geoffrey Tibble and Rodrigo Moynihan, so not surprisingly he became associated with the Euston Road School in the late 1930s, participating in Euston Road exhibitions. During the early days of World War II he made a series of drawings of Canterbury Cathedral – Canterbury was his home – and it remained an important theme in his work, as were the hop gardens and landscape of Kent.
Read more
After the war, Townsend taught at Camberwell School of Art, 1946–9, and at the Slade School from 1949, on Coldstream's appointment as principal. His association with Canada began in 1951 when he went to teach summer session at Banff School of Fine Arts. He later became visiting professor at the University of Alberta and painted widely in the Edmonton area. Died at Banff. Townsend was a good teacher and excellent writer, publishing Canterbury in the Face of Britain series and Canadian Art Today. His journals, a small selection of which have been published, are an invaluable record of his times. Townsend was a fine draughtsman and painter whose work lost much of his Slade reticence in the Canadian pictures. Work in many permanent collections, including the Tate Gallery, Victoria & Albert Museum and Arts Council.
Text source: 'Artists in Britain Since 1945' by David Buckman (Art Dictionaries Ltd, part of Sansom & Company)