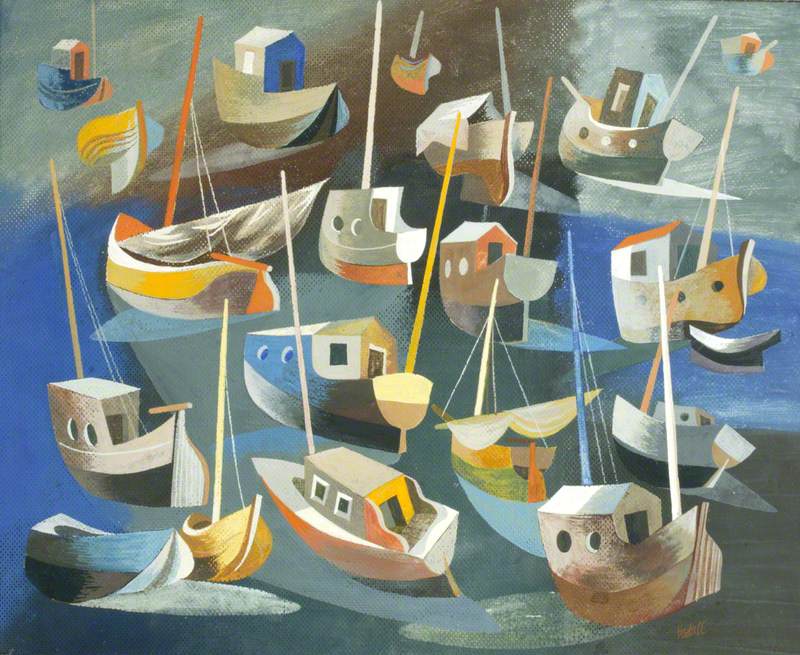 © the copyright holder. Photo credit: Manchester Art Gallery
Painter, designer, teacher and writer, born in Munich, Germany, as Hans John Knox Aufseeser, his father an artist. In 1941 Tisdall married Isabel Gallegos, who in 1964 started her own weaving firm, Tamesa Fabrics, for which Tisdall made many designs. In 1928 he entered the Academy of Fine Art, Munich, in 1929 being apprenticed to Moisey Kogan, the sculptor, living in Paris and Ascona. After only three days in an advertising agency in London Tisdall left to become a full-time painter, designer and muralist. Tisdall joined the Civil Defence Corps in 1940 and worked for the Ministry of Information, in 1947 joining the staff of Central School. Notable in Tisdall's career were: 1935, first big mural pictures for University Settlement, Wapping; 1936, Medal of Honour, International Exhibition, Paris, for work on British Pavilion; 1950, winning competition to design entrance to funfair at Festival of Britain South Bank site; 1956, first designs for Edinburgh Weavers; 1964, large outdoor mural for Manchester University; and 1966, mosaic murals for Manchester College of Science and Technology.
Read more
In 1942 Tisdall wrote Balbus – a picture book of Building, also Wheels – a picture book of Motion, with Oliver Hill. Had a first solo show in London at Leger Galleries in 1945, others following in England, France and Germany, including latterly Albemarle Gallery, 1990. Lived in London.
Text source: 'Artists in Britain Since 1945' by David Buckman (Art Dictionaries Ltd, part of Sansom & Company)