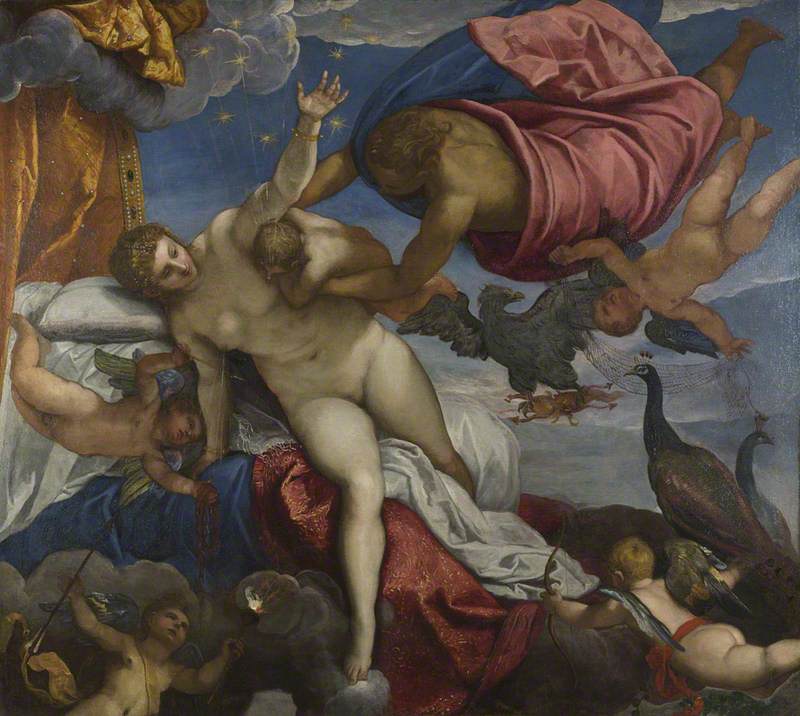 Photo credit: The National Gallery, London
(Born Venice, ?1518; died Venice, 31 May 1594). Venetian painter. His nickname derives from his father's profession of cloth dyer (tintore). He ranks second only to Titian among the Venetian painters of his time and had a prolific and successful career. Whereas most of Titian's later paintings were done for foreign patrons, Tintoretto worked mainly for Venetian clients and in particular was the dominant figure in supplying religious pictures for the city's churches and charitable institutions; he is only once recorded outside Venice (when he visited Mantua in 1580 in connection with a commission from the Gonzaga family) and the bulk of his work remains in the buildings for which it was painted.
Read more
Little is known about his character or personal life, and his career up to the time he was about 30 is poorly documented. His biographer Ridolfi says that he began an apprenticeship with Titian but was quickly dismissed because the master was jealous of his draughtsmanship. On stylistic evidence, it has been suggested that he may also have studied with Bonifazio Veronese, Paris Bordone, or Schiavone. He is first documented in 1539, by which time he was working independently, but the first work in which he announced a distinctive voice is St Mark Rescuing the Slave (1548, Accademia, Venice), in which many of the qualities of his maturity, particularly his love of foreshortening, begin to appear. To help him with the complex poses he favoured, Tintoretto used to make 'little models of wax and clay' (Ridolfi), which he arranged on something like a miniature stage set, enabling him to use artificial illumination to experiment with lighting (Poussin later used a similar method). He sometimes suspended the models from strings, which must have helped with poses of aerial figures. This method of composing explains the frequent repetition in Tintoretto's works of the same figures seen from different angles. He was a formidable draughtsman and Ridolfi says that he had inscribed on his studio wall the motto 'The drawing of Michelangelo and the colour of Titian'. However, although he clearly admired these two great elder contemporaries, he was very different in spirit from either of them—more emotive, using violent movement and vivid exaggerations of light. His drawings, unlike Michelangelo's detailed life studies, are brilliant, rapid notations, bristling with energy, and his colour is generally more sombre and mystical than Titian's. It is in freedom of brushwork that he most resembles Titian, although his touch is rougher, and the qualities he shares with Michelangelo are an epic imagination and almost superhuman vigour. St Mark Rescuing the Slave was at first rejected by the Scuola di S. Marco, which had commissioned it (presumably expecting something more traditional), and the resulting publicity helped establish Tintoretto as the most exciting young painter in Venice. From this point his career was essentially the story of a succession of major religious commissions (including further ones from the Scuola di S. Marco after it had overcome its resistance to the controversial picture).

His greatest works are the vast series of paintings he produced between 1564 and 1587 for the Scuola di S. Rocco, the wealthiest of the Venetian scuole (literally schools), charitable institutions that performed such functions as caring for orphans and the sick. Tintoretto began his long association with S. Rocco with the most famous episode in his career, when in 1564 he won the competition for the initial commission—a ceiling painting of St Roch in Glory—by somehow managing to install a full-sized picture whilst his rivals merely produced the specified sketches (he was renowned for the speed at which he worked). This clever ruse was regarded by some as underhand tactics and Tintoretto was evidently willing to undercut competitors' prices and even to work without pay if it helped to gain him the commissions he wanted. Unlike Titian, he seems to have been unconcerned with money as an end in itself, and his religious paintings are the expression of a deeply devout nature. In S. Rocco he created one of the greatest of all interpretations of the Christian story. The work was carried out in three phases: first he decorated the albergo (committee room) with scenes of Christ's Passion (1565–7); this was followed by the great hall (1575–81), which has Old Testament scenes on the ceiling and New Testament scenes on the wall; and finally came the lower hall (1583–7), which has scenes of the life of the Virgin Mary and the Nativity of Christ. There is an extraordinary range and depth of feeling in these paintings, from the cosmic drama of the Crucifixion (1565) to the tender intimacy of the Nativity scenes. Henry James wrote that 'We shall scarcely find four walls elsewhere that enclose within a like area an equal quantity of genius', and said of the stupendous Crucifixion: 'Surely no single picture in the world contains more of human life; there is everything in it, including the most exquisite beauty.'

In addition to his religious works, Tintoretto painted numerous portraits and occasional mythological scenes (Origin of the Milky Way, c.1575–80, NG, London). Although portraiture was never central to his activity, he was the best Venetian portraitist of his time apart from Titian and was particularly good at depicting old men, showing the dignity and weariness of age (a self-portrait of c.1590 is in the Louvre, Paris). In his later work particularly he must have used a good deal of studio help: his son Domenico (c.1560–1635) became his foreman, and another son, Marco (1561–1637), and a daughter, Marietta (c.1554–90), were among his other assistants. However, he showed no diminution of powers in old age, and his career ended with one of his greatest masterpieces, the Last Supper (1592–4, S. Giorgio Maggiore, Venice), a scene of incandescent spirituality.

Tintoretto had considerable influence, most notably on El Greco, who absorbed the visionary energy and intensity of his work. He continued to be a respected figure in Venice throughout the 17th century, but his reputation was lower elsewhere, and in the rational climate of the 18th century his work tended to be dismissed for an alleged lack of intellectual control (even in his lifetime Vasari had admired his powerful imagination but lamented his 'haphazard' design and indifference to traditional ideals of finish). In the age of Romanticism, however, his intense individuality brought him back into favour. No one played a more important role in his rehabilitation than Ruskin, whose first encounter with the Scuola di S. Rocco in 1843 left him 'perfectly prostrated'. See also Veronese.
Text source: The Oxford Dictionary of Art and Artists (Oxford University Press)