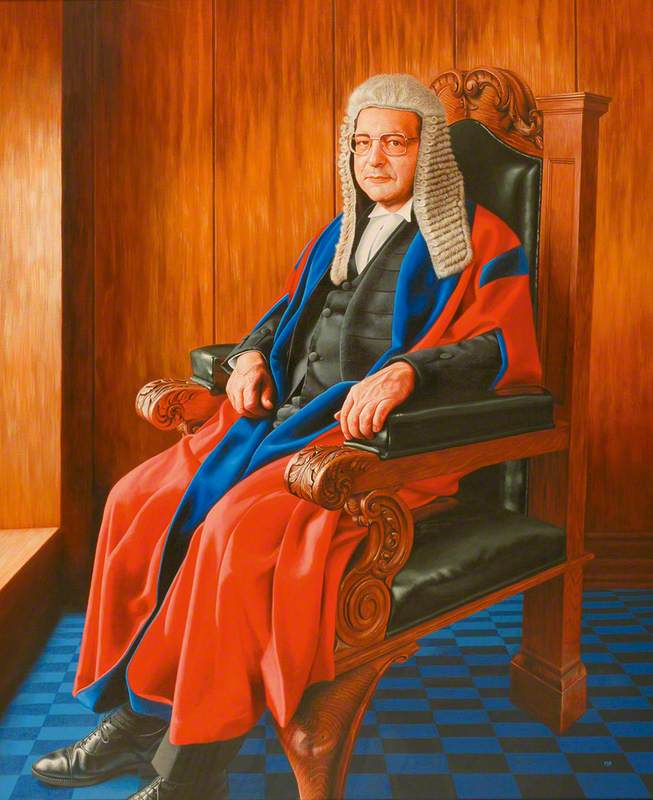 © Andrew Tift. Photo credit: City of London Corporation
Figurative painter who studied art at Birmingham Polytechnic and in 1992 graduated from the University of Central England with a master's in illustration. He showed widely in Britain, France and Japan. His work was included many times in the BP Portrait Award at the National Portrait Gallery. In 1994 it was commended and he gained the Travel Award, the resulting exhibition, Sayonara Pet: From Sunderland to Tokyo at the Nissan car factories, in 1995 touring from the Portrait Gallery to Aberdeen Art Gallery and Walsall Museum and Art Gallery. In 1999 in the Portrait Award Tift won 3rd Prize with his portrait of the politician Tony Benn, commissioned by the House of Commons. At the Portrait Gallery, in 2002, the politicians Neil and Glenys Kinnock unveiled a portrait of themselves by Tift.
Read more
He depicted them seated in a domestic setting and, in characteristic fashion, included numerous objects with symbolic relevance. Having been shortlisted for the first prize on four previous occasions, Tift won the £25,000 award in 2006 with his triptych portrait of Kitty Garman. Of his approach, the artist said: "I work in a highly detailed, intensely realistic manner and aim for an absolutely pure and objective likeness. I seek to convey people in the most understanding, intimate and sympathetic way that I can." Tift lived in Walsall, Staffordshire.
Text source: 'Artists in Britain Since 1945' by David Buckman (Art Dictionaries Ltd, part of Sansom & Company)