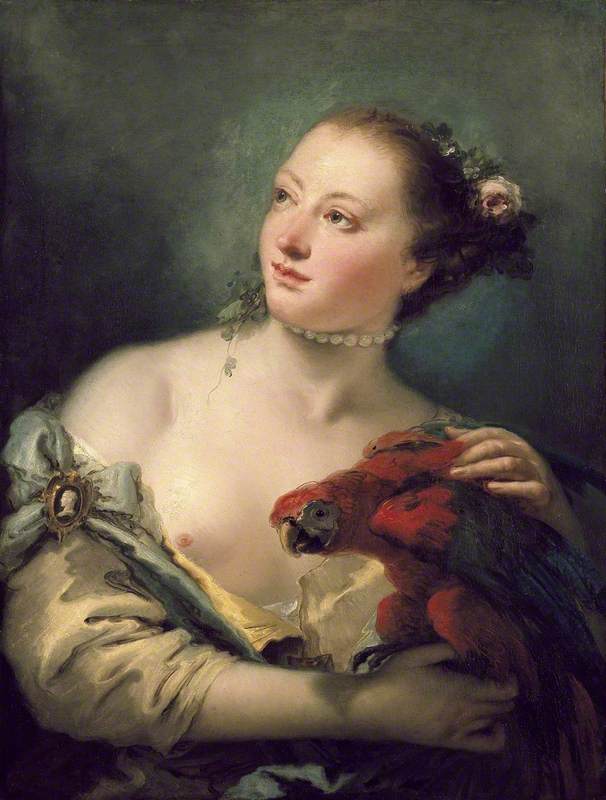 Photo credit: Ashmolean Museum, Oxford
(b Venice, 5 Mar. 1696; d Madrid, 27 Mar. 1770). Venetian painter, draughtsman, and etcher. He was the greatest Italian (and arguably the greatest European) painter of the 18th century, his work bringing to a glorious conclusion the Italian tradition of fresco decoration begun by Giotto 400 years earlier. His output was prodigious (his career is essentially a story of ceaseless work) and his services were sought from Spain to Sweden. He trained with the history painter Gregorio Lazzarini (1655–1730), but according to Lazzarini's biographer, Vincenzo da Canal (1732), Tiepolo soon departed from his master's 'diligent manner, and, being all fire and spirit, adopted one that was rapid and free'. Initially he was influenced by the sombre and dramatic style of Piazzetta and worked mainly in oils.
Read more
However, from the mid-1720s he turned increasingly to fresco and his palette lightened, with Veronese becoming an important influence on his style. He was described by his contemporaries as 'Veronese reborn' and he shared with his great predecessor a love of pageantry and sparkling colour (and he often used 16th-century costume in his paintings, even when it was historically inappropriate). However, whereas Veronese's work always has a Renaissance solidity, Tiepolo created exhilarating effects of airy space, particularly in his ceiling frescos, in which the central area often depicts open sky. For all its lightness, however, Tiepolo's work was always underpinned by superb draughtsmanship; it was this that allowed him to depict figures soaring overhead so fluently and convincingly.In 1726–8 Tiepolo carried out his first major work outside Venice, the fresco decoration of the Archbishop's Palace in Udine, and this led to a string of commissions for various places in north Italy. By 1736 his fame was such that he was invited to Stockholm to decorate the Royal Palace—an invitation he declined because the fee offered was too small. Count Carl Gustav Tessin (1695–1770), the Swedish diplomat and art collector who tried to secure his services, was impressed by his 'spirited and obliging' character as well as by his 'amazing speed. He paints a picture in less time than it takes another to grind his colours.' Up to this time, Tiepolo's work had been predominantly secular, but from the late 1730s to the late 1740s he also produced a series of major religious paintings for Venetian churches, including a series of three huge canvases depicting scenes from Christ's Passion (c.1740) for S. Alvise (still in situ). These make 'a tremendous emotional assault on the spectator' (Michael Levey, Tiepolo, 1986) and are much closer in style to Tintoretto than to Veronese. After this period, secular decorative commissions once again dominated Tiepolo's output, although he continued to produce altarpieces throughout his career; he also occasionally ventured into other areas, as with the ravishing Young Woman with a Parrot (c.1760, Ashmolean Mus., Oxford). His most important secular work of the 1740s and perhaps the greatest of all his works in Venice was the decoration of the Palazzo Labia (c.1745), which includes celebrated frescos of the Meeting of Antony and Cleopatra and the Banquet of Antony and Cleopatra (their story was one to which he returned several times). Here, as in many other commissions, he was assisted by his expert in quadratura, Gerolamo Mengozzi Colonna.In 1750 Tiepolo left Italy for the first time, to carry out a very lucrative and prestigious commission to decorate the Rezidenz (palace) of the prince-bishop of Würzburg in Germany. The building was designed by Balthasar Neumann, the greatest architect of the age in central Europe, and it forms a worthy setting for Tiepolo's most glorious works. Like Rubens, he could make even the most ponderous allegory come alive, and here the unpromising task of paying tribute to the lacklustre prince-bishop brought forth resplendent visions full of light and colour. Tiepolo first decorated the Kaisersaal (used as a state dining room) and then the ceiling of the grandiose Treppenhaus (stairwell), completing the work in 1753, when he returned to Venice. In 1757 another peak of his career came with the decoration of a series of rooms in the Villa Valmarana, near Vicenza, with scenes from Homer, Virgil, Ariosto, and Tasso. Here the scale is more intimate and the mood more tender, most of the subjects being concerned with the theme of love.Tiepolo's last large-scale work in Italy was the enormous ceiling of the ballroom in the Villa Pisani at Strà, near Padua, which he began in 1760. Whilst working on it he was summoned to Madrid by Charles III—'I am bound to respond to His Majesty's urging'—and spent the remaining eight years of his life there. He was 66 when he arrived in Madrid in 1762 but he still had formidable energy and by 1766 he had completed three ceilings in the royal palace, including that of the huge throne room, on which he depicted the Apotheosis of Spain. His last major completed commission was a series of seven altarpieces for the church of S. Pascual in Aranjuez, near Madrid, works with a solemnity and inwardness that were new to his art. They were completed in 1769 and installed in 1770, soon after Tiepolo's death. Within a few years they had been replaced with pictures by Mengs and other artists; this posthumous blow—a sign of the growing taste for Neoclassicism—has been taken as an indication that Tiepolo's reputation was declining in his final years, but in fact he remained in royal favour to the end, earning a very high salary. (Moreover, there is no contemporary evidence to support the popular idea of personal animosity between Tiepolo and Mengs, and the later story that Mengs was so jealous of Tiepolo that he hired thugs to beat him up is highly implausible; he is said to have hidden in a tree to watch the attack but fallen and injured himself, whereupon his rival—with characteristic nobility—did what he could to help him.) Tiepolo's Aranjuez altarpieces are now dispersed and partly lost; the five surviving modelli for them are in the Courtauld Gallery, London, and show that he kept his masterly fluency with the brush until the end of his life. He was as prolific a draughtsman as he was a painter (an outstanding collection of his drawings is in the Victoria and Albert Museum, London) and was also one of the finest etchers of his period, although his output in this field was small; Goya was especially indebted to his graphic work.Tiepolo was married to Cecilia Guardi, the sister of the Guardi brothers, and he had two painter sons, Giandomenico (b Venice, 30 Aug. 1727; d Venice, 3 Mar. 1804), usually known as Domenico, and Lorenzo (b Venice, 8 Aug. 1736; d Húmera, nr. Madrid, 2 Aug. 1776). They were their father's chief assistants on several of his major projects; both of them accompanied him to Spain and Lorenzo remained there for the rest of his life. He produced some attractive etchings and pastel portraits, but has much less independent substance as an artist than Domenico, who was a painter and etcher of some distinction. Although he imitated his father's manner closely when he assisted him, in his own work he has a distinct style—much more down-to-earth, with lively observation of everyday life. The contrast with his father can best be seen at the Villa Valmarana, where Domenico decorated the guesthouse at the same time that Giambattista was engaged on the main building; the subjects include scenes of peasant life. As an etcher he is best known for his set of 24 prints on the theme of the Flight into Egypt (1749).
Text source: The Oxford Dictionary of Art and Artists (Oxford University Press)