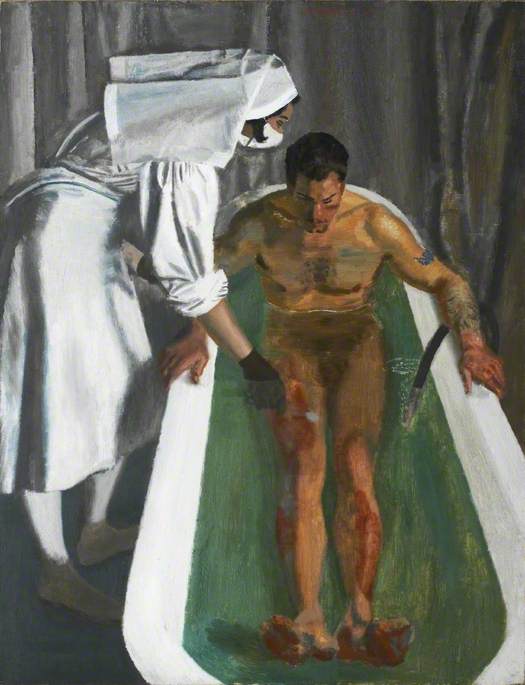 Painter, commercial artist and illustrator born in Bangalore, India, a mute following a fall as a baby. He attended the Royal School for the Deaf and Dumb, Margate. Artistically he studied at the eponymous John Hassell Art School based in Kensington, subsequently working as a commercial artist. He also painted murals for a number of private and public clients including Birmingham Dental Hospital, the Duncannon Arms and the Science Museum. In 1934, a series of six murals he painted for the Limmer & Trinidad Lake Asphalt Company were first exhibited at the Building Exhibition at Olympia, London. During the 1920s and 1930s Thomson designed advertising for Three Nuns tobacco, Horlick's and the London & North Eastern Railway. Among posters designed by Thomson for the LNER were 'Then and Now – Over 100 Bathing Resorts' (c.
Read more
1931), 'Take Me by the Flying Scotsman' (1932) and 'Travel LNER at a Penny a Mile' (c.1932). In the 1920s he worked for J. Walter Thompson, and in the 1930s he was employed by the Clement Dane Studio. In the early 1940s and 1950s Thomson worked on advertising for Imperial Chemical Industries (ICI) and the Bowater Paper Corporation. In 1949, he designed an untitled poster usually known as Street Market for London Transport an example of which is held by London Transport Museum. He also showed at the Chenil Gallery and at the ROI. A member of both the Chelsea Arts Club and the London Sketch Club, he was also responsible for mural decoration on the SS Queen Mary during the 1930s and examples of his posters are held by the NRM.

He was known amongst his friends as Tommy Thomson and an illustrated article by him appeared in Drawing & Design, November 1920. He showed at the RA from 1920 and was elected an Associate of the RA in 1938 and a full member in 1945. Despite his handicap, he was appointed an Official War Artist with the RAF, 1940–1944 and he was awarded a Gold Medal at the 1948 London Olympic Games for his depiction of sporting scenes. Examples of his work are in the collections of the ACGB, Bradford Museums and Galleries, Brighton & Hove Art Gallery, City of London Corporation, Darlington Borough Art Collection, Glasgow Museums, IWM, Kirklees Museums and Galleries, NAM, Nottingham City Museums and Galleries, NPG, RAF Museum, Hendon, Russell-Cotes Art Gallery, Science Museum and the Tate Gallery.
Text source: Liss Llewellyn