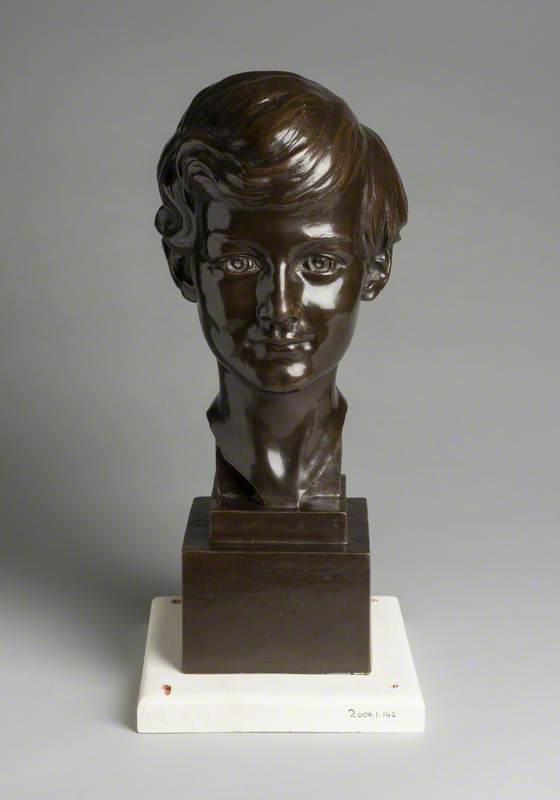 © the copyright holder. Photo credit: Roebuck Collection
Sculptor, medallist and occasional painter, born and lived in London. In 1901, Thomas was apprenticed to his father's gem engraving business and early in his career concentrated on gems, medals and seals. He studied at the Slade School of Fine Art, Heatherley's School and the Central School of Arts and Crafts. Richard Garbe, Edwin Roscoe Mullins and Henry Wilson were among his teachers. During service with the Middlesex Regiment in World War I, Thomas was badly wounded. Through his friendship with the Reverend Tubby Clayton, founder of TOC H, Thomas became the Christian body's sculptor. He made for its associated church All Hallows Barking, in the city of London, a TOC H Lamp relief, a figure group The Sea and a posthumous effigy of Clayton.
Read more
During World War II Thomas served throughout hostilities, being demobilised aged 60. He designed medals and coins for the Royal Mint, including the Coronation Medal of Queen Elizabeth II. Showed at RA, RMS and in the provinces, at the Paris Salon and in America and contributed work to several public collections, including the Victoria & Albert Museum. Was master of the Art Workers' Guild in 1946 and was awarded a gold medal by the RBS in 1973. In 1970, he had founded the Dora Charitable Trust, enabling the Society to take over its Old Brompton Road premises.
Text source: 'Artists in Britain Since 1945' by David Buckman (Art Dictionaries Ltd, part of Sansom & Company)