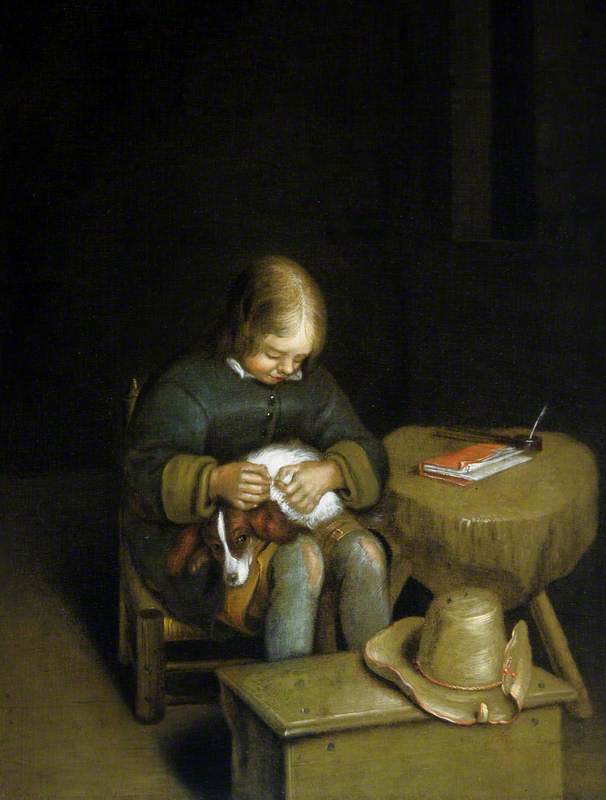 Photo credit: St Helier Town Hall, Jersey
(b Zwolle, Dec. 1617; d Deventer, 8 Dec. 1681). Dutch painter and draughtsman of interiors and small portraits. He was highly precocious, his earliest known drawing (in the Rijksmuseum, Amsterdam) being inscribed with the date 25 September 1625, when he was only seven. He studied with his father, Gerard Terborch the Elder (1584–1662), in his native Zwolle, and with Pieter de Molyn in Haarlem. Unlike most Dutch artists of his time, he travelled extensively.
Read more
In 1635 he visited London, and according to Houbraken he also went to France, Italy, and Spain. From about 1645 to 1648 he was in Germany, where he painted the Swearing of the Oath of Ratification of the Treaty of Münster (1648, NG, London), a group portrait of the signatories to the treaty that gave the Dutch independence from Spain. In 1654 he finally settled in Deventer, where he won both professional and social success. After beginning his career with guardroom scenes, he turned to pictures of elegant society, to which his gifts for delicate characterization and exquisite depiction of fine materials were ideally suited. His best-known work, the subject of a charming passage by Goethe, is the so-called Parental Admonition (c.1655, versions in the Rijksmuseum, Amsterdam, and the Gemäldegalerie, Berlin). It is symptomatic of Terborch's unvaryingly tasteful decorum that the true subject of the picture is evidently a man making a proposition to a courtesan (the coin that he proffers to his 'daughter' has been virtually erased in both versions of the painting and it is omitted in the engraving Goethe knew). Terborch taught Caspar Netscher and influenced other artists, including Eglon van der Neer.
Text source: The Oxford Dictionary of Art and Artists (Oxford University Press)