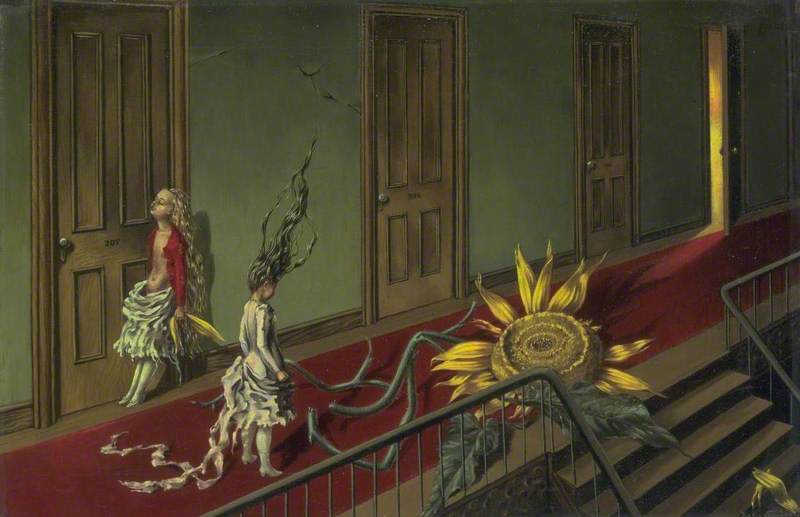 © ADAGP, Paris and DACS, London 2023. Photo credit: Tate
American painter, sculptor, designer, and writer, born at Galesburg, Illinois. Except for two weeks of classes at the Art Institute of Chicago in 1930 she was self-taught as an artist. In 1935 she settled in New York, where she worked at odd jobs (including being a model and film extra) to support herself whilst she learned about art by visiting galleries and reading voraciously. She was deeply impressed by the exhibition 'Fantastic Art, Dada, Surrealism' at the Museum of Modern Art in 1936 and this set her on the road as a painter. Her early work was in the hyper-realistic vein of *Surrealism; most characteristically she depicted the strange fancies of young girls in the creepy atmosphere of the Gothic novel (Eine Kleine Nachtmusik, 1943, Tate).
Read more
In 1942 she met Max *Ernst at the Julien Levy Gallery (where she had her first one-woman exhibition two years later) and in 1946 she married him. Initially they divided their time between New York and Arizona, then from 1949 lived mainly in France, settling there in 1955. The work of her famous husband had virtually no influence on Tanning. She continued in her highly detailed style until the mid-1950s, when her work became semi-abstract, with mysterious imagery of an erotic or violent nature seen through a kind of subtly-coloured mist. In the 1960s she began to make Surrealist sculpture from textile materials. Her work also includes stage design and a novel entitled Abyss (1977). She was still painting into the 21st century but by then was concentrating more on writing. Her autobiography, Between Lives: An Artist and Her World, was published in 2002.
Text source: A Dictionary of Modern and Contemporary Art (Oxford University Press)