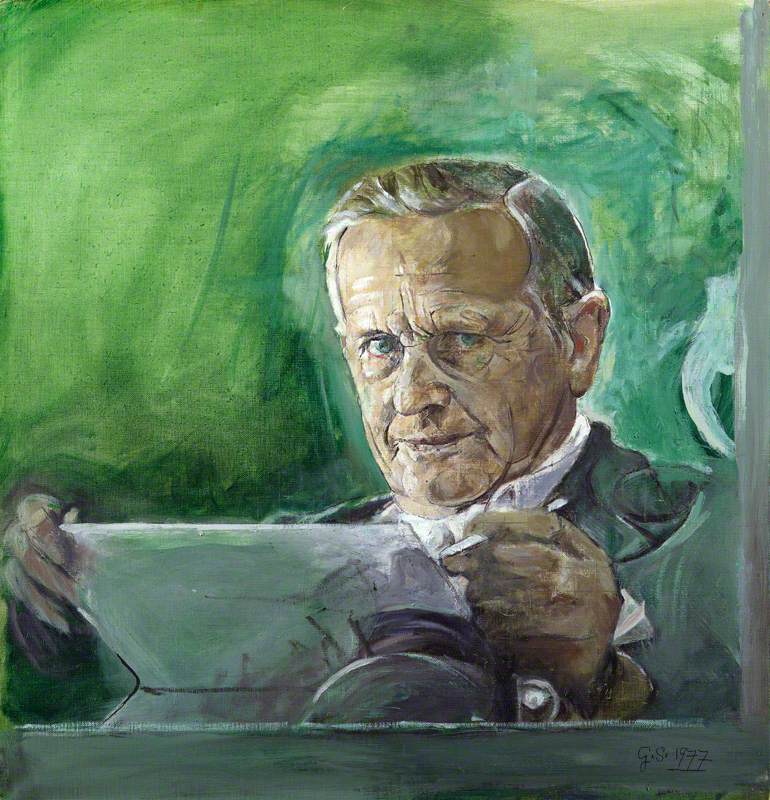 © National Portrait Gallery, London. Photo credit: National Portrait Gallery, London
(b London, 24 Aug. 1903; d London, 17 Feb. 1980). British painter, printmaker, and designer. He abandoned an apprenticeship as a railway engineer to study engraving and etching, 1921–6, and up to 1930 worked exclusively as a printmaker. His etchings of this period are in the Romantic and visionary tradition of Samuel Palmer. In the early 1930s he began experimenting with oils (following a decline in the market for prints), and by 1935 he had turned mainly to painting. His paintings of the 1930s show a highly subjective response to nature, inspired mainly by visits to Pembrokeshire. He had a vivid gift of visual metaphor and his landscapes are not topographical, but semi-abstract patterns of haunting and monstrous shapes rendered in his distinctively acidic colouring (Entrance to a Lane, 1939, Tate, London).
Read more
From 1940 to 1945 he was employed as an Official War Artist, mainly recording the effects of bombing; his poignant pictures of shattered buildings are among the most famous images of the home front. Soon after the war he took up religious painting, with a Crucifixion (1946) for St Matthew's, Northampton (he received the commission at the dedication of Henry Moore's Madonna and Child in this church), and also portraiture, with Somerset Maugham (1949, Tate). It was in these two fields that he chiefly made his mark in his later career. The Maugham portrait has an almost caricature quality (Maugham's friend Sir Gerald Kelly said it made him look 'like an old Chinese madam in a brothel in Shanghai'), and his most famous portrait, that of Winston Churchill (1954), was so hated by the sitter (who thought it made him look 'half-witted') that Lady Churchill destroyed it. Sutherland's most celebrated work, however, has become widely popular—it is the immense tapestry of Christ in Glory (completed 1962) in Coventry Cathedral. In addition to such figure subjects, Sutherland continued to paint landscapes—many of them inspired by the French Riviera, where he lived for part of every year from 1947—and late in his career he returned to printmaking, producing coloured lithographs. Apart from paintings and prints, his work included ceramics and designing posters and stage costumes and decor. He was one of the most famous British artists of the 20th century and received many honours, notably the Order of Merit in 1960. His reputation was high abroad; indeed in his later career he was probably more admired by foreign than by British critics, who tended to find his work old-fashioned. See also Neo-Romanticism.
Text source: The Oxford Dictionary of Art and Artists (Oxford University Press)