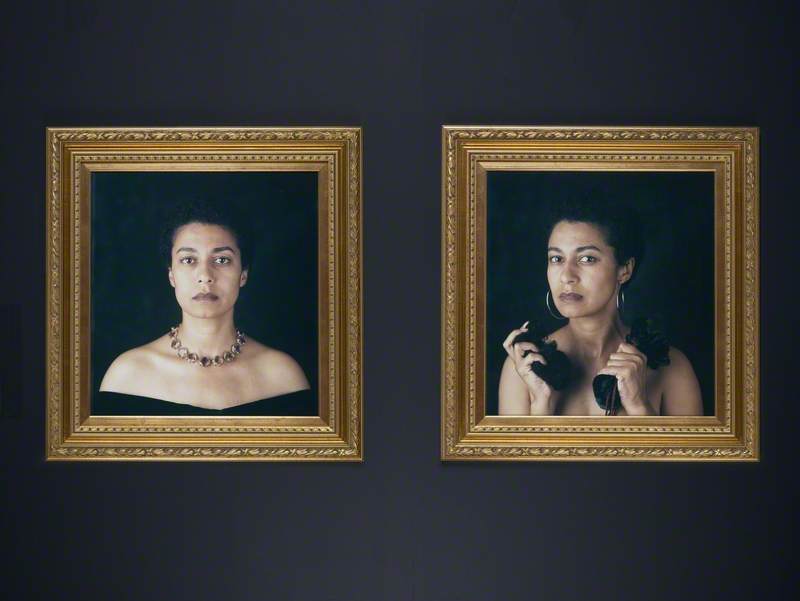 © Estate of Maud Sulter. All rights reserved, DACS 2023. Photo credit: National Galleries of Scotland
Artist using photography, painting, performance and video and the written word to help define the place of black women artists. She was born in Glasgow, and gained her master's degree in photographic studies at the University of Derby, 1990. Among group shows participated in were Creation for Liberation, Brixton Art Gallery, 1984; Whitechapel Open, Whitechapel Art Gallery, 1987; New Contemporaries, ICA and tour (British Telecom Award Winner), 1989; and New North, Tate Gallery Liverpool, 1990. Later solo shows included Plantation, University Gallery Leeds, 1995. By the time of her solo exhibition at Gracefield Studios, Dumfries, in 2005, this artist of Scots and Ghanaian descent had added considerably to her impressive list of exhibiting venues in Britain and abroad and had eight portraits in the National Portrait Gallery.
Read more
Supported by the Scottish Arts Council and GaelForce, the Gracefield show, which was toured, was entitled Sekhmet. It was described as "a soulful meditation on the female in spiritual iconography with the title referring to a female Egyptian goddess with a human body and a lioness face." From 2003, Sulter was based in Dumfries & Galloway.
Text source: 'Artists in Britain Since 1945' by David Buckman (Art Dictionaries Ltd, part of Sansom & Company)